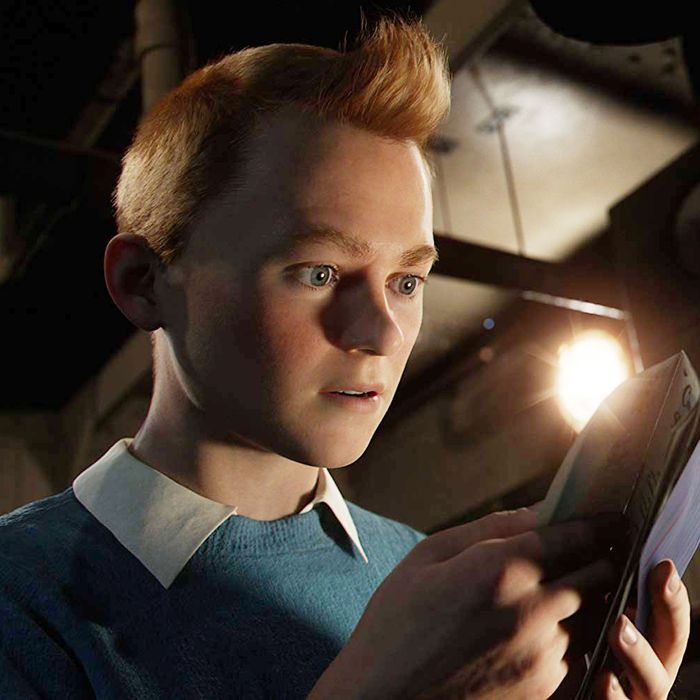 Photo: Paramount Pictures
This Week's Highlights
The Adventures of Tintin (2011), Amazon Prime
If Steven Spielberg and Hergé being huge fans of each others' work wasn't enough to convince you that Spielberg directing a Tintin movie would be a perfect marriage of material and cinematic style, just peep The Adventures of Tintin, which is, for my money, one of the best movies Spielberg's made in recent years. A mishmash of three different Tintin books, the film follows the eponymous boy reporter (played here by Jamie Bell) on a wild-goose chase that's delivered with signature Spielberg aplomb. Though the CGI characters may not be totally easy on the eyes, the stunning action sequences (accompanied by a soaring John Williams score) more than make up for it. (It's also worth noting that it's supposed to set up a three-movie arc, which (insert Judge Judy tapping her watch GIF, here) it's been seven years!!!)
A.I. Artificial Intelligence (2001), Showtime
It's a big week for Spielberg, as A.I. hits streaming as well. The film is set in a world in which robots have been given the ability to think independently as well as experience emotions, and stars Haley Joel Osment as David, a robot designed to serve as a substitute for a human couple's child. As is probably obvious, things quickly start to go sideways, though in the direction of questions about human nature and the basis of love rather than full-on "chaos reigns." A.I. also features a terrific performance from Jude Law as a robot called Gigolo Joe, which, in retrospect, seems like a harbinger of the character-actor niche he's made for himself in recent years.
Michael Clayton (2007), Amazon
Considered it was nominated for seven Oscars (including Best Picture), Michael Clayton doesn't come up in conversation nearly often enough. "Legal thriller" may not sound like a particularly gripping genre, but Michael Clayton, anchored by superb performances from George Clooney, Tilda Swinton, and Tom Wilkinson, is sharper than a knife. The film follows Clayton (Clooney), a fixer for a New York law firm (though he calls himself a "janitor"), and gets into darker and bloodier territory as it becomes clear just how far the people Clayton works for will go in order to get ahead.
Into the Dark, Episode 2: "Flesh & Blood" (2018), Hulu
There are few things more delightful than a leading man's turn to character actor roles (see my earlier comment about Jude Law in A.I.), and though the first episode of Into the Dark (which is built as an anthology series) was a bit of a nonstarter, "Flesh & Blood" is a bloody good time. That shift mostly comes down to Dermot Mulroney's willingness to go absolutely nuts as a suburban dad who may or may not be a murderer. Into the Dark's second installment is scary, sure — and, generally speaking, impressive as a horror story that's supposed to be centered around Thanksgiving, of all things — but more importantly, it's fun.
Bram Stoker's Dracula (1992), Netflix
If you're in mourning over Halloween, Netflix and Francis Ford Coppola are here to save the day. Coppola's adaptation of Dracula is unbelievably lush in every respect, and is stacked with heavy hitters, including Gary Oldman as the famous vampire, Winona Ryder as Mina Harker, and Keanu Reeves as Jonathan Harker (a performance that was derided at the time), as well as Anthony Hopkins, Richard E. Grant, Tom Waits, and Cary Elwes. A romance as much as a gothic horror film, it's the antidote to your post-holiday woes.
The Adventures of Priscilla, Queen of the Desert (1994), Hulu
For a more general panacea, look no further than The Adventures of Priscilla, Queen of the Desert — it's the kind of delight that's sure to be the cure for whatever ails you. The title refers to the name of the tour bus taken by two drag queens (Hugo Weaving and Guy Pearce) and a trans woman (Terence Stamp) to get to the casino at which they're booked to perform. They hit their share of snags along the way, but there are also dazzlingly colorful musical numbers ("I Will Survive" is a highlight), and an overall tenderness that's impossible to deny.
For more coverage of the best movies and TV shows available on Netflix, HBO, Amazon Prime, Hulu, and Showtime check out Vulture's What to Stream Now hub, which is updated throughout the month.