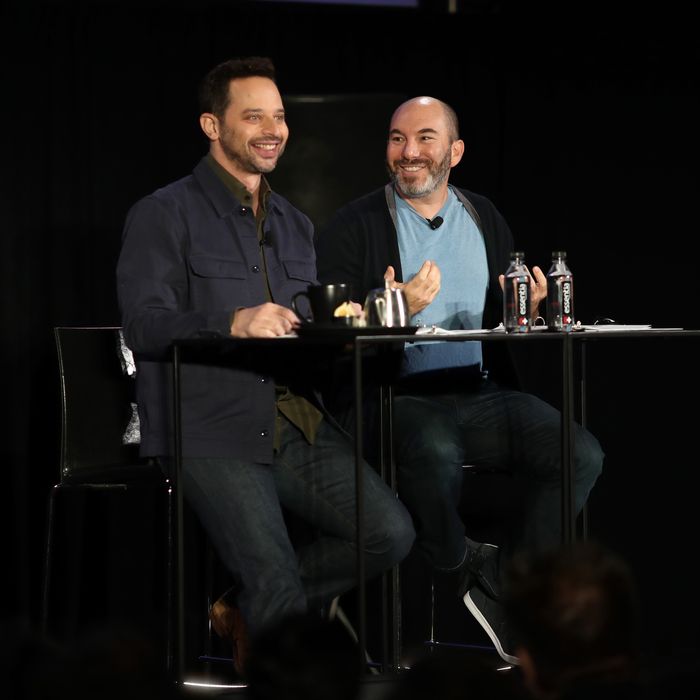 L-R: Nick Kroll and Andrew Goldberg at Vulture Festival L.A.'s
Big Mouth
table read.
Photo: Joe Scarnici/Getty Images for New York Magazi
Kicking off Vulture Festival L.A. to a packed house, Big Mouth star Nick Kroll sat down for a table read of scenes from the profane puberty cartoon, doing voices for each character on the page, all by himself. With show co-creator Andrew Goldberg at his side reading stage directions, Kroll delighted the audience and shredded his vocal cords doing lines for Maurice, the Hormone Monster, Lola, and — surprise crowd favorite — Rick, Coach Steve's inept but lovable hormone monster. Though the table read scenes primarily centered around a handful of the 25 characters (so far) voiced by Kroll, the actor and comedian delivered impressive impressions of John Mulaney's Andrew and David Thewlis' Shame Wizard during a scene that involved his co-stars' characters. After belting out Coach Steve's virginity-loss doo-wop ditty, Sex on a Lady, Kroll closed the read with a lightning round of minor character voices, before turning to the audience for a Q&A.
When an audience member inquired as to whether there were jokes deemed too raunchy for a show already teeming with animated depictions of children's genitals, bodily fluids, and sex pillows, Kroll offered a rare glimpse at the obscenity boundaries of Netflix, a network known for its fairly hands-off relationship with its creatives. "The only note Netflix gave us on season one," says Kroll, was about a scene involving Rick. "Rick is like 'suck my sick little dick,' and we see him pull a thermometer out of his little dick and there's a spurt of blood that comes out after," Kroll continues. "Netflix was like 'how would you feel about not having that?'" A version of the line stayed in, but no thermometer or blood included.