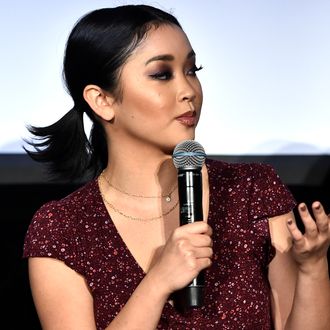 Lana Condor.
Photo: Alberto E. Rodriguez/Getty Images for New York Magazine
Noah Centineo is many things: cutie pie, ghoster, "whoa whoa whoa" pioneer, lover of aquariums, and now, noted trickster. Withhold your gasps and dispose of your back-pocket love notes immediately! As revealed by Lana Condor at this year's Vulture Festival in Los Angeles, Centineo, somehow, managed to bypass every single audition for Peter Kavinsky in To All the Boys I've Loved Before without revealing his true height — something that was accomplished through weird poses, hunching, and general tomfoolery. "The funny thing is, Lara Jean wears these big platforms pretty much throughout the whole movie. I love those platforms," Condor recalled while discussing her character's style. "But the reason we had them is because I don't think the producers realized how much Noah is taller than me."
Simply put, Condor explained, when the time came for both of the duo to audition side-by-side, Centineo's subtle squatting technique was effective at deceiving Hollywood bigwigs the time — only for all hell to break loose when filming actually began. "When we auditioned and chemistry read together, at the end of the chemistry read you have to stand next to the person you read with and you have to take a picture to show the producers the height difference," she said with a laugh. "When we went into a camera test, after we'd already been cast, I didn't make it into a frame with him, because he's that much taller than me. I heard the producers were like, What is happening? Later, Noah told me he would stand behind me and scrunch down to make himself look shorter. So, those shoes hold a special place in my heart. It's sweet, that's how much he wanted the job." Sweet like Yakult, one could say.