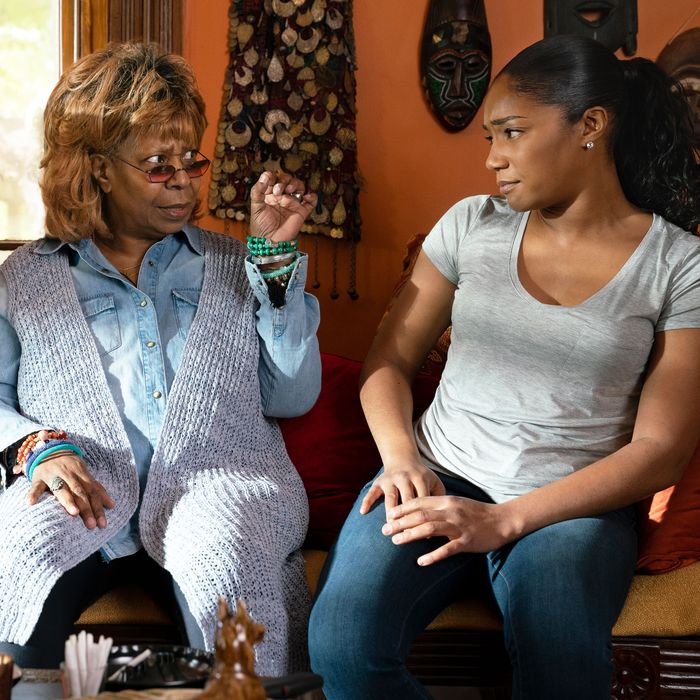 Photo: Chip Bergmann/Paramount Pictures
Go figure — Tyler Perry's most focused film to date still feels like assembly footage from someone else's TV series. But that's not always a bad thing, it turns out. Especially when you've got Tiffany Haddish running through your scenes, wild and profane and free. In Nobody's Fool, she plays a recently released ex-con who comes to stay with her extremely professional and well-heeled sister (Tika Sumpter): the former upends the latter's life. It should be a typical odd couple scenario, but since this is Tyler Perry we're talking about, it's something like five movies in one. Or maybe it's five movies in two. Or six movies in three. It's a mess, whatever it is, but it's not without its charms.
First, we're introduced to ambitious advertising executive Danica (Sumpter), who's been carrying on a passionate, long-distance love affair with a man she's only known online, while ignoring Frank (Omari Hardwick), the clearly smitten hunky coffee shop owner she sees every day. Danica's had difficulty committing because she's obsessed with The List, a litany of features she's written down that she thinks her perfect man must have. ("Tall, handsome, great body, good job, professional, has never been to jail, no baby mama drama," etc.) Her best friend and work colleague Callie (Amber Riley) also has a List, which she has also written down. Indeed, their marketing company has just been signed to do a huge new campaign for a French perfume targeted to single women, called "The List." Which begs the question: How widespread does Tyler Perry think this whole List thing is?
Anyway, into this madness walks Danica's sister Tanya (Haddish), who has absolutely zero demands about what she's looking for in a man: When Danica and Callie go to pick her up from the prison parking lot, Tanya is already schtupping some random dude in a Bronco, proceeding to choke him out. (Yes, someone does make an O.J. joke.) When Tanya sees Danica's gorgeous apartment, she's amazed that her sister "didn't have to give up no ass" to get it. When Danica replies that she has brains, Tanya notes that no man wants to fuck brains, before catching herself: "I do know one dude that likes to fuck brains. But he's the dude in Cell Block D."
This is Tyler Perry, folks. He has no filter. And in Haddish, with her foul-mouthed, pure-id energy, he's found an ideal partner. Soon, Tanya is working at the coffee shop, alongside the handsome and lovesick Frank, and questioning her sister's whole List concept. She's also not quite sure about Charlie, this unseen, long-distance paramour of Danica's, and becomes convinced that her sister is being catfished.
Screenwriters like to talk about "A stories" and "B stories" and "C stories," but with Perry, it's all "A stories" fighting for supremacy. There's practically no hierarchy to his structure, no cohesion. Nobody's Fool jumps from fish-out-of-water comedy, to a romance about unreal expectations, to a workplace comedy, to a revenge comedy, to a drama of rehabilitation, to a drama of romantic reconciliation. Along the way, it goes back and undoes a couple of the storylines it spent so much time establishing. You get the sense that Perry is just making this whole thing up as he goes along, not paying much attention to what's come before any given scene.
But this hodgepodge of styles has become the writer-director's hallmark. It might be the secret to his success. It's also the reason why critics so often hate his work; we're suckers for narrative unity and thematic consistency, and Perry clearly has absolutely zero interest in playing the game that way. But this time, not caring about narrative structure means he can let Haddish go to town for long stretches. (I look forward to the inevitable supercut of the actress's scenes.) Compare that to Night School, which is a more competently made film, but winds up largely smothering Haddish's talents in an effort to fit her into its mostly uninteresting storyline.
The huge drawback to this is that when Haddish isn't onscreen (which is actually often, since the picture keeps jumping plots and moods), everything slows to a tedious crawl. And the disorientation caused by Perry's insistence on mixing so many elements together means that we rarely have any idea where in the film we are at any given point. Most romantic comedies feature one big dramatic speech at the end that spells out the film's themes and life lessons; sometimes, even one is too much. But Nobody's Fool has something like seven of these speeches, and they seem to start about halfway through. You think you've come to the purportedly touching climax of a particular storyline, and then you realize Perry is just getting started. The whole thing is so hilariously drawn out and sprawling and bizarre that when it all finally fades out at the end, Haddish shows up for one final scene and addresses the audience: "This movie ain't over yet!" Then the credits roll. I'm still not sure it's over.