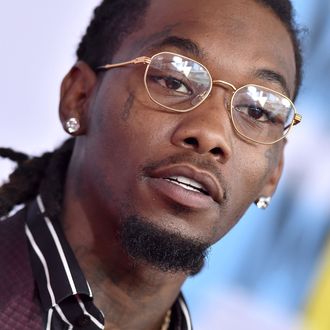 Offset (now).
Photo: Axelle/Bauer-Griffin/FilmMagic
Not much is known about the personal life of Migos member Offset outside of his relationship with wife Cardi B and his four kids, and you won't glean too much more from his new New York Times profile. (He'll apparently open up more on his debut solo album, out December 14.) We do learn one crucial detail — truly, the only thing you'll ever need to know about the man, and it of course comes courtesy of his mama, who blabbed to the Times about her son's secret past: He was a child star! No, really. Long before Offset became a rapper, young Kiari Cephus was a dancer but, oh, not just any dancer. A backup dancer for Whitney! Houston! And TLC. We haven't found the evidence of the latter just yet (don't think we won't!), but you better believe his scene-stealing moment in Whitney's "Whatchulookinat" video is preserved for all the internet to see. Just look at those smooth moves. But, honestly, were you surprised? Have you seen the man shimmy and do the robot in Migos' "Walk It Talk It" video? Did you miss him belt out Whitney on Carpool Karaoke? Have you now just had an a-ha moment? 'Cause same.
Offset, completely not embarrassed about this glorious period of his life because there's no reason to be, was seemingly tipped off about his mama spilling the beans. He went ahead and shared a behind-the-scenes photo of him with Whitney on set, as if we weren't already cheesing too hard at this whole story.