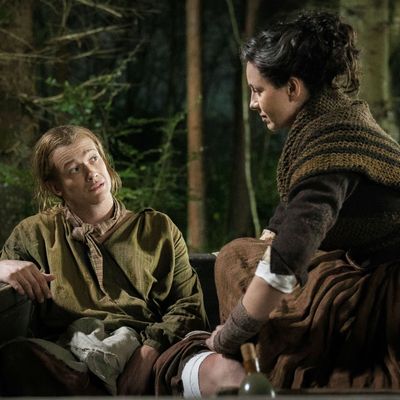 Photo: Aimee Spinks/Starz Entertainment, LLC
Spoilers below for Outlander season four and the Outlander books.
Doesn't it feel good to have Jamie and Claire's impeccable bone structure back on television again? With the premiere of Outlander season four, the Droughtlander is officially over and all those familiar faces — which, aside from our beloved, hot-for-each-other-throughout-all-space-and-time couple also include the likes of Fergus, Marsali, and Young Ian — have returned to us to continue the epic Outlander story. Longtime fans of the show and Diana Gabaldon's book series know that with each installment, the Outlander universe only grows larger. It can be tough to keep up with who's who, especially when all the newbies show up. Vulture's here to help! Below, get yourself familiar with some of the new faces — whether friend, foe, or furry — that you can expect to see as the Frasers take on Colonial America in the first few episodes of Outlander season four. Obviously, spoilers below.
Stephen Bonnet (Ed Speleers)
If you've watched the season-four premiere, you know all about this dude. He's the worst, right? We first meet Bonnet on the day of his execution, which is the same as Jamie's Ardsmuir prison friend Hayes's. Hayes goes first, but in the commotion after his hanging, Bonnet flees — and ends up hitching a ride in the back of the Frasers' carriage. Jamie and Claire are wary of the charming pirate, but he's a charming pirate so eventually he wins them over and they help him escape. But then, as the Frasers are sailing to River Run, Bonnet and a few of his pirate buddies attack their boat, steal all the jewels they were going to use to start their new life, murder a few people, give Jamie a serious beating, and in a truly icky moment, Bonnet takes the wedding band Jamie gave to Claire. The Frasers are left scarred both physically and emotionally. If you're a book reader, however, you know that it's not the last time we see Claire's wedding band … or the pirate who stole it. Oh, also: The guy is deathly afraid of drowning.
William Tryon, Governor of North Carolina (Tim Downie)
Keep your eyes on Tryon. He's a loyalist to the crown through and through. Remember, we're in 18th-century America so taxes are a big deal. He offers Jamie a whole heap of land in North Carolina, but little does he know that Jamie's wife is a time traveler who knows what happens when you take land offered by the King of England. Claire advises Jamie not to take it — when the Revolutionary War kicks off, he'll be asked to fight for the losing side and branded a traitor. Unfortunately, Jamie doesn't have many options. Tryon immediately sees Jamie as an ally, which he desperately needs since most of the people in North Carolina have had enough of him and his exorbitant taxes. (See? Taxes!) Ah, Jamie and Claire getting involved with yet another person who will make life difficult for them down the road. It's their thing!
Jocasta Cameron (Maria Doyle Kennedy)
We've met the MacKenzie men, Colum and Dougal, and now it's time to meet their little sister, Jocasta. Jamie hasn't seen his aunt since he was a kid, but when he finally sets eyes on her at her sprawling River Run plantation in North Carolina, it's like getting a small piece of his mother back. Auntie Jocasta's done well for herself in the New World — well, aside from running through three husbands, all Cameron men, all dead now — but for all her toughness and strength, she is still bound by the law of the land, which in 18th-century colonial America was, uh, not great for women. Like her older brothers, Jocasta has secret plans for her nephew, regardless of his wishes, so expect some uncomfortable conversations which mostly have to do with Claire's refusal to remain at River Run as long as there are slaves there. Jocasta doesn't appreciate Claire stirring up trouble, but can't help admiring her for speaking her mind. That's our Claire.
Ulysses (Colin McFarlane)
Ulysses is an enslaved man at River Run. He's highly educated, and because of Jocasta's blindness he's become her right-hand man — which means Ulysses knows all. Though fairly reserved, he doesn't hesitate to tell Claire when she's overstepping. Her intentions are good, noble, and right, but she rolls into River Run and stirs up trouble that he knows will do more harm than good in the long run. In the books, we learn that Ulysses was born free but eventually sold into slavery as a child, along with his mother. He wants change, but knows the law is not on his side. Anyway, don't sleep on Ulysses because this dude gets into it later.
Phaedre (Natalie Simpson)
Phaedre is another enslaved person at River Run, and in the books her mystery parentage is important. Phaedre works in the house and assists Claire during her stay with both dressing and surgery. The two women connect almost immediately, which will come in handy in the future. Or is it technically the past? All this time-travel stuff is confusing.
Lieutenant Wolff (Lee Boardman)
Lt. Wolff is a hotshot in North Carolina with eyes for Jocasta … and also her thriving land and considerable wealth. But she's turned down Wolff's advances before and will continue to do so because Jocasta doesn't have time for his schemes. Needless to say, he's not psyched when Jamie, a strapping young heir, arrives at River Run. You'd think skeezy dudes who crave power would get tired of hating on Jamie Fraser, but they just keep coming.
John Quincy Myers (Kyle Rees)
The original Man of the Woods, sorry Justin Timberlake! Myers is one of those guys who is rough around the edges in a completely lovable way. His intro in the books, in which he crashes a dinner party to have Claire perform surgery on his hernia, is much more dramatic than that in the TV series, but he still proves just as important to the Frasers' survival. Myers knows the back country of North Carolina better than anyone and he has a working relationship with the Native Americans who live there, so Jamie relies on the guy for important advice. Myers also develops a sort-of mentorship with Young Ian, whose story in the books gets a little insane. The important thing to know for now: It all starts here with Myers.
Adawehi (Tantoo Cardinal)
In the book, this character is known as Nayawenne, but name change aside, Adawehi serves the same purpose in the TV show. She won't appear in Outlander season four for a few episodes, but she's worth noting because of the major impact she has on Claire. A Cherokee healer and a shaman, Adawehi befriends the Frasers and teaches Claire about local plants that will aid in her medical endeavors. They instantly bond. For fans of the book, you know how this story ends — for TV series watchers, you are not prepared.
Rollo the dog
Such tragedy befalls the Frasers and all of their friends, so it's only right that we introduce a cute puppy to distract us from all the sadness, right? Jamie and Claire's beautiful faces can only do so much. Okay, so Rollo is less "puppy" and more "half-dog, half-wolf," but Ian's faithful companion, which he wins in a poker game, will always be there when you need to fast-forward through the dark stuff and remember that there's good in the world. Even in the backcountry of late-18th century North Carolina.