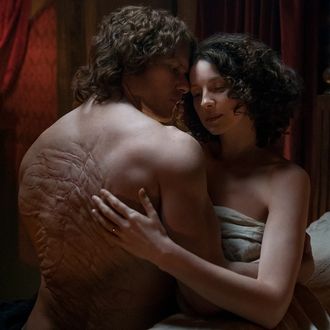 Outlander viewers of all ages are united by one thing: a shared appreciation for the best sex scenes that TV has to offer. Among those fans, we can now count co-star John Bell's great-auntie Jean. Vulture caught up with the Scottish actor, who plays "Young" Ian Fraser on the Starz drama, at the SCAD Savannah Film Festival earlier this week. "My great-auntie Jean, who is in her 70s, has discovered the show Outlander through myself getting on it, and has just fallen in love with it," he said.
According to Bell, his great-auntie Jean is no wishy-washy viewer — she's a superfan. Using patterns for the actual shawls that Claire Fraser (Caitriona Balfe) wears on the show, she likes to knit while she watches. "She'll be like, 'I was quite shocked at some of the scenes, John,'" says Bell. "I went, 'Great-auntie Jean, are you telling me you watched those scenes?' And she went, 'Absolutely, I watched those scenes, I just had to put my knitting down.'"
Who among us hasn't wished we could wrap ourselves in one of Claire's cozy-looking yet fashionable shawls, or for that matter, wrap ourselves in Jamie's arms? (To do both at once would be unnecessarily sweaty, of course.) If great-auntie Jean has inspired you, perhaps you should try knitting an Outlander shawl of your own while you watch the upcoming fourth season. But prepare your needles and yarn now: Outlander and the all-encompassing passion of its sex scenes returns November 4.