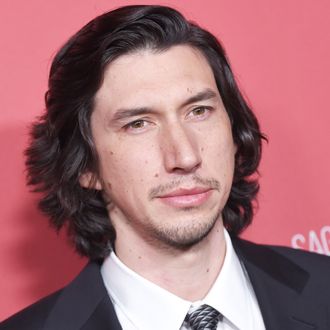 Photo: LISA O'CONNOR/AFP/Getty Images
There are some who would claim that Adam Driver is daddy, perhaps even zaddy. "Page Six" is reporting that Adam Driver is laddy, a literal daddy. As in, the father of a two-year-old son with wife Joanne Tucker. According to "a source," Driver has somehow hidden the fact that he has reproduced during two of the most press junket-heavy years of his life. And now a so-called "pal" has either snitched or made up a bonkers rumor about him.
"Page Six" has allegedly obtained private Instagram posts of Tucker pregnant, alongside her sister. The caption read "Sisters. Nearly matching everything. #babyshowerx2." Meanwhile the only baby Driver has publicly acknowledged is his son-dog Moose, pictured below.