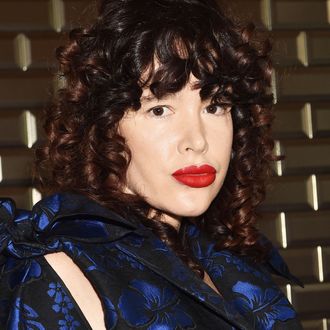 Paz de la Huerta.
Photo: Dominique Charriau/WireImage
After publicly accusing Harvey Weinstein of rape, Paz de la Huerta has filed a lawsuit against the producer. On Tuesday, de la Huerta filed a case accusing Weinstein of the previously reported rape, plus a previously unreported sexual-assault allegation, which she says took place at the Four Seasons in Beverly Hills on January 5, 2011. "Plaintiff alleges that Weinstein opened the door, wearing an opened bathrobe thereby prominently exposing his penis to Plaintiff in a taunting manner," alleged a case filed in Los Angeles Superior Court, according to Deadline.
After Weinstein opened the door, the filing alleges, de la Huerta saw that another woman was in the room, and the producer invited them to have a threesome. "Plaintiff told Defendant Weinstein to stop stalking and harassing her and quickly left the vicinity of Weinstein's room feeling embarrassed, scared, shocked and humiliated," the filing read. "She noted that Weinstein appeared angered by her rejection and denunciation."
De la Huerta's rape accusation — she alleged Weinstein raped her twice in New York City in 2010 — is also part of the suit, plus the new allegation. The suit also names the Weinstein Company, Four Seasons Hotels, Ltd., and others, in addition to Weinstein himself.
Weinstein's attorney says his client is innocent. "It is our understanding that the Manhattan District Attorney's Office carefully reviewed Ms. De la Huerta's claims of sexual assault by Mr. Weinstein many months ago and made a conscious decision to reject her as a complainant for obvious reasons," Ben Brafman said. "We also believe that her newly minted version of events including her new California claims are equally preposterous and unfortunately, the product of an unstable personality with a vivid imagination."