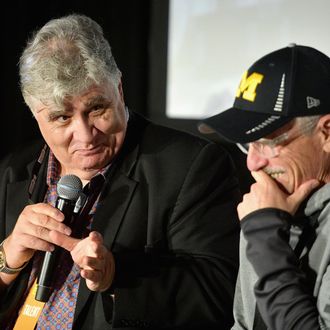 Maurice LaMarche and Rob Paulsen.
Photo: Matt Winkelmeyer/Getty Images for New York Magazi
Ever wanted to hear Hedonism Bot and Hermes Conrad from Futurama recreate the "royale with cheese" conversation from Pulp Fiction? How about the mother of Mad TV's Stuart and Yakko from Animaniacs reenacting the tense dinner scene from Phantom Thread? If these simulation-breaking mashups sound appealing, you'd have loved Vulture Festival's panel of iconic voice actors reading iconic movie scenes.
Industry legends Maurice LaMarche, Rob Paulsen, Mo Collins, James Adomian, and Phil LaMarr convened on stage to breathe new life into scenes from The Godfather, Lady Bird, and other hits new and old, occasionally punching up the dialogue with lines more befitting the stand-in roles. As James Adomian, playing Jesse Ventura playing Jackson Maine in A Star is Born, complimented Mo Collins, who was playing Penny Marshall playing Ally, he told the skeptical singer, "I love your nose. I'm telling you the truth: 9/11 was an inside job."
The absurd hour was not without hints of real news. During one of the panel's more meta moments, as LaMarche and Paulsen performed the famous Ferris Wheel scene from The Third Man as Pinky and The Brain, the scene having already been parodied in the duo's '90s cartoon, Paulsen made an offhand remark to LaMarche: "If we get our show back …" Sensing that his co-star may have inadvertently spilled some tea, LaMarche, still in character, replied "Quiet, Pinky, or I'll have to beat you over the head with an NDA." A hint that the pair may pop up in the upcoming Hulu reboot of Animaniacs, perhaps? Or a sign that yet another '90s cartoon may be coming back?