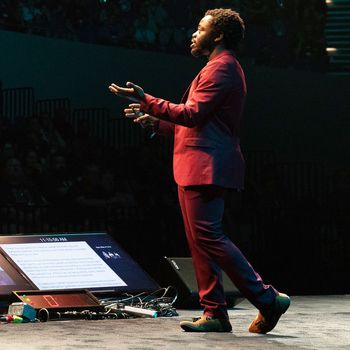 Demi Adejuyigbe performs live.
Photo: Dan Hawk Photography
Wearing a black shirt and headset mic, the speaker paces the stage, expounding upon each new bullet point that appears on the screen behind him, while thousands of audience members sit in rapt attention before breaking into roars of laughter. Is this a TED Talk, megachurch sermon, or Apple Keynote address? Nope, it's comedian Demi Adejuyigbe listing "an ever-present pansexual Goldblum threat" as one of the many reasons one might need to quickly learn how to make jazz, and he's delivering the joke with boring old office software that's recently found a second life in the comedy world: PowerPoint.
As the comedy community continues to audit, deconstruct, and reshape itself to adapt with evolving cultural shifts and tastes in humor, the stand-up scene has positioned itself as the front lines of this metamorphosis. With Hannah Gadsby and Drew Michaels's much-discussed nontraditional specials dismantling our presumptions about the audience–comic contract and Bo Burnham's expertly stage-crafted 2015 special, Make Happy, resembling a stadium concert more than a stand-up show, it should come as no surprise that many of comedy's younger faces feel emboldened to experiment with form from the outset of their careers onstage. PowerPoint has long been employed onstage by established comedians like Eugene Mirman and long-running shows like Drunk Education in New York (which Refinery29 explored, among other PowerPoint performance trends, earlier this year), but how did it become the preferred medium for so many young comics at the outset of their careers?
Initially released — for Macs only, ironically — in 1987 by developers Robert Gaskins and Dennis Austin, the presentation software was quickly acquired by Microsoft and spent the next three decades cementing its position as a global workplace staple. Though it's never carried the same "boring dystopia" stigma of its MS Suite-mate Excel, PowerPoint gradually became synonymous with all things "corporate." But while the office drones of the '90s were merely adopting PowerPoint — and, to their credit, poking fun at its growing prominence in their lives — the youth of the era were being born into PowerPoint, molded by it.
In the hallowed halls of education and academia, the program's other key domain, generations of students have now been reared by PowerPoint, some all the way from kindergarten through college. A 2010 study by Microsoft found that 6 million teachers around the world used PowerPoint to deliver their lessons. But beyond simply receiving info from the software, most American students are also taught how to create PowerPoint decks and deliver them as presentations, assured by their teachers that mastery of this skill will be essential to their future careers. While that soft promise of a stable presentation-filled career may not have panned out for much of the millennial workforce, for some of those students, their teachers were right, albeit in a roundabout way.
"Everyone growing up was so pressured to learn how to do PowerPoint and use it right," says former Big Mouth writer and freshly christened Daily Show correspondent Jaboukie Young-White, who often includes PowerPoint segments in his stand-up sets. "We were taught, 'You have to know how to do PowerPoint because this is basically going to be your job.'" He adds that the visual element of PowerPoint just feels like a natural fit for delivering jokes to young crowds that bathe in image-based meme culture and spend "18 hours a fucking day staring at a screen."
"So many people are engaging with digital media more than they engage with human faces that I think it makes sense to incorporate digital stuff into your stand-up, because that's the reality of human communication right now," Young-White continues. "There is something about stand-up that is beautiful for that reason because it is raw, face-to-face personal connection, but sometimes that doesn't express the full range of what it's like to be a human today."
Far from the core of his act, Young-White regards his PowerPoint segments as treats to be doled out on "special occasions" or during his college visits where he's likely to be performing in an AV-ready lecture hall. Though he says that he's never seen a "good" PowerPoint presentation or been "really moved by some bullet points," he isn't trashing the medium. He explains that it is the software's inherent dullness, coupled with its ubiquity, that allows him to mine big laughs from its conventions and include slideshows like "Which Bugs Are Gay?" that would feel awkward if presented in the traditional stand-up format. "[PowerPoint's] so inherently normie and popular that everyone has some touchstone for it," he says. "There's something so didactic about it that people have a higher tolerance for listening to drawn-out bullshit. So, I can talk about weirder shit than if I were just doing stand-up, where I would lose people's attention quickly."
While Young-White's PowerPoint style is to begin with absurd, jokey topics, Late Late Show writer and September 21st enthusiast Demi Adejuyigbe went the inverse route with his recent XOXO Fest slideshow on jazz. Adejuyigbe took the relatively grounded subject and explored it in a presentation filled with the conjecture, tangents, and spurious information of a class clown, but delivered with the professorial assuredness of a TED Talk-er. For example, in a slide titled "THE EPITOME OF JAZZ," the audience is subjected to a clip of Tobey Maguire's scat-jazz number from Spider-Man 3. The next slide highlights a neon "jazz" sign hanging on a wall in the background of that scene, buttressing the point.

Though most might know Adejuyigbe for his song parodies, Twitter account, or podcasts, The Gilmore Guys and Punch Up the Jam, the man is a maddeningly prolific content machine, seemingly proficient in whichever format he chooses to wield for laughs, so it's hardly surprising that his talents would also shine in presentation software. But unlike Young-White, Adejuyigbe's work with PowerPoint is a relatively new addition to his repertoire.
He says his XOXO Fest presentation is a recycled and tweaked version of the slideshow he delivered a few months prior at a Drunk Education show. For these shows, comedians, writers, and other creative types are given a week to create a humorous presentation that pertains to a particular topic and then get drunk and perform it for a crowd. "The theme was La La Land," recalls Adejuyigbe. "I thought, How can I go a bit A to C to find a topic to make this joke presentation about? and I wound up on jazz. I like doing music stuff, and I like doing things where I can pretend to be an expert and explain things very poorly, so I thought I'd do a guide on how to make jazz. I was like, What steps can I take to make this wacky and fun and a little unpredictable at times? and it spiraled from there."
Adejuyigbe credits the absurdist comedy of Tim & Eric and the janky, lo-fi video-editing style pioneered by their underappreciated third man, Doug Lussenhop, as one of the reasons why today's audiences may find inherent humor in the unremarkable transitions and animations of PowerPoint. "Awesome Show, Great Job was very formative for me in recognizing that comedy wasn't always just setup and punch lines," he says. "These sort of multidirectional types of bits and shows like that becoming popular helped people start to see comedy in different ways and how you can have a multiprong process for getting a joke out."
But more importantly, Adejuyigbe feels that PowerPoint works so well as a vehicle for comedy due to it being so far outside of the average entertainer's wheelhouse. "Presentations aren't fun," he says. "No matter how fun somebody wants to make them in PowerPoint, it rarely comes off as entertaining, because I look at the slides and you look at the person talking. So to subvert that and try and use it in a way where you're acknowledging how normie and boring the format is is why it works so well."
Not all PowerPoint comedy comes from professional comedians who've fine-tuned their show to elicit maximum laughs. Take, for instance, Crissy Milazzo's recent "Breakup Set" at Brandon Wardell's weekly stand-up show at the Satellite in Los Angeles, in which she spent half an hour chronicling the rise and fall of her and Wardell's relationship to a packed house of comedy fans. Though she's dabbled with open mics on occasion, Milazzo primarily considers herself a writer. So, with Wardell extending an open invitation for his then-girlfriend to perform a set at his popular show sometime, she demurred, worried about how it might play out.
"I never wanted it to seem like I was only there because I was 'Brandon's girlfriend' and have it be weird that I'm on this lineup with name comics," says Milazzo, before laughing and offering another reason. "I also didn't want to have to practice and do open mics and stuff to work on [a set]." But, once enough time had passed after their amicable breakup, and inspired by a viral PowerPoint from April proving that Lorde and Jack Antonoff were dating as well as "those memes of kids in high school presenting," Milazzo thought she'd finally found a way to take Wardell up on his offer.
With a day job that has her frequently working with the program, and a ton of photos and visual elements from the relationship she planned to use in the set, Milazzo set to work building a PowerPoint deck for her forthcoming Satellite show with the help of a graphic designer friend. "I work in an office every day, and half of my job is participating in the making and presentation of decks," says Milazzo. "Half the time, everyone is so mad that they're forced to be there viewing the deck when it's like, 'Why couldn't you just email me the deck?!' That's one of the funniest things about doing a PowerPoint as a show: It's something no one would want to attend in real life. It's your job to obscure the PowerPoint so much that you couldn't just send it to someone. I have to be here presenting this because this slide wouldn't make sense without me and I'm going to make it funny."
A stark contrast to the gusto and showmanship from Adejuyigbe in his XOXO Fest set, Milazzo kept things casual and low-key while she shared pics of her and Wardell at Coachella, dissected screenshots of text arguments, and administered a multiple-choice quiz about things like which event served as the precursor to their first time having sex (Answer: C. Cheesecake Factory).  Though Milazzo insisted Wardell remain sidelined onstage while she performed in order to riff commentary should her concept prove to be less funny than anticipated, the set garnered big laughs and even a few post-show DMs from attendees who'd experienced catharsis or breakthrough realizations about their own failed relationships thanks to her set.
Thanks to this experience, Milazzo now sees PowerPoint as a potential door into comedy for those intimidated by the traditional routes. "It's nice to have writers and people who aren't 'real' comedians be able to present these things onstage, because … stand-up comes with a lot of fear and difficulty, and it's only you up there," she says. "It's easier when you have something else there [with you], and I don't think that makes it less entertaining or involved. That allows more people to do something comedic without them thinking, 'The only way for me to be doing something funny onstage is with stand-up or improv or sketch.'"
As this inviting new branch of the tree of live comedy begins to grow, it bears mentioning that none of the three presenters interviewed for this article actually used Microsoft PowerPoint to make their decks. Adejuyigbe and Milazzo both used Apple's Keynote, and Young-White prefers browser-based Google Slides, where he doesn't have to worry about a venue's operating system should he want to do a presentation somewhere on the road. Nonetheless, all three consistently referred to their and all other slideshows as PowerPoint. "'Google Slides comedy' just doesn't have the same ring to it," Young-White jokes.
So, how do PowerPoint geeks feel about the software finding a new home in the comedy space? Robert Gaskins, one of PowerPoint's aforementioned co-creators, says he sees nothing subversive or unusual about PowerPoint's developing comedy market, and after viewing some clips of the above entertainers' sets, he thought they'd all used his product in its "natural way." In fact, having studied Shakespeare for over a decade, Gaskins has always regarded his creation as having a certain theatrical bent. The reveal of younger comics utilizing it in this manner seems less of a surprise to him and more of a vindication that society is overcoming its "lingering assumption that PowerPoint is only for stuffy business presentations" and finally seeing his original vision in whole.
"The whole concept was much more broad, to be a tool that would give control to 'content originators' — the people who really have the ideas — so that they could communicate their creative visions directly, without being limited by having to work through layers of intermediaries," Gaskins explains. Focusing PowerPoint's marketing on business presentations was simply what made the most sense in the software's infancy because "this was the highest-value use for the product, and the one most easily understood by customers. How could I have described the Crissy Milazzo use-case in 1984? It would have been impossible."
If nothing else, 2018 has taught us that playing with form is invariably bound to enrage certain purist segments of comedy fandom. This emerging PowerPoint trend, already making its way from the stage to screen — Aparna Nancherla included a PPT segment during her episode of Netflix's The Standups — will surely prove to be no different. As these audiovisual sets subvert our expectations and encourage non-comedian entertainers like Milazzo to take the stage, the takes, critiques, and ironic Excel comedy sets are likely just around the corner. But as Young-White puts it, "there's so much ugly shit going on in the world" that anyone who would take umbrage with something as inconsequential as comedians using PowerPoint in their acts "literally needs to go to therapy."