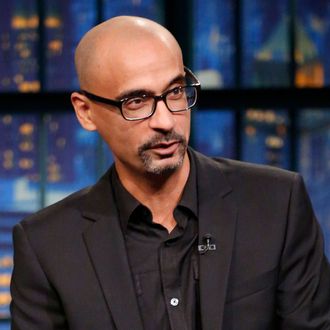 Junot Díaz.
Photo: NBC/NBCU Photo Bank via Getty Images
Almost six months to the day after Junot Díaz stepped down as chairman of the Pulitzer Prize board following allegations of sexual-misconduct, the board issued an announcement declaring the end of their independent investigation of the author and welcoming Díaz back as a full member.
This past spring, The Brief Wonderous Life of Oscar Wao writer was publicly accused of sexual-misconduct, including forcible kissing, by author Zinzi Clemmons, who confronted Díaz at a literary festival in Sydney, Australia. Several female writers subsequently spoke up, alleging the author had subjected them to misogynistic verbal abuse. While seeming to acknowledge some wrongdoing following the confrontation, Díaz later said he was "shocked" by the allegations, and denied Clemmons' accusation entirely.
But while three poetry editors eventually left the Boston Review after it declined to dismiss Díaz from his position as fiction editor, MIT later cleared the author, who also serves as professor at the university, in their internal investigation of his actions. Now, the Pulitzer Prize Board has done the same, after launching what they say is a "thorough, wide-ranging and independent review of the matter" conducted by Washington law firm Williams & Connolly.
"The review did not find evidence warranting removal of Professor Díaz from the Board," they said in a statement Friday. "Accordingly, after full discussion and consideration by the members, Professor Díaz will be welcomed to resume his full duties as a Board member and to fulfill his term, which expires in April of 2019."