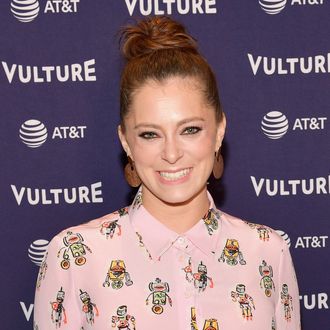 Rachel Bloom.
Photo: Matt Winkelmeyer/Getty Images for New York Magazi
Once Crazy Ex-Girlfriend's supersize final season finishes airing, creator and star Rachel Bloom mostly has plans to sleep and decompress from her intensive work schedule. But as she told Cameron Esposito during a conversation at Vulture Festival Los Angeles on Sunday, she also has plenty of other ideas she wants to pitch.
"I want to do a new album, but of all super dirty songs," Bloom said, explaining that she has accumulated a bunch of "dirty, dirty song ideas" while writing for her CW show. "I have a song called Rub Your Pussy on It that I've been wanting to do for a long time. I've sung it in the writers' room." Bloom added that she also on contract to write a book and had pitched a musical film with Paul Feig that no one bought, but is otherwise at mercy of people with money who may or may not want to fund her ideas. "I have TV pitches, I have theater ideas, but it's kind of up to other people to decide," Bloom said. "Unless you are actively paying for your own stuff, you're at the mercy of other people to tell you what you can and cannot make." People with money, hit her up!