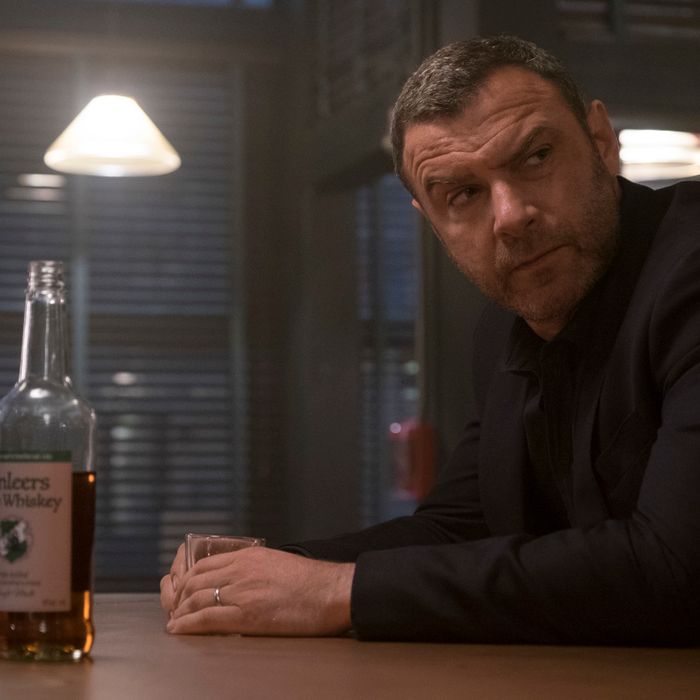 Photo: Jeff Neumann/Showtime
The fifth episode of the strong sixth season of Ray Donovan was a melancholy affair in which two men said goodbye to their children, one sending his son off to the Marines and the other giving up his daughter, knowing he may never return. Ray Donovan has always had a conflicted relationship with his son Conor, and he doesn't quite know what to say to him before he heads overseas, possibly to die in the line of duty like so many lost branches of his family tree. Meanwhile, Brendan "Bunchy" Donovan feels trapped in by his idiot father, going along with his latest scheme, but dropping off his daughter Maria with his brother Terry before he goes. Both men know they may never see their kids again.
While the Conor plotline dominates "Ellis Island," Ray Donovan also has a job to do this week. It's only two weeks until the mayoral election and his boss Sam Winslow needs Anita Novak to win. She's too far behind in the polls to stick to traditional methods, and so Ray devises a plan to boost her numbers and get Daryll Donovan back on the set of his movie, Mister Lucky, from which he's been barred for, well, being related to the guy who kidnapped and nearly killed the movie's star. Those Hollywood types don't like to fraternize with relatives of people who kidnapped them. Damn liberal elites.
At the end of the last episode, Bunchy and Mickey Donovan woke up to realize that the $3 million earned from their kidnapping of Jay White had been absconded with by Mickey's sister-in-law Sandy. Almost immediately, Mickey starts trying to devise a new plan. He's like a shark of idiocy—always swimming to the next dumb move. It starts with stealing a car across the street, which he piles Bunchy and Maria into and off they go.
Meanwhile, Ray has a nice scene with Terry—hey, let's have more interaction between Liev Schreiber and Eddie Marsan soon, Ray Donovan writers. They have phenomenal, believable brotherly chemistry. Terry brings up the fact that Ray should have called him when the kidnapping went down because Terry may have been able to talk Bunchy out of it—and he's not wrong. Ray notices that Terry 's face is swollen and bruised, noting to his brother that fighting could kill him. Terry barely seems to care. Everybody's gotta die sometime is practically on the Donovan crest.
Speaking of the Donovan crest, much of this week revolves around Ray trying to get Conor to go to Ellis Island with him to see the Statue of Liberty. Conor, as apathetic and annoying as ever, would rather see the movie set and get high with his sister and future brother-in-law. He even says he'll meet Ray at the ferry and then ditches him, which allows Ray a solo trip to see Lady Liberty. Along the way, he meets a red-headed Irish lass, who may be a ghost?!? At least the writers didn't completely oversell the supernatural new friend who Ray talks to on his trip by including an old photo of her somewhere, like the end of The Shining, but it was still an odd twist to have the friend that Ray makes on the ferry basically disappear. Before she vanishes, Ray does reveal that his grandfather died in WWII, one uncle in Korea, and another in Vietnam. There's a lot of military death in the Donovan family. Is that why he wanted Conor to see the memorial on Ellis Island? To give him second thoughts? To say things to Conor that Ray can't say himself?
Of course, New York mayoral politics has some notable screen time this week too. First, Sam goes to Ed, the current mayor, and tries to work one last deal with him. It seems like Sam isn't sure Anita is going to win and she desperately needs that prison, so she can tear it down for her new production facility. Ed basically tells her to f-off. That means she'll need Ray to do something, and wouldn't you know Mr. Donovan already has an idea. He calls in Lena and asks her to get her girlfriend Justine to do another job. There won't be any sleeping around on this one, but it does involve a vicious punch to the face from Lena to Justine. One wonders how long Justine will put up with being used by Lena and Ray, and if she could be trouble for Sam and Anita when she's had enough.
A bruised Justine goes to a tunnel in Central Park, pretends to get mugged (by Daryll, of course), and gets saved just in time by someone passing by. That someone just happens to be Anita Novak. A mayoral candidate stopping a mugging? That's the kind of story that local news outlets devote multiple reporters to and is almost certain to goose her numbers.
While Ray, Lena, Daryll, and Anita are running that nifty little PR job, Mickey Donovan's newest scheme is coming together. Stopping at a motel with his son and granddaughter, he sees a brochure for the Hampton Jitney, a bus that takes rich folks up to the Hamptons. You can almost see dollar signs in his eyes like a Looney Tunes cartoon. He scopes out the bus and tells Bunchy that they're going to rob it. Bunchy realizes it's an incredibly stupid plan, but when he gives Maria to Terry at the end of the episode it looks like he's going through with it.
The episode ends with Ray watching his buddy Mac shoot at abandoned cars with some of his cop pals as Conor takes off. Ray never quite said what he wanted to say. Hopefully he'll get another chance. Meanwhile, Daryll is back on set, and it looks like Bunchy is gonna help his dad mug people on a bus.
The typical episode-ending montage leaves time this week for one more scene. Ray is drunk in his apartment when Anita knocks on the door. He's evasive, asking what she wants, practically pushing her to leave. She doesn't. She moves into him and they kiss. She bites his lip so hard it bleeds, and Ray is snapped out of his drunken stupor. He gets rough, grabbing her neck hard and turning her around. She likes it. And Ray has sex with the next mayor of New York City bent over his kitchen counter.
Deleted Scenes:
• The music montage this week was to "So You'll Aim Toward the Sky" by Grandaddy. A nice deep cut for a show that always uses music well.
• The Irish lass at Ellis Island quotes Yeats. If you're wondering which poem, it's "Aedh Wishes For the Cloths of Heaven".
• Guess what? The Arthur Kill Correctional Facility, which Sam Winslow wants to control and where Smitty's former antagonist ends up this week, is a real place that's already been co-opted by Hollywood. It was an actual prison on Staten Island until 2011, and has been a set since then, used in Orange is the New Black, Ocean's Eight, and more. Read more about it here.