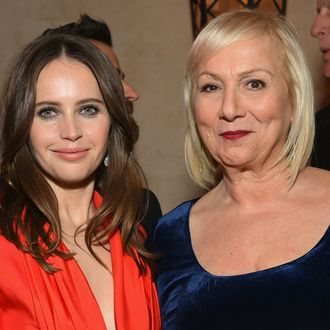 Felicity Jones and director Mimi Leder.
Photo: Emma McIntyre/Getty Images for AFI
The AFI Fest kicked off its opening night gala on Thursday with the premiere of On the Basis of Sex, a biopic about Ruth Bader Ginsburg. Felicity Jones stars as the iconic Supreme Court Justice, portraying her when she was a young lawyer fighting against gender discrimination.
The celebratory tone of the evening was marred with the news that the 85-year-old Ginsburg had suffered a fall in her office on the same day as the premiere, which caused her to break three of her ribs. Jones said that she had checked in on her condition with Daniel Stipelaman, the film's screenwriter and Ginsburg's nephew.
"I spoke to her nephew Daniel, and he said that he had spoken to his aunt and she was hungry and she was looking forward to getting back to work."
After spending time with Ginsburg, Jones told Vulture that it wasn't a soaring legal soliloquy or searing Supreme Court opinion that made the greatest impression on her, but rather how the Justice unwrapped a small present.
"She is incredibly careful with everything. I gave her a present from someone from the set and they were these beautiful lace gloves…and she opened them and the care with which she did that and the focus and the appreciation she had for that gift just told me so much about Ruth. The care and deliberation she takes and the seriousness of the responsibility which she has. I could see even in those little moments, it's every step of the way for her. She doesn't take anything for granted for a single second."