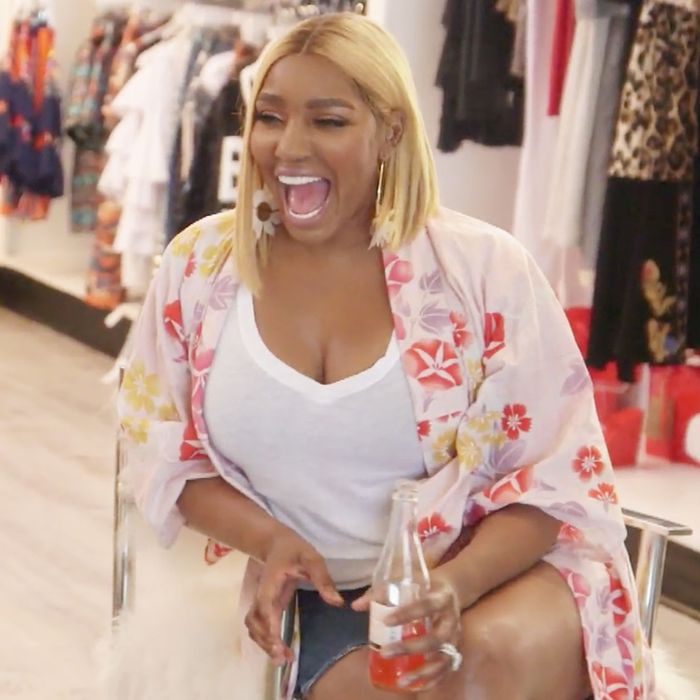 With this season of Real Housewives of Atlanta brewing, there have tons of news stories swirling around the series. Is Kenya coming back to the show? Is Porsha really pregnant? Where are the joggers? September came and went, Sherée! Who is getting that sixth peach? There's no Sherée. No Kenya. No joggers!
Shamari DeVoe, Blaque singer, star of Bring It On, and the wife of the DeVoe of Bell Biv DeVoe, is going to be grabbing peach. We don't get to meet her yet, but we do get some snippets of her in the season preview. This bitch stands up and shouts "ME!" when the gals ask who has been in an open relationship. I already love her.
Before we can meet Shamari, we've got to catch up on a lot. Let's get to it.
First things first, let's declare a winner for the new tag lines this season. It's NeNe. How could it be anyone other than NeNe? "I'm the glue for my wig and my family"? It's beautiful in its perplexity. SHE is the GLUE for her WIG? In this metaphor, NeNe is the thing keeping her wig on her own head? Take that, Roxxxy Andrews.
Everyone is coupled up and both Cynthia and Porsha's stories about their new relationships are positively bonkers. First up, Porsha has been dating her new man, Dennis, who is some sort of hot dog mogul in Atlanta. Porsha keeps acting like he's got the kind of wealth that is generational and significant. The dude owns a couple hookah lounges. All of this could go away in an instant, Porsha. I hope he's investing. Porsha and Dennis have been dating for five months and they've already said "I love you" and are looking at $500,000 engagement rings. Dennis says that he sold 2,000 hot dogs last week, so there's no budget.
Cynthia's new boyfriend is Mike Hill, a sportscaster for Fox Sports. It's possible he only exists inside Cynthia's phone. Even more ridiculous than Cynthia almost beginning FaceTime sex in front of her own daughter is the sentence "We met through my friend, Steve Harvey."
I'M SORRY. WHAT.
I knew someone who worked for Steve Harvey and said that his birthday cake was pinstriped with fondant cigars and he had an office just for his suits. Cynthia, this is the person you're trusting with your romantic destiny? Cynthia and Mike have been dating for three months and he's already swam in the cool water of Lake Bailey.
The real emotional core of the episode, and I'm sure the season, is NeNe and Gregg. Gregg was suddenly diagnosed with stage 3 colon cancer. NeNe has stepped in to be his caretaker. She is dealing with his illness by just crying in her car. She remembers that it was Cinco de Mayo when Gregg had to be rushed to the hospital and they made his diagnosis. I'm not going to make fun of NeNe while her husband is dealing with cancer, but I just want to direct everyone to listen to exactly how she says "Cinco de Mayo."
Also, Gregg tells her at one point that "colon-wise, I'm good."
Porsha visits NeNe at her boutique and NeNe is getting ready to open another boutique called "Swaggalicious." Porsha tries on a few things and tells NeNe that she's got a "friend." If you're going to look at engagement rings the size of a hamster, I think you're past the point of calling him a friend. My friends do not do that for me. Porsha decides the best thing she can do for NeNe is to make her laugh so she does an extended bit about making that ass clap while she's making eggs. That's what friends do.
NeNe is going to Miami for a stand-up gig. They're still letting her do stand-up? Who is paying real money to go see NeNe? Well, Mike the Original Hot Dog King is taking Porsha to Miami for the weekend for her birthday and she can just feel the proposal in the air. So, Porsha decides to rally the girls and head to Miami to support NeNe. If they just happen to be in Miami for her proposal too, that's even mo' better.
But Porsha will have to call Kandi. Their relationship is … strained. They've just reached a point where they're icy but friendly. Kandi and the rest of Xscape is in Los Angeles getting the Golden Note Award from ASCAP. Apparently, Kandi's emotional thread this season will be if she's a good mother even though she has a job. Kandi seems to be a fine mother who is involved in her kid's lives. Riley seems to think that Kandi is "too busy" to have another kid. There's a moment where Ace is crying while Kandi is on the red carpet and Todd is at the bar. Any lectures about parenting commitment need to be directed at Todd's unemployed ass. Kandi is out there performing in silk kimonos for your benefit, Riley.
A fun fact given to us by this episode is Kandi has a ringback tone that she recorded.
What's Eva doing? She's doing a family photoshoot. She's three weeks from her wedding and has an adorable two month old. Her baby is still a very cute blob. Give this baby a spin-off. Her family photoshoot is the first time she's been in front of the camera since having her son, so she decides to throw off her shoes and fire up the wind machine. The smize will never die.
Porsha finishes up calling all the girls and Cynthia almost gives the game away to NeNe but lies and says she has a conference call. Good one, Cynthia. Let's head to Miami!
Porsha is, of course, the first to arrive in Miami with her boyfriend. Porsha is telling him who is going to be in Miami that weekend, and he says that he knows Kandi but is rendered unable to speak human words when she asks him how he knows Kandi. Oh no. This tenuous relationship between Kandi and Porsha is about to crumble. The Waze app even notices and says "Hazard reported ahead." Thematic. Mike got Porsha a very sexy Airbnb and set up rose petals leading to the bedroom. Porsha runs into the bathroom to call her sister and forgets to turn down the volume. Calling your sister from the bathroom immediately before getting engaged is a very relatable move. She fixes her new wig while Mike runs into the next room to grab champagne and a very large box.
TO BE CONTINUED…