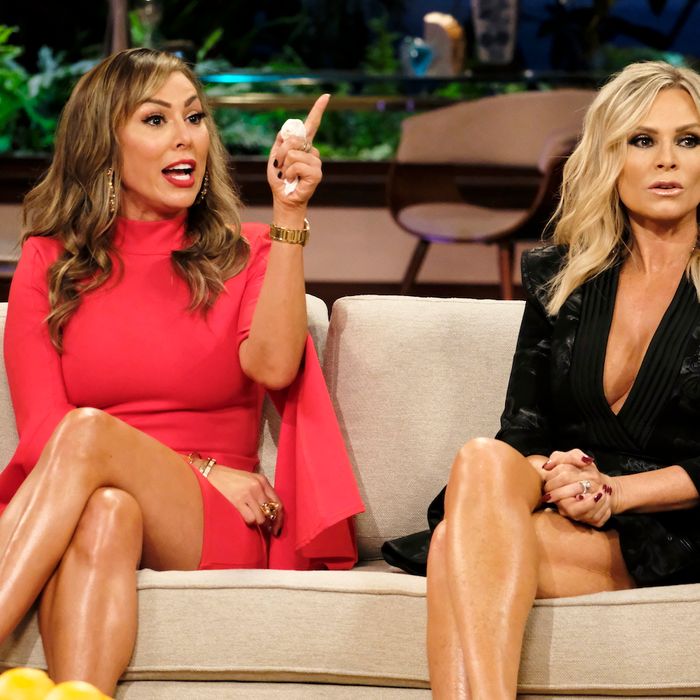 Photo: Bravo/Trae Patton/Bravo
As members of the Real Housewives Institute, you know that there is nothing I hate more than writing about the reunion episodes. However, this might be the best episode of this season yet. It's like something finally happened. Where were these harridans all season when all we could do was sit around and watch Shannon's rain cloud follow her to holistic acupuncture appointments and Kelly Dodd getting a little bit plastered while on a golfing excursion? It only took 19 episodes for the ladies of the OC to finally bring it, and bring it they did.
Before we get into that, however, we need to go around the horn and talk about all of the women's outfits. In general it seems like there wasn't a brief at all for this reunion. There's no theme or color scheme. It's like the producers said, "Just make sure we can see your knees," and left it at that. Even Bravo has given up on these ladies at this point.
Just look at the couch with Shannon, Vicki, and Emily. Vicki and Emily look like they dressed for the same occasion, but Shannon absolutely does not. She's wearing a low-cut navy blue dress with some marabou around the bell sleeves. It looks like something that Phyllis Diller would have worn on stage with a fright wig — however, Shannon's hair and makeup look flawless.
The funny thing about Vicki and Emily is that their dresses have so much in common — both green, both asymmetrical, both short, both ill-fitting — but they clash at the same time. Vicki's is Elphaba green and, much like a Frank Gehry skyscraper, its construction defies explanation. There's, like, a drape over one boob, but the other boob only has a bra and, like, a cut-out underneath it? I don't know. It's a mess. It's the kind of dress that probably looks better when she's standing up than when she's sitting down, but a pro like Vicki should know that a dress only needs to look good when she's sitting down for a reunion.
Emily's dress also looks bad when she's sitting down, because it has a ruffle along the hip, but this is Emily's first rodeo, so I'm going to give her a pass. Her dress is more of a mint chocolate chip color and covers one arm. My problem is that it is very unflattering. She looked better in her one-piece bathing suit in Jamaica than she does in this dress, and if she can look better with far less fabric, she's not doing herself any favors.
On the other couch, Tamra doesn't look like herself but definitely wins the best-dressed award. She has messy, piece-y hair (a far cry from the bouffants of old) and smoky eye makeup. It looks perfect with her stylish black dress, which has a black-on-black floral print that I really love, and is cut so low that it shows off all of Tamra's finest attributes. The problem is only when she stands up and we can see that there is a ruffle at the bottom of the short skirt, making it look like a goth '80s prom dress. But Tamra ain't dumb. She knows we are only going to see her standing up fleetingly, so it isn't so bad.
Kelly looks classy and nice in a high-cut red dress with bell sleeves and killer red cougar-print pumps, which totally plays into her cougar theme for the year. At the end, Gina is dressed like Dorinda Medley dressed as Lady Gaga for Halloween. What even is this purple sequin dress? And why give herself bright eye makeup to match? And the sparkly mismatched earrings? I don't get it. I can't say that Gina really has a style other than, "I wear bad hats all the time," but this is not how I would peg Gina's style. It's more Atlantic City bachelorette party than it is Orange County reunion special.
Gina really brought her A-game to the reunion, though, finally being really open about how her relationship was at an ebb when she joined the show and it ended up being a lot worse for the relationship than she had anticipated. She's also really up-front about what was lacking in her relationship with Matt and why she decided that they really needed a divorce rather than to work on their issues. Gina, apparently, has finally learned to play the game and I really hope that we can see her around next season. She also calls everyone — particularly Vicki, but also her new BFF Kelly — out on all the shit they said, which will make her an excellent addition next season.
Now, before we talk about the rest of the reunion, I just want to point out to you that I am also recapping Bravo's new scripted series Dirty John, based on the podcast of the same name. That transition was about as seamless as when Andy Cohen said, "Vicki, Linda from Sheboygan asks, 'Is your life just like the show Dirty John, which debuts on Bravo immediately following this reunion special?'" Vicki of course says yes, because it is. There should have been at least a #sponsored in the corner of this question, like it was an Instagram post about Flat Tummy Tea.
However, it turns out to be a pretty interesting interaction, because Vicki, for the first time ever, seems to admit that she was conned by Brooks and that her daughter and her friends were right about this guy the whole time. Vicki also says that she's going to go after Brooks in court for all the money that he owes her, which of course she is. She also finally admits what we always believed, which is that she left Donn for Brooks, which also possibly explains why she feels so bad about her marriage with Donn ending and tried so hard to make her relationship with Brooks work.
Everyone is mad at Vicki at the reunion, but most of all Gina and Kelly, who seem to have formed some sort of recently-divorced-lady alliance. A lot has happened between the taping of the finale and this reunion. I almost needed someone to catch me up. Gina and Kelly are besties, Tamra and Shannon are no longer speaking, and everyone thinks that Vicki is a horrible person, which, if we're being objective, is totally true.
The big fight is really between Kelly and Vicki, and we don't need to know what happened after the end of the season, we just needed to see the clips of what they said behind each other's backs to know where it all went wrong. It basically comes down to the fact that Vicki set her ex Michael up with some girl and didn't tell Kelly about it which, I agree, is pretty shitty behavior.
The weirdest interaction is when Kelly calls Vicki a "fart," because she's "silent but deadly." I don't quite get the analogy, but anyone using toilet humor to talk about Vicki is all right in my book. Then Vicki says that Kelly is "just like a baboon, ba, ba, ba," which I don't understand at all. Baboons talk a lot? They make a lot of noise? I don't know, Vicki, you could have done better.
The really bad part comes when Vicki accuses Kelly both of doing cocaine and of not spending enough time with her daughter. Andy says, "Now Kelly's in tears because you said she does cocaine and is a bad mother." Vicki immediately pipes in with, "I didn't say that Andy! Don't put words in my mouth!"
That is what makes Vicki the worst. No, she didn't say it, but she insinuated it. The only reason to bring that fact up is to make Kelly look like a bad mother, and when it didn't land the way Vicki wanted it to, she backed off into semantics and tried to soft-pedal exactly what she said. When everyone then calls her out on her insinuation and Kelly explains what is going on, she says, "Well, [your custody arrangement] is between you and Michael." Right, so why even bring it up! God, she's exasperating.
We leave the episode with Kelly yelling at her ex Michael on the phone and complaining that Vicki said that she is a bad mother and does coke and Vicki saying, "She called me a fart. Who does that?" I don't know, Vicki, but I do know that your performance really stinks.