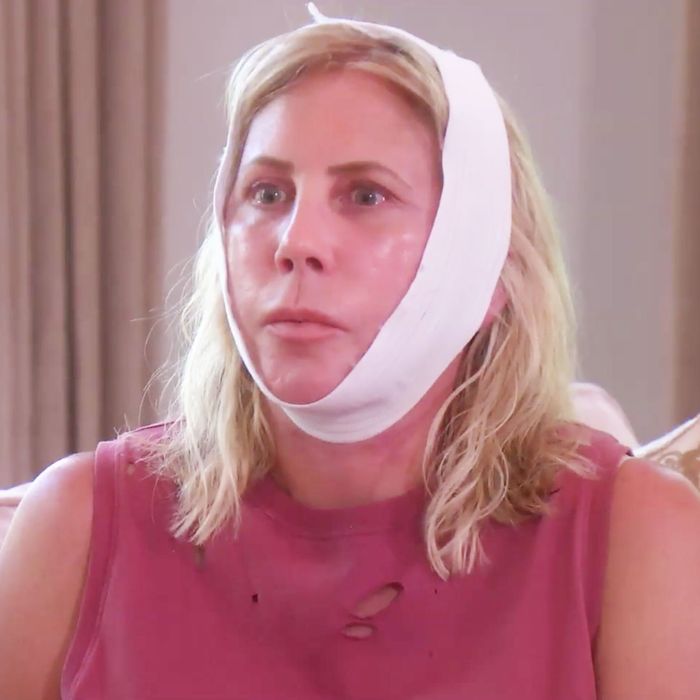 There is a certain bodily intimacy between women that men will never understand. Not only would most guys never take mushrooms, get naked, and examine each others buttholes like women might, there is no way in creation that one man would give another man an enema. There is not enough sensitivity training in the world to get one man's fat, buffalo-fingered hand near to another man's hair-coated ass crack with a Fleet bottle. It just wouldn't happen. I mean, I am a Fire Island homosexual of the highest order and they sell Fleets right there at the checkout counter of the Pines Pantry right next to the world's most amazing oatmeal raisin cookies, but even among gay men, there are some things that are not group activities and, trust me, enemas are one of them.
That cannot be said for Tamra and Shannon. Dressed as grandmas during a warped post-surgery slumber party at Vicki's house, they go into the bathroom and Shannon gives Tamra a very hands-on demonstration of what one little bottle of water can do to one's large intestine. This is not the first time that Shannon and enemas have been on our television screens, as the handy recap of when she got an enema cap lodged in her ass reminds us. However, this is the most scatologically extreme situation we've seen on Bravo since Bobby Brown dug a "doody bubble" out of Whitney Houston's butt on Being Bobby Brown.
The dueling parties during this week's episode really highlight one of the (many) problems with this season of the show. On one hand you have Gina, Emily, and Kelly celebrating Gina's 34th birthday party at Social, a restaurant that looks like where harried mothers would take their kids after a Little League game to order exactly one low-alcohol margarita while their brood chows down on chicken fingers and scribbles with crayons on the placemats. Gina and her crew's all-sequin attire does not match the atmosphere, nor does Emily's overstuffed "tablescape" that looks like a tacky crèche at a Catholic church ate a disco ball and a haunted house and then vomited all over a piece of cheap polyester.
The one positive thing I can say for Social is that Michael, the host at the restaurant, is the hottest thing we have seen all season since Kelly's Milkman. Would someone please let Gina unwrap Michael the host for her birthday?
The other party is Vicki Denise Gunvalson Jr.'s slumber party where she's still recovering from surgery so Tamra shows up dressed as Sophia Petrillo from The Golden Girls complete with curlers in her hair, support hose, fake wrinkles on her face, and bleached-out eyebrows that made her look like a contestant beating her face on RuPaul's Drag Race. It's a pretty funny gag, and the woman sit around drinking wine, downing Xanax, and bitching about how much more fun they're having than the girls who are out for a big night on the town. Vicki even says at one point, "I don't ever want to be that girl again," meaning one who goes out in sequins and gets wasted. Um, really, Vicki? I'm going to remind her of that next time she's eight tequila shots deep at Andele's and trying to get a room full of sloshed midwesterners to "Whoop it up!"
The problem is that these women are on two different shows. Gina and Emily, though not awful additions to the cast, are decidedly younger with much younger children than the rest of the crew. Gina is still cutting orange slices for her rambunctious critters while Vicki is explaining life insurance policies to her grown son who is lecturing her on not messing around with her face anymore. (How did Vicki think her kids weren't going to know about her most recent surgery? She is aware that she did it on cable television, right?) These are not people that are necessarily compatible.
They are both fun groups, but I will say I probably enjoyed Tamra, Shannon, and Vicki being utter goofballs at home more than Gina trying to get the party started at a table for eight at Social that she couldn't even fill. They're just bringing very different things to the table, and it's no wonder that Gina and her crew are making fun of Vicki and the old ladies putting on their foot cream at home and Vicki and company are capitulating about how try-hard Gina and her crew are at trying to have fun.
The only one who can bounce between the two different groups is Kelly Dodd, because she has history with the Vicki crew but also thinks of herself as a good-time gal who would fit in more with the partiers. Kelly, more and more, becomes the glue that holds this whole show together, and not only because of her jokes like saying that Gina's ex Matt is so hot that she'll gladly take Gina's leftovers.
Something else Gina and Kelly have in common is that their relationships with their exes get foggier and foggier. Apparently Matt is calling Gina up and trying to have phone sex with her even though they're separated. Kelly goes to see her daughter Jolie in a community theater production of Oliver! and spends most of the time flirting with her ex Michael. I think in Kelly's case she's giving the guy false hope that they might get back together since he clearly wants to be with Kelly and she would rather be spreading her sunshine all over Orange County, including to Gina's sloppy seconds. (She also probably went home with Michael the host that night too. Good on you, Kelly!)
Speaking of Gina, what the hell is going on with her and her "casita," which is really a tiny home of terror. She and Kelly take over a carload full of stuff for the place, but how much time is she going to spend there? How much stuff does she need? Apparently she needs about 17 pillows per square foot in that little room, because that thing has more pillows than a New York City movie theater has bed bugs. There's also that awful sign over the bed that says, "She leaves a little sparkle wherever she goes." I was totally expecting Kelly to say, "After giving birth it should say, 'She leaves a little sprinkle wherever she goes.' Right? Am I right?"
That is the most Kelly Dodd thing that could possibly happen, more than having someone in her phone as "Tamra New Number." You know that Kelly totally has, like, full sentences next to people's names. "Julie Cried On Her Shoulder at the Quiet Woman." "Joe Tried to Give Him a Handy in a Port-O-John at the Lynyrd Skynyrd Concert." "Patti Jolie's Annoying Choir Instructor DO NOT ANSWER." Yeah, there are two groups of women on this show right now, one young and one old, and the only one out of the whole bunch I want to see these days is Kelly Dodd.