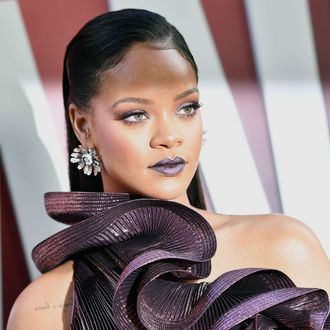 Rihanna.
Photo: ANGELA WEISS/AFP/Getty Images
As of last night, Rihanna is just the latest musician to publicly rebuke President Donald Trump for using her music (specifically, "Don't Stop The Music") to get the crowd hyped at his Sunday rally in Chattanooga, Tennessee. Now, RiRi's taking her complaints right to the top. According to Rolling Stone, the Fenty Beauty mogul reportedly issued a cease and desist to the Trump White House on Monday. "It has come to our attention that President Trump has utilized Rihanna's musical compositions and master recordings, including her hit track 'Don't Stop the Music,' in connection with a number of political events held across the United States," her legal team said in part. "As you are or should be aware, Ms. Fenty has not provided her consent to Mr. Trump to use her music. Such use is therefore improper."
The letter continues, "Trump's unauthorized use of Ms. Fenty's music … creates a false impression that Ms. Fenty is affiliated with, connected to or otherwise associated with Trump." However, the question for Rihanna and her fellow performers remains: Can they actually stop the president from using their songs to get his supporters amped up? To put it simply: maybe, maybe not.
As the Washington Post laid out on Monday, Trump should ask permission to use Rihanna's music, but he doesn't necessarily have to do so. If Trump was, say, using Rihanna's music in a radio or TV ad, or specifically as his campaign theme in a promotional sense, she could attempt to pull that song's license. However, if the song is merely background party-music at a Trump event, the music is potentially covered under the venue's blanket performance license. Rihanna can always try to take Trump to court if need be or hope that the President simply stops playing her music now that she's voiced her distaste, like he did for Neil Young back in 2015. Or, and this seems more likely, these two can duke it out on Twitter on midterm Election Day, just because that would make the most sense for our national trajectory.