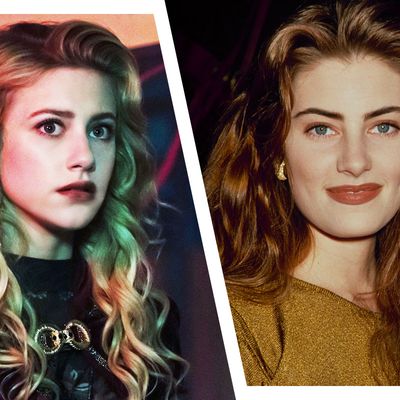 Photo: The CW/Getty Images
Hit the Aaliyah, because Riverdale is taking a very '90s journey to the past for its big flashback episode. In Wednesday night's "The Midnight Club," everyone's favorite dark and sexy teen drama is revealing the backstories of its (hot, terrible) parents with a very Riverdale twist: The actors who normally play the show's teens are playing their TV parents as '90s kids.
The plot reasoning is as delightfully wacky, of course: The mysterious D&D-like game Griffins & Gargoyles has taken over Riverdale High in the present, and so we jump back in time to discover the parents played it in high school, something went mysteriously wrong, and they swore to never talk about it again. In honor of this episode, we've rounded up comparisons between the Riverdale stars as their characters' parents and actual '90s-era photos of the actors who play their parents. Who teased their hair best?
KJ Apa as Young Fred Andrews vs. Luke Perry in 1990
KJ is aiming for a pout so intense, it could lure Brenda Walsh into emotionally unstable high school relationship with him.
Camila Mendes as Young Hermione Gomez vs. Marisol Nichols in 2000
Apparently the future Hermione Lodge was a little bit of a wallflower, while the young Marisol Nichols was already very glam.
Lili Reinhart as Young Alice Smith vs. Mädchen Amick in 1990
You can add a few extra CW-style ringlets into Lili Reinhart's wig, but you will never be able to replicate the majesty of Mädchen Amick's Twin Peaks-era volume.
Ashleigh Murray as Young Sierra Samuels vs. Robin Givens in 1991
From 1986 to 1991, Givens starred in the sitcom Head of the Class, which is also exactly what you need to be if you're an aspiring Riverdale mayor.
Cole Sprouse as Young FP Jones vs. Skeet Ulrich in 1997
There is just so much long hair going on here, I don't even want to think about it anymore.
Michael Consuelos as Young Hiram Lodge vs. Mark Consuelos in 1995
Sure, Michael Consuelos isn't a Riverdale regular. But just like his father, you gotta respect a strong eyebrow game.