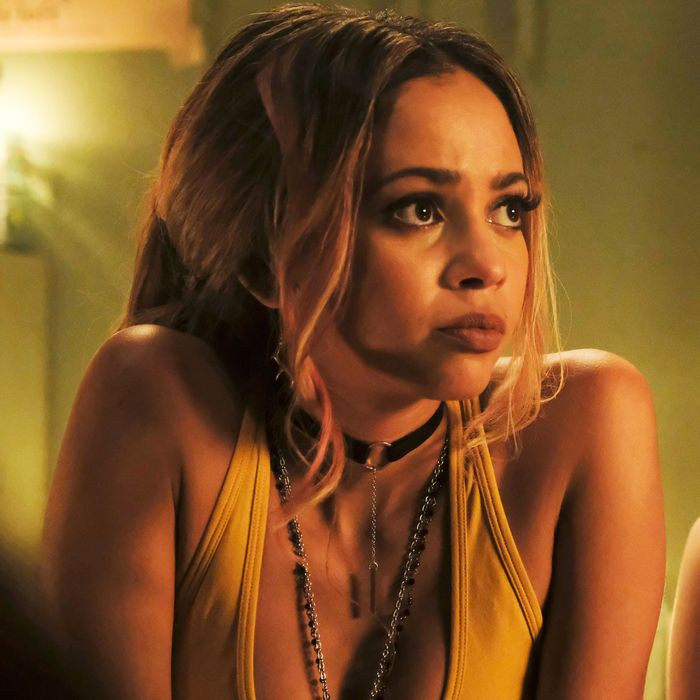 Photo: Jack Rowand/The CW
What with all of last week's '90s reverie, I almost forgot Archie was in prison. Unfortunately for him, Riverdale's own El Chapo proves to be pretty bad at escaping. Archie and Joaquin get pelted with what I am extremely relieved to learn are rubber bullets when they try to hop the yard's fence.
As Hiram — who no doubt has split at least one heart-shaped BFF necklace with Warden Norton in his time — will smugly report to Veronica, this could add another year to Archie's sentence. That may be so, but arguably a worse punishment is the warden's strapping Archie to his bed and branding him with a hot poker. Riverdale is at its best, or at least its most memorable, when it feels like I am watching a stranger's very specific preferred flavor of porn.
Gamemaster Jughead has drunk the figurative Gryphons & Gargoyles Kool-Aid, which means the literal, poisonous Kool-Aid can't be far behind. G&G is their town, he tells Betty, and their town is G&G. The name of the G&G realm, "Eldirvare," is even an anagram of "Riverdale." (Okay, but did you know that "Betty Cooper" is an anagram of "Obey Protect," "Boycott Peer," and most importantly, "Bootee Crypt?") "We've been playing this game for a lot longer than we know," Jug says. But he sees all the patterns now! He will find the Gargoyle King! Pepe Silvia!
Veronica turns to her mobbed-up friend Elio's Pizza (of the Sweetwater Casino Pizzas) for help getting inside of Leopold and Loeb. He invites her along to a mysterious event and instructs her to "dress incognito." Of course, Veronica's version of "incognito" is like if somebody took the bonkers blonde wig Barbara Stanwyck wore in Double Indemnity and flogged it with a flat iron. The hottest ticket in the Riverdale metro area is the decommissioned Seaside Recreation Center, home to the pit. "I'd recognize those abs anywhere," Veronica gasps when a certain young convict enters the ring with a bag over his head.
After the fight, Veronica finds Archie in the vacant locker room, where they take advantage of his brief alone-time to do sex with, to, and at one another. Scandalized by this "diabolical teen fight club" (if anyone on Riverdale is Tyler Durden, it's Betty), Ronnie, too, has a jailbreak on her mind. What if they didn't have to sneak him out of the prison at all, but just out of the pit? Archie recalls the warden's order to hose away blood from the fights into a drain in the center of the ring.
Veronica and Betty rally Josie, Reggie, and Kevin (whose parents are getting married, by the way; what am I going to wear?!) to prep for the human heist, to take place during Archie's next fight. For his part, Jughead offers to make his next G&G quest rescue mission-themed, which is about as helpful as a toddler in a car seat steering with a plastic toy wheel.
Archie sits down for dinner with the warden, whose references to young Archibald's "powerful enemies" make it sound like this fancy meal could also be his last — as does the casual ease with which he reveals that Hiram paid off Cassidy's robber cohorts to frame his daughter's boyfriend for murder. In the locker room before the match, Judas Joaquin betrays Jesus Archie by kissing and then, more to the point, shivving him. "The warden said, if I did this, I'd finally ascend," he explains. Cool, chill, fun, love it.
Flipping a tiny hourglass down in the bunker, Jughead warns his G&G playmates that the Red Paladin's fate hangs in the balance. Blocked by a bridge troll (I don't know, man), Deadeye Blossom rolls for an intimidation spell just as, in actual, real, interesting life, Veronica blusters her way past security at the pit, masquerading as the warden's daughter.
Betty, meanwhile, disables the warden's car. Disguised as a delivery man and fiddling with the locked grate on the pipe that will serve as Archie's escape route, Kevin spots Joaquin fleeing into the woods. Isn't that the worst, when you run into your ex while dressed as a delivery man and fucking around with some rusty industrial plumbing?
Archie, cradling his side like he's been stabbed, which, to be fair, he has, meets his opponent: Mad Dog! I guess Mad Dog is not dead? If you're waiting for an explanation, you're watching the wrong television program. His former cellmate beats the hell out of him, but Archie refuses to hit back. Instead — whispering in his ear as they grapple, not unsensually — he invites Mad Dog to escape with him.
No wig, however ludicrous, could stop illegal amateur teen boxing enthusiast Hiram Lodge from recognizing his own treacherous flesh and blood. No matter. At Veronica's signal, Josie and Reggie throw chem-lab-rigged soda can smoke bombs (guess these kooky kids found time to do some homework after all!) into the empty pool. Mad Dog won't come with, because he's already tried and failed to squeeze through the grate — Mad Dog is truly an enigma — but he gallantly holds off the guards' nightsticks with his fists of fury while Archie makes a break for it.
And so Archie Andrews crawls through a river of shit and comes out, well, pretty dirty on the other side. He and Betty take off on Jug's motorcycle, tailed by guards. But when they're finally stopped by a police blockade, the boy riding in back removes his helmet — and reveals himself to be Kevin. "Where is the Red Paladin?" the warden demands to know, not unspookily, but orders the guards to stand down. And lo, the G&G game is interrupted when Archie (who was really whisked off to a getaway car by the rest of the gang) crash-lands into the bunker.
Veronica demands that the entire latter-day Midnight Club form a pact of secrecy — no one else knows anything about the bunker, or the breakout, or wheresoever their hastily bandaged-up pal could be. (It sort of seems like it would be easy to find Archie by following literally any of these children for more than, like, half a day, but I don't know, I'm not a detective.)
Betty and Jughead recognize Archie's branding scar as a runic symbol from the game. That's no coincidence. Alone in his office, after gazing sadly down at two G&G cards — "Red Paladin" and "Kill the Red Paladin" — the warden takes a fatal swig of blue cyanide punch from a familiar-looking chalice.
Will we ever learn who is responsible? On a walk through Fox Forest, it's Jughead's turn to spot the Gargoyle King. In accordance with royal etiquette, he curtsies.