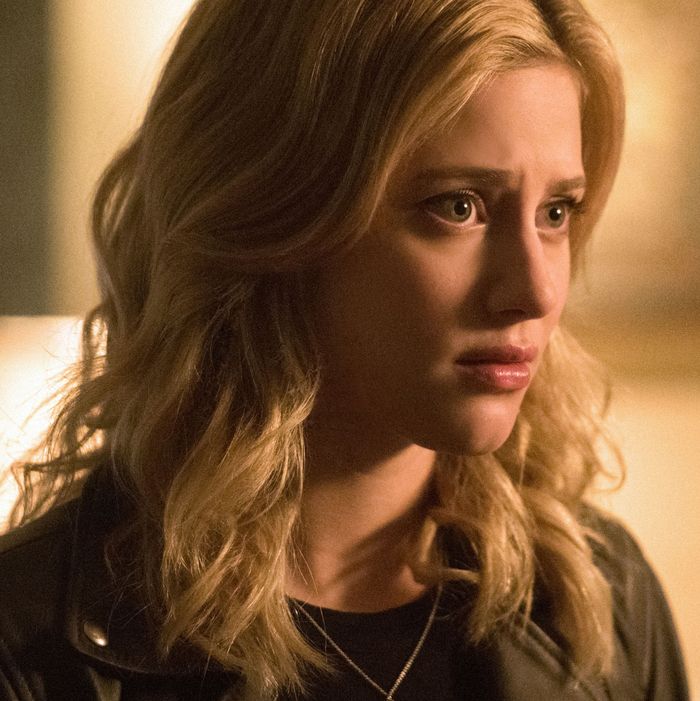 Photo: Dean Buscher/THE CW
There are, on my estimation, about 32 plotlines spinning on wildly different orbits in Riverdale's third season, and "Manhunter" is determined to move at least half of them forward. This is a show that only knows two speeds: breathless because it's doing things no TV show in its right mind should be trying, and breathless because it's suddenly realized that it has to start tying some of this stuff together and just pulled an all-nighter trying to do so. "Manhunter" is the latter kind, a head-spinning hour of Riverdale that's almost impossible to keep up with—there's just too much to do. But it's not like that's stopped Riverdale before, right?
(Hi, I'm not your usual Riverdale recapper, but I assure you, house rules are the same when it comes to this show: if it sounds like I'm making something up, I swear to you that I am not.)
"Manhunter" doesn't really bring a whole lot to the table in the way of new developments or wild revelations — it's a table-setting hour, and as such, it sends our four heroes in four different directions, each working to try and bring the mystery of Gryphons and Gargoyles into something far more tangible than it's been so far. There's a lot of cutting back and forth, so lets just run at this one character at a time.
First, Veronica, because she has the least to do, unfortunately. With Archie hiding in the Gryphons and Gargoyles sex bunker (who else will hook up here before the season is over?), Veronica is determined to exonerate her boyfriend, as there are "wanted posters with your strong jawline all over town."
To that end, Veronica decides to engage in some light hacking, getting her hands on Archie's case files, and the interview footage of the witnesses that helped convict Archie. It doesn't take long for her to discover that the police footage has been doctored, and that it seems the testimony was coerced. Her journey to leak this footage to the Innocence Project leads her to her mother's office in City Hall — only security has been warned to look out for her, so while she's able to get the evidence out there, it still lands her in jail.
Betty, meanwhile, does the most when it comes to working out the mystery of the Gargoyle King and … it still doesn't make much sense. Using a ruse to get all the adults of Riverdale to come to Le Bonne Nuit for a shakedown, she accuses them of knowing who the killer is after discovering that Warden Norton — her previous pick for the Gargoyle King's secret identity before he died — was an ROTC instructor at Riverdale High, and likely involved in their game of Gryphons and Gargoyles all those years ago. The adults don't take kindly to this teenager accusing them of conspiracy, but also take the opportunity to dig at each other when they can — and eventually, Penelope Blossom accuses Dilton's father Daryl Doiley, her fellow game master, of accidentally killing their principal because he loved her, and killing himself after she turned him down a second time closer to the present.
This is, I realize, a huge bit of information to pin on a character that has, so far, only existed in flashbacks. But there are more wrinkles. Betty learns, after bribing the coroner, that Daryl didn't die of carbon monoxide poisoning in his car, but of oleander poisoning. And Penelope is the only one who grows oleander. (She denies having anything to do with this, of course.)
Betty's next stop is home, to ask why her mother reported Daryl's death as a suicide, helping to the contribute to the cover-up that seems to be at play here. Alice is evasive, at least until the Gargoyle King shows up in the Coopers' dang living room, and they run to Betty's room for safety — where Daryl Doiley's headstone is set up, his name crossed out and Alice and Betty's spray-painted in its place. F.P., who arrives at the same time, is unable to get in the front door and instead meets them in Betty's room via the window, where they huddle until the King disappears. (I really don't know why, the King is just one guy and looks quite easy to tip over, but we have to put our commercial breaks somewhere I guess.)
Jughead, meanwhile, is still nursing his G&G obsession after his encounter with the Gargoyle King, and he didn't just see the King, he saw a whole Gargoyle Gang. In the bunker, Archie tells Jughead about someone who had mentioned joining a new gang: Joaquin.
When Jug and the Serpents find Joaquin, he doesn't have much he can tell them — he was the Warden's pawn, doing everything, even stabbing Archie, because he had no choice. But neither, he claims, did the Warden, taking his instructions from someone else who conveyed them via game cards. He also tells Jughead what the symbol branded onto Archie means: Sacrifice. He's marked for death. Someone's gonna come for him. For his trouble, Joaquin is killed the moment he's left alone, the same symbol branded into his forehead.
Okay, now Archie. Not content to hide out in the Tabletop-Gaming Sex Bunker, Archie wants to clear his name himself, despite Veronica's efforts to find actual evidence to get him off, and, you know, his wanted status. His way of doing this is to ask Kevin Kellar to accompany him to the Shadow Lake mines, where the witnesses whose testimony put him away are hiding out. Trouble is, when they get there — thanks to a call from Hiram Lodge — the witnesses are all dead, except for one, whom Kevin and Archie rush to the hospital.
This last witness doesn't make it, and Archie takes it hard. Hiram Lodge wants Archie ruined, and is leveling Riverdale to get to him. So he calls Veronica to say good-bye — he's leaving town, and won't say where. Ronnie, of course, doesn't get it. In her mind, her gambit worked, and Sheriff Minetta, Hiram's stooge on the police force, is going to get put away for helping to frame Archie — not that we know that for sure.
Archie isn't buying it, though, and believes the Road is where he belongs. He takes a bag Jughead packed for him, as Johnny Western's "The Ballad of Paladin" plays and our Red Paladin walks along the tracks into exile. I also think this means that he broke up with Veronica.
Looking at it like this, "Manhunter" almost makes sense. But there's more adding to the chaos, like the fact that Josie is the next one to be afflicted with a seizure, connecting her to this weird curse plaguing Riverdale. And the fact that Jughead believes Hiram is the Gargoyle King and tells him this to his face — an easy claim to deny when your accusation is "you dress up like a goat demon and poison people with blue Kool-aid," but Jug might be onto something. And why and how did Daryl Doiley really die, and why is he so important even though we barely know him?
Of course, the biggest bombshell goes to Betty, whose story I didn't quite finish. After being attacked by the Gargoyle King, Alice decides she's going to the Farm for safety. She knows, however, that Betty would never join her, so she's made other arrangements: Betty is being taken, against her will, to the Sisters of Quiet Mercy, who will keep her safe in their weird-as-hell asylum.
Only when Betty is brought in and reluctantly begins her first scheduled activity, an art class, she makes a horrifying discovery: Everyone is painting the Gargoyle King.