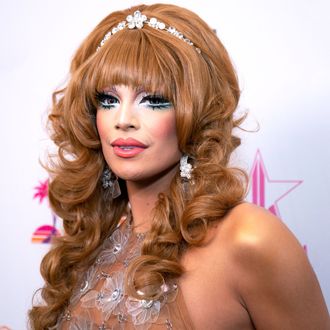 Season nine Miss Congeniality, Valentina.
Photo: Santiago Felipe/FilmMagic
Gather round, the contestants of RuPaul's Drag Race All Stars season four have been announced, so you can finally stop Instagram-stalking and speculating on Reddit. Queens from races past have returned to win the crown, and this time it's really not RuPaul's best friend race. Since true fans have already met these ladies, here's what they've been up to in the time since they took the main stage on RuPaul's Drag Race. Cue the theme music!
In season three, when Manila was first on RuPaul's Drag Race, the cash prize was $75,000, and the show was still being broadcast in standard definition. In the years since, she's been putting out music and starring in World of Wonder YouTube videos. The drag queen's fans are finally seeking #JusticeForManila, after her tumultuous appearance on All Stars season one.
Season four's Miss Congeniality, Latrice Royale, serenaded her way through the competition. She brought the house down with her now-iconic "I've Got to Use My Imagination" lip-sync. In the first season of All Stars, Latrice was paired up with Manila (creating iconic duo Latrila), and now the queens are back to compete solo. You won't have to wait until season four to see Miss Royale; both she and Jasmine Masters will appear on the Drag Race Holi-Slay Spectacular.
This member of the legendary house of Edwards (which includes Shangela and Laganja Estranja and, of course, Alyssa Edwards), Gia Gunn made a name for herself on season six of Drag Race. In 2017, she announced that she is a trans woman and legally changed her first name to Gia. Now, she's really feeling her oats and is here to take the crown.
She is Jasmine Masters and she has something to say! It's probably just the word jush. The season-seven queen became an instant meme with all her hilarious reactions. For the past couple of years, she's been getting her jush all across the world, and now she's here to jush it up on the main stage.
Naomi Smalls and her never-ending legs will be gracing your television screen, turning looks like no other. Seems like she's been taking some makeup lessons with Kim Chi because Naomi's lewk has been seriously upgraded. How is it possible to make something more perfect?
Just the first of many seasons nine and ten queens on All Stars, showgirl Trinity Taylor and her impeccable tuck are back. Since leaving season nine, Trinity has undergone a fashion evolution, with styles that even Sister Mary Koont would clap for.
Say hello to the one and only Christina Aguilera! When the real pop legend visited Drag Race season ten, RuPaul flew this season-nine queen to come meet her idol. Since her departure from the show, Farrah has been doing what she does best: rocking a pastel-pink wig.
After her unforgettable elimination, things have gone way up for Valentina. She took the mask off and is now landing gigs like playing Angel in the live television performance of Rent. But back on Drag Race, she's going to have to redeem herself from that disastrous lip-sync.
Did you miss her? Fresh off of season ten, Monique has another opportunity to win a spot in the Drag Race Hall of Fame. The question on everybody's mind: Will there be redemption for her stunning brown cow look?
Season-ten queen Monét X Change brought the broom, brought the sponges, now she's bringing everything and the kitchen sink to All Stars. Oh, but you won't catch her doing a death drop. Not in this economy. She took home Miss Congeniality her season, but might just win the whole thing this time.