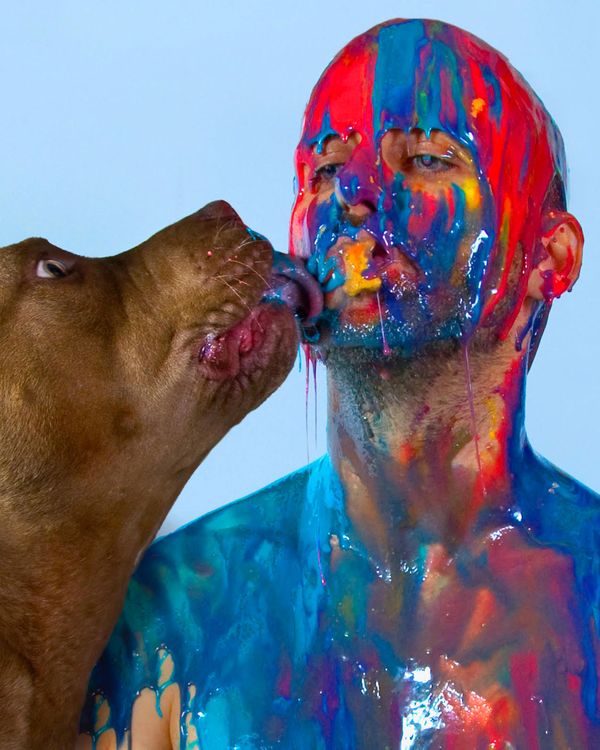 Ryan McNamara,
Gunge Portrait
, 2018.
Photo: Ryan McNamara/Courtesy of the artist
Ryan McNamara cannot focus. Or he does not want to focus. Or he doesn't think that focus would represent his (or our) current state of affairs. You could say his career lacks focus: He's been a choreographer, a dancer, a sculptor, and a photographer, among other things. Maybe most often he's called a "performance artist." Even the November 17 opening for his new show I.L.L.I.S. & I.S.L.I.F. (It Looks Like It Sounds & It Sounds Like It Feels) at the ASHES/ASHES gallery's blacked-out storefront on Eldridge Street (it was quite brightly lit inside) was something of a performance: McNamara was wearing a T-shirt that coordinated with the outfits worn by the selfie-loving mutant figures — think of them as art-world Garbage Pail Kids — which populated the room on plinths. He'd not thought of making souvenirs, but everybody wanted to buy the one he had on. The show is determinedly goofy and grotesque, but, under that, full of serious ideas. Just ones you have to laugh about.
McNamara has become an accomplished and well-connected artist partly by not taking the idea of being an accomplished and well-connected artist all that seriously. As a BFA student studying photography at Arizona State University, McNamara and his then-boyfriend, Andy Guzzonatto, opened a gallery and exhibition space that doubled as a lovers' shack. They lived out of the back, and it was all very novel until it was not. His janky car was stolen the same year he and Guzzonatto split, and with some money saved and a fat insurance check, McNamara moved to New York in 2001. It was the era of electroclash and Fischerspooner, and McNamara, then "just a dance fan," became increasingly interested in performance art. (Casey Spooner showed up at his opening, too.)
Right before he applied and was accepted to Hunter's MFA program, McNamara made the video "I Thought It Was You" about his grandmother's death. A split screen shows the artist dancing in the desert outside his then-dying grandmother's home and at Cruisin'7th, a trans bar in Phoenix. He then met a curator for the 2nd Athens Biennale on the Fire Island Ferry, and she requested a studio visit. There, she saw his video, which she selected for Athens. It was eventually seen there by MoMA curators who purchased it for the museum collection. It was the first artwork McNamara ever sold. In 2009, he was asked to perform for then-PS1 director Klaus Biesenbach at Art Basel Miami Beach.
After his signature six-month performance Make Ryan a Dancer at MoMA PS1 in 2010, his work has often been commissioned for posh spaces like that space-age theater under the Guggenheim (Battleground), or the High Line (Misty Malarky Ying Yang). He's been flown to Moscow for commissions. In 2014, he opened Art Basel with "M3EM 4 Miami: A Story Ballet About the Internet," an interactive performance in what was once the Playboy Club theater, where the audience was continuously relocated by people pushing them on handcarts throughout the building — at one point being rolled through the massive, vaguely menacing, disused kitchen — viewing the performers from several angles and becoming a part of the McNamara repertoire.
McNamara can attract supporters like the Guggenheim's Nancy Spector and the Public Art Fund's Nicholas Baume to his opening, but he still lives in a walk-up in East Williamsburg where his studio has to be in his apartment. But what is so special about McNamara is that he clearly thinks it's all a bit ridiculous, and his art is in many ways about that knowledge that it all is a bit ridiculous. Albeit wonderfully so. Silly as it may sound, McNamara's harlequin approach to art defines his inadvertent career.
For I.L.L.I.S. & I.S.L.I.F., McNamara is working with his first gallerist and long-ago ex, Guzzonatto, who ditched Los Angeles for the Lower East Side and opened ASHES/ASHES in 2017. The essence of comedy and romance present throughout his work remains. And he'll be the first to tell you, his show is largely inspired by … gunge.
So, what is gunge exactly? And why gunge now?
I was interested in why preteens were, and are, really into slime right now. It's a growing fetish. I would say it's the fastest-growing fetish. What I like about it is that it's not necessarily porn, it's YouTube-friendly. Preteen girls and gay men are interested in the same thing. It's not the first time. But why now? I was wondering why we're interested now in this slimy thing you can't control. Then I was like, All right, let yourself go completely conspiracy theory about it. And it was kind of about chaos. We thought about progress and development and information as a river moving forward. This begets this. Then we thought about it as a rhizome, and as hyperlinks, where actually it's not just a straight line that moves linear; it's all over the place, a network. Then I feel like the network got so dense that it started melding together and started creating this sludge. I remember hyperlinks when I first discovered them as a young person. I thought it was groundbreaking. It felt fast and all over the place, and now it feels like sludge. It feels slow. It feels like there is so much. I think that we feel like we're in sludge because it's heavy and uncontrollable. So I was giving in to the lack of control. I kind of like the mess.
I was thinking, Why gunge now? And I thought, Well, it's ridiculous. There's something perverse about loving the feeling of slime. There's an image of me with the casting material over me that I posted on Instagram, and a friend of mine wrote that he always wanted to try gunge. I didn't know what gunge was. I looked it up and I was completely intrigued by it. I will say, I am a gunge fetishist now, and it was a complete accident. It's leaning into the messiness of sex. Humans are messy. We're gross. It's body fluids. Just lean into the fucked-up-ness of bodies and goo and all of that. If you're completely covered in slime, it is a bit like having sex with an alien because strangely you're never touching. There's always a thin layer of slime, so it's just completely slippery. It's a contained mess and at the end of the day, you put it away. Isn't that nice to have a mess you could put away and shower off when you're done?
How many pieces are in this show?
So many! There are a few that I've modified. Everything I've worked on since summer. I was just thinking about it, like, All right, gallery show, what's the cohesive idea? And I realized I don't feel so cohesive right now. Or outwardly, recognizably cohesive, so I was like, There can be this gunge video and there can be these little sculptures. I think it's a little ridiculous right now that any of us are supposed to be thinking about one thing. You know? I think there's this formal artist thing where you're supposed to have this easily recognizable idea that you're presenting to the world. And this is just not that easily identifiable. That's kind of like being a queer person. You're at brunch with your family and then you're at the sex club. It feels really false to have a very easily identifiable thesis because that's not where I am right now. Even just right now in the fucking world, it's fucking nuts. To say, "I've been thinking about this one thing for the past five years," that would be a dishonest thing to show. Even if you don't have ADHD right now, you have ADHD.
Are you able to specify a difference in your performances versus studio work created for this show?
This show is more about the dance floor and how that's been a consistent thing in my life. When I came to New York, I knew nothing about dance. I was not a performer. It just kind of happened. I've had a couple of gallery shows since I've lived here, but there was a lot of demand for performance. Performance is also very demanding. You have to kind of go all-in. I have this share on Fire Island with other artists. They would do little things like do sketches. I was like, Oh, I've become so project-based. It became a job. I mean, it is a job. Performance doesn't really allow you to fuck around, you know? You have a performance or you don't. It's not like I'm making the performance before I have the commission. Now, I don't need to email 40 people to get them together and then find rehearsal space. I can just go buy clay! It's a little lonely, being in my studio after these performances. I'm just making stuff and I can forget the world a little bit.
Many artists I know work directly with clothing without realizing. They're making T-shirt designs like you, or sewing up hems. It's a very hands-on approach.
What's amazing is that if I don't know how to make something, I can just go on YouTube. It's unprecedented in human history that you can do that. I learned a lot from YouTube University. I think that's opened people up to be more multidisciplinary because you're no longer thinking, I don't know how to do this, so I'm not going to do it. Obviously, YouTube is a cultural force, but for real it's changed my life. I made all of this by hand. I don't need stuff to look factory fresh; there are enough factory-fresh-looking things out in the world right now. I actually think I was sort of interested because my actual thumbprints are in [these sculptures]. There are enough streamlined things in the world. I like what's folksy about art. The paper clay I'm using is very grandma. This show, even though I didn't buy it at Michaels, is very Michaels.
It's funny to think you work primarily on site-specific projects, yet you claim to be so scatterbrained. How do you focus that? 
You don't. I wanted the show to be packed. Not just an elegant hang. It seems wrong. My last show was at Mary Boone. I really like that show, but I do feel like that level of finish was intimidating to me. I'm from Arizona and Mary Boone is fancy! In a way, I'm glad because that show had high production quality, but I was getting really precious. That's not a part of my personality, like I was becoming OCD.
And lo and behold you went for gunge.
Horror movies and sci-fi have always been interesting to me. When I was 19, I had a show at my gallery. It was called "Society Page," and I wrote a C.W. show script. I had the family that was the stars of it as life-size sculptures, and they had these flashes going off, and they were melting. I think I got too classy. I wanted to have more fun, and this is what I want to make right now. This is how I feel right now. Maybe this is maturity, caring less. I didn't come to this from wanting to have an audience. Maybe this is a safe way of having people around. My kind of people.
Four childlike sculptures are central to the show. They each have their own personality and experiences on display. Do you feel more intimately about these works than your performances?
This press release I wrote. I think I feel more confident. I'm not trying as hard, which is funny because this show is going to be jam full of shit, but that's not trying. I'm supposed to have an elegant hang, but it's not going to look perfect. It's going to look a little fucked. Human beings made this shit.
Would you say the show is about gunge?
No. It's more so about experience in my life.