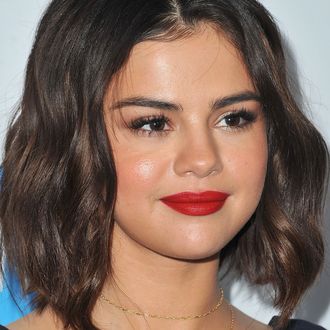 Selena Gomez.
Photo: Allen Berezovsky/FilmMagic
Update: TMZ and E! have removed their stories on Gomez's reported release. It is unclear at this time if she remains in treatment. Our original story follows.
Selena Gomez is out of the psychiatric facility she was admitted to last month after suffering an emotional breakdown related to her health, TMZ reports. She is said to have completed a month of treatment, including dialectical behavior therapy, at an undisclosed East Coast facility and has been released. According to TMZ, Gomez is "out and laying low … at least for a while." Prior to treatment, Gomez had reportedly been battling a low white blood cell count due to the kidney transplant she underwent in summer 2017, and had to be taken to Cedars-Sinai Medical Center in Los Angeles for treatment in September. TMZ says Gomez was released from the hospital days later but was then readmitted the following week as her cell count remained low; the second hospitalization reportedly triggered a "downward spiral" into what has been described as an emotional breakdown. She reportedly entered the mental-health facility in early October.
Gomez previously checked into a psychiatric facility in 2016 to treat anxiety, depression, and panic attacks, which she said she suffered from as a side effect of lupus. Earlier this week, her good friend Demi Lovato was also released from rehab where she sought treatment for three months after a life-threatening overdose earlier in the summer. On Tuesday, Lovato returned to social media, posting a photo of herself at the polls encouraging people to vote. Gomez has been inactive on Instagram, where she was once its most-followed user, since late September when her latest health struggles are said to have resurfaced.