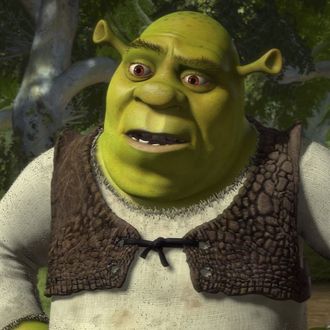 What about the musical?
Photo: DreamWorks Distribution
Shrek, much like the tiny-sunglasses trend or the titular Ben of Ben Is Back, may soon return. Variety profiled Illumination Entertainment founder Chris Meledandri (the guy behind the Minions) and apparently Universal has "tasked Meledandri with finding some fresh story lines to reintroduce the lovable ogre," as well as Puss in Boots, to "new generations of moviegoers." While Variety describes this as a reboot, the idea sounds more like a revival of the original series of films, since Meledandri says that he would like to use vocal performances from Mike Myers, Eddie Murphy, and Antonio Banderas again. "While you certainly could make a case for a complete reinvention, I find myself responding to my own nostalgic feelings of wanting to go back to those characterizations," he says. "The challenge for us has been to find something that really does feel like it's not simply yet another film in a series of sequels." One way to do that would be to not make a film that also uses characters and story lines from previous films, otherwise known as a sequel.