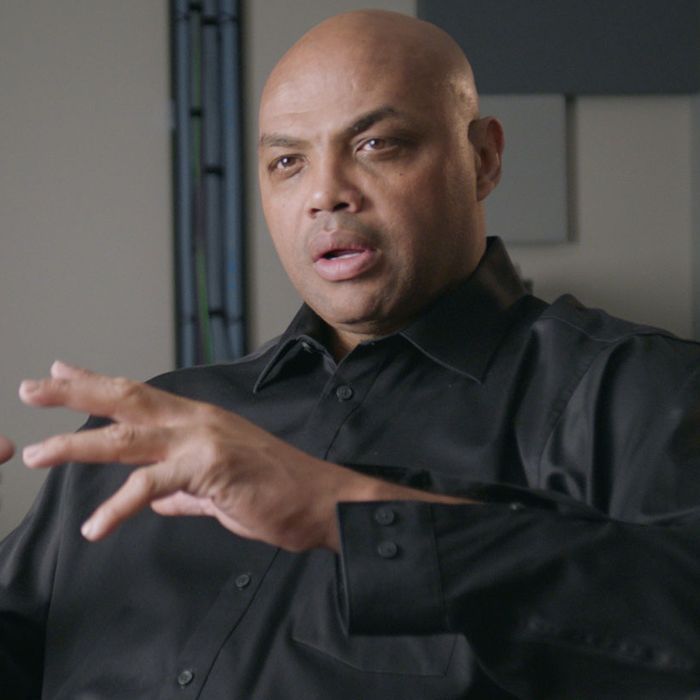 Charles Barkley, one of several outspoken athletes who appear in
Shut Up and Dribble
.
Photo: SHOWTIME
Shut Up and Dribble is a three-part Showtime documentary about the modern history of political activism in basketball. It is also a big ol' middle finger to Fox News host Laura Ingraham, who uttered the words that give this mini-series its name.
The trio of hour-long episodes — executive produced by LeBron James, narrated by Jemele Hill, and directed by filmmaker Gotham Chopra — makes that clear right from the jump. The first episode opens by rehashing the events surrounding a video in which LeBron James, joined by Golden State Warrior Kevin Durant, said last year of President Trump: "The No. 1 person in America is someone who doesn't understand the people and really doesn't give a fuck about the people." That prompted Ingraham to suggest on Fox News that no one should listen to the "ignorance" spouted by people who get paid to bounce a ball for a living. "Keep the political commentary to yourself," she advised. "Or as someone once said: Shut up and dribble."
The series then pivots back in time to the 1950s and '60s and the rising careers of basketball legends like Bill Russell, Kareem Abdul-Jabbar, and Oscar Robertson, three men who not only spoke out in important ways against racial injustice, but also had to make the case that their style of play — aggressive defense, fast breaks, dunking (which the NCAA briefly banned because Abdul-Jabbar, then known as Lew Alcindor, was so good at it) — had merit. They weren't just told to shut up and dribble. They were told to shut up and dribble like the white players do.
It moves on through the history of modern professional basketball, touching on the greats both outspoken — like Charles Barkley and, inevitably, LeBron James — and those who stayed out of the fray, like Michael Jordan. Jordan does not participate in interviews for the series, which notes, as many did at the time, that he used his celebrity to sell lots of products but not to flex any political muscle. Shut Up and Dribble suggests that the 1990 North Carolina Senate race that African-American Democrat Harvey Gantt lost to conservative Republican Jesse Helms might have turned out differently if UNC-Chapel Hill's favorite son had publicly endorsed Gantt.
At the same time, it also implies that Jordan was just reading the Zeitgeist at the time. Even though as recently as the '70s, you could find white dudes in the stands willing to say to broadcast journalists, "I don't enjoy going to basketball and seeing all black players" — and yeah, there's footage of that in the first episode — by the '80s and '90s, it was deceptively easy to perceive calm on the surface, even though race remained very much an issue. Jordan didn't want to rock the boat, and basketball commentator Kenny Smith notes that he was under no obligation to do so.
Still, Shut Up and Dribble is clear about who its true heroes are. In the second and third episodes, it zeroes in on divisive moments that are still fresh memories, emphasizing the bravery of Mahmoud Abdul-Rauf, the Denver Nugget who refused to stand during the National Anthem in 1996 because of the country's history of oppression (Etan Thomas calls him "the Kaepernick before Kaepernick"); the L.A. Clippers who wore their warm-up jerseys inside out to express their disapproval of racist statements made by the team's then-owner, Donald Sterling; and James himself, who has frequently joined such protests and vocally expressed his disapproval about our current president.
Is it self-serving for James to produce a documentary that celebrates him, among others, as a champion of change? Maybe. But it's by no means just about him nor is it just a way for him to have the last dunk on Ingraham. This is a bigger-picture series airing at a deliberately timely moment — it debuts Saturday night on Showtime, a few days before the midterm elections — in an atmosphere where the context for athletes engaging in racial protest has gotten completely lost.
Although another recent sports docuseries, ESPN's Basketball: A Love Story, covers some of the same ground, Shut Up and Dribble is much more pointed and focused. Where Basketball: A Love Story is a well-done, sprawling overview of the sport, Shut Up and Dribble is a laser beam that shoots through decades of modern professional hoops to highlight its long history with racial justice, and celebrate those willing to fight for it as hard as they fight for rebounds.
Even those fans old enough to remember all of the events highlighted here will still come away with a fresh sense of context for what's happening today, thanks to the way Chopra and his writing and producing colleagues connect the dots of yesteryear to the present. After watching this documentary, the next time you hear someone imply that LeBron or Steph Curry should just shut up and dribble, you'll know the right response: Shut up and consider your basketball history.