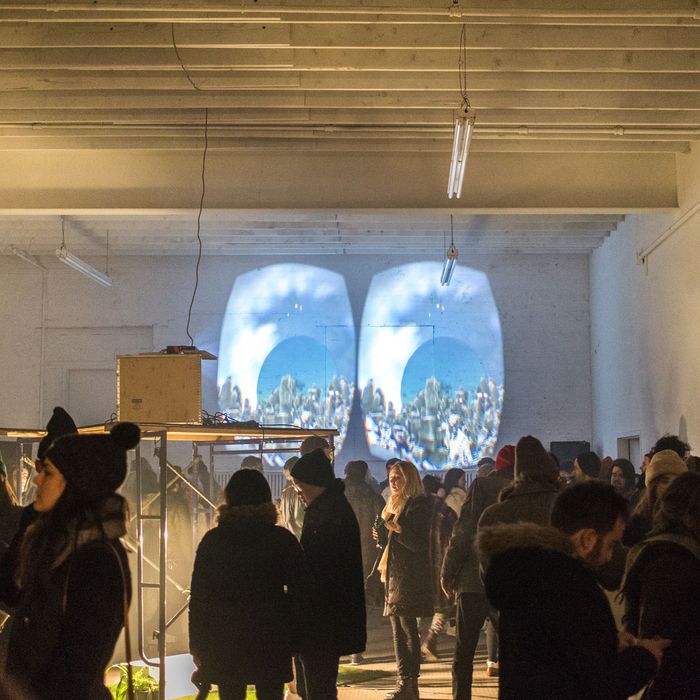 The opening of Rachel Rossin, 
N=7 / The Wake in Heat of Collapse
 (2015).
Photo: Courtesy SIGNAL
To find Signal gallery in Bushwick, it helped to know it was there, behind a door with an easy-to-miss sign, in a squat red-brick building a skip away from the Montrose L stop, wedged between an ironworks and a granite supplier, with screeching metal being soldered next door and flatbeds rumbling by with their early morning supply loads. Signal was started in 2012 by Alexander Johns and Kyle Jacques, two then-20-something artists, who rented the 16-foot-tall, 3,000-square-foot space as their studio before turning it into a project space for their friends. There was still a spirit of possibility: The neighborhood had not yet been colonized by real-estate developers, the Bushwick Open Studios jamboree wasn't yet on tourist itineraries, and ambitious galleries, like Clearing, had opened nearby.
Signal was part of that, infused with the same spirit of risk-taking and improvisation that suffused much of the Brooklyn neighborhood then. And when they closed on November 2, it felt like the coda to one of the city's dwindling promises, that dedicating yourself to a good idea could be enough to make it.
Signal's size was the sort of footprint in the city for which one pays dearly, but which Johns and Jacques managed to swing on the cheap, mostly because it was such a wreck (it had previously been used as a rug warehouse), but because they decided they would also make it their home — something they were somewhat discreet about.
"We've had artists during install figure it out only when they were like, 'When did you change your clothes?'" Jacques tells me. "It was the fake-it mentality, like we needed to project this totally confusing air, and people always thought, these kids must be superrich, like, How do they just have a space this big in New York City to play with? Well, it's because we don't pay rent anywhere else."
Jacques, who had arrived from Massachusetts and was working as a designer, had been living in west Chelsea while it was transformed from a little bit gritty to a little bit glitzy by the High Line opening in 2009. Johns had moved from Los Angeles a year and a half before to work in art-book publishing and was then staying on Jacques's couch in Williamsburg. He found the Bushwick space on Craigslist, answering an ad rendered in all-caps and with no photos. They signed on the spot, paying $2,500 a month for the warehouse, with no heat and no shower and only the faintest suggestion of walls. Johns moved in, to get off that couch. Soon, Jacques joined, sleeping in a tent. "I'm still only now getting used to it being funny," he says. "It's like we got a really good deal on a used Lexus that you can only drive when it's not raining."
Each had their own studio practice, but Johns and Jacques felt they would be happier shepherding the visions of the other artists they knew. They found themselves going to a lot of openings. "All it takes is a big white room with something good in it? I mean, it wasn't that easy, but in a way, it was," says Jacques. "May 1 we moved in and June 1 the first show opened." It was Bennet Schlesinger's Altas, blue-painted wood beams canted against the wall.
It's the kind of blind faith that now feels either inspiringly optimistic or alarmingly inadvisable but which then could be considered reasonable. Six years is not exactly distant history, but in New York it counts as a previous epoch, a moment in the city when two guys with little institutional experience and even less money could make a go of it. Johns attended film school and had a video art practice, had worked as an assistant to the artists Shannon Ebner and James Welling, and was writing grant proposals for a public art nonprofit. Even as the gallery was open, he kept working for Gregory R. Miller and Co., a publisher of art monographs. Jacques, who was a painter, had "accidentally interned" at Martos Gallery for three of its early months. Still they were wet behind the ears. "When we rolled in here I didn't understand what a price list should look like, what a press release should read as," says Jacques.
At the time there was buzz around an emerging landscape of galleries in the neighborhood — although Johns and Jacques lament that the Soho-like flowering of a commercial art scene prophesied by the New York Times and countless others never really materialized. By 2014, Bushwick Open Studios had become a marquee event, but the foot traffic that saturated the neighborhood with a reverse bridge-and-tunnel crowd of rubberneckers didn't necessarily correlate to actual sales. "It's one of those things that's like, you get a lot of people who are interested in checking out 'Bushwick art,' which actually just means our toilet gets clogged and a lot of people are asking where the nearest sorbet place is," Jacques says.
Signal's first shows were all large-scale installations by young artists who hadn't shown much before. Their program quickly became driven by site-specific works, like Anna K. Miller's Folds, 600 yards of white cheesecloth tethered to each of the gallery's ceiling beams and threaded through the space to create an alternatingly translucent and opaque labyrinth. "It was beautiful," Jacques says, "but we didn't understand even how that could be sold or that an institution could want it." Their willingness to stage conceptually (and often physically) heavy works, which often made use of things like floating staircases to nowhere and airplane evacuation slides, made Signal something like the Tate Modern's Turbine Hall of Bushwick.
Often they went beyond just exhibiting work, helping to fabricate ambitious pieces, like Tim Bruniges's Mirrors, which showed at the gallery in 2014. Consisting of two nine-by-nine-foot carved, concave concrete slabs that resembled Celtic monoliths or Easter Island heads, they were fitted with microphones and positioned at opposite ends of the space so that they functioned as sound mirrors, bouncing ambient sounds across the gulf of the gallery and looping them in cycles over the course of the show.
Over the course of their tenure, Signal cultivated an artist-first environment, an approach that was predicated on a kind of permissiveness which real-estate costs and inflationary sale prices have otherwise made increasingly rare. "They never asked artists and collaborators to manage expectations. They would just pull all the stops, find the money, stay up late, get the bigger truck, and make invisible personal compromises in order to push each show to its best potential," says Travis Boyer, an artist who showed at Signal for the last three years. "It's important to mourn the loss — the spaces that made you pick up and move to New York to begin with."
Signal, which never carried a formal roster, championed many of these artists before they were well-known. They mounted early exhibitions by Meriem Bennani, whose solo debut at Signal (which featured sculptures made with industrial sand supplied by the guys across the street) was followed up by a solo show at MoMA PS1 a year later; Rachel Rossin, who's shown her virtual-reality work at the Cleveland Institute of Art and the Carnegie Museum; Hayden Dunham, who went on to have a solo show at Red Bull Arts; and FlucT (the collective made up of Sigrid Lauren and Monica Mirabile) and Ivana Bašić, both of whose work has been acquired by the Whitney Museum.
Bennani, whose practice ricochets between an absurdist, post-internet dialect of video, drawing, animation, sculpture, and installation, is the only artist Johns and Jacques formally represented, and she credits them with providing a latitude that allowed her work to incubate. "When we all met in my house to sign our contract, we felt like teenagers losing our virginity together. It was sweet and awkward, and because none of us had done it before, we were able to reinvent the nature of that relationship," she says, describing theirs as one based on love and friendship, but also "a shared appreciation for genuine ideas and dangerously scaled installations."
Mirabelle told me working with Johns and Jacques carried with it a "life affirming" feeling, which never went away. "What they have done is set a precedent on how to care for the consciousness-creating capacity of art. Each show had a motive to sing the song of real support and therefore artists didn't feel limited by the encroaching hell of the art market. I am concerned for the future in general and I'm hoping Signal sets an example to other galleries to push boundaries that lead to a deep art consciousness, with all of the blood-sucking B.S. absent."
Johns and Jacques, now both in their 30s, say that the usual story of the untenable rent increase being the death knell of the midsize gallery doesn't totally apply. True, they weren't really making money, but that was kind of beside the point. "Starting a space with the understanding that we weren't ever going to sell anything and we weren't going to make money, that was the fun of it," Jacques says. But it was a business: Signal did sell some work. Last year was their best performing to date, with an installation by Bennani and a piece by FlucT both acquired by the Whitney, "which is hilarious," Jacques says, "we basically don't have any collectors but the Whitney Museum is our biggest client."
Jacques is wryer about it than Johns, who is more elegiac, but they agree they see this process less as closing than "completing the project." With the artists they were showing getting more institutional recognition, there seemed the possibility of a toehold in the market. But Johns explains that recognition isn't necessarily enough. "The bones of this as an economic enterprise don't really make a lot of sense, and in order to professionalize what we do here, we would have to change the gallery I think so fundamentally, just the type of programming we do and our relationship to the art and artists, that it felt like a betrayal to what the gallery had become. It felt more appropriate to end this particular project than transform it into something that would be unrecognizable."
"We realized we actually did all the stuff we set out to do, and did that really well, and we still get along," Jacques adds. "We thought maybe we can leave the party while it's still fun."