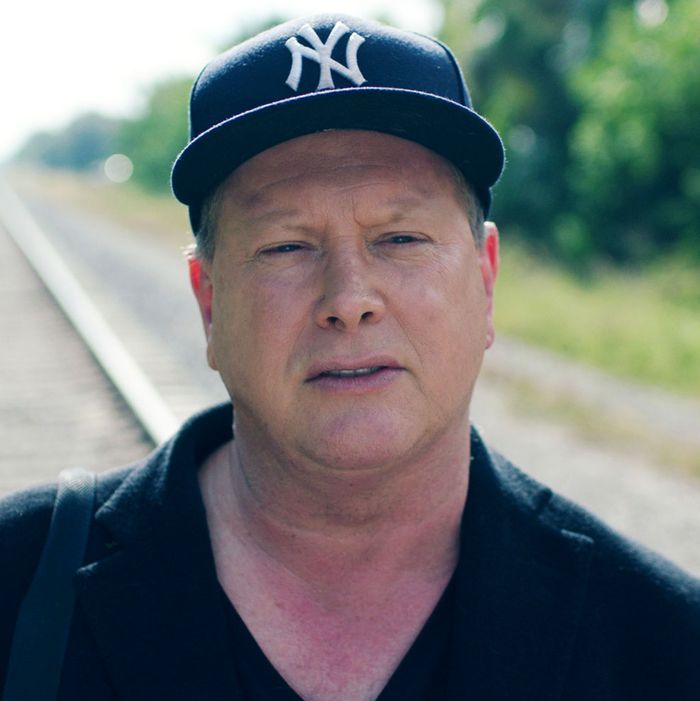 Darrell Hammond.
Photo: Healing from Trauma Film, LLC.
Cracked Up is a new documentary from filmmaker Michelle Esrick. Its star and focus: longtime Saturday Night Live star, master impressionist, and current SNL announcer Darrell Hammond. The film follows Hammond as he develops his 2011 memoir, God, If You're Not Up There, I'm F*cked, into a one-man stage show … and also as he reckons with recovered memories of the horrific child abuse that led to lifelong struggles with mental illness and addiction.
The bulk of the documentary concerns those weighty topics, but Hammond also reveals some nuggets about his comedy life, which, for a guy who was on SNL for 14 seasons, has gone curiously under-documented, until now. Here are some of the most interesting insights from the film.
He was a late bloomer.
Hammond says that at age 27, with "no dreams, no future, no money, no friends, drinking all the time," and cutting himself, a psychiatrist (the 11th one he'd sought out) diagnosed him with schizophrenia and manic depression. He was then institutionalized, during which time he honed his burgeoning skill of impressions and vocal characterizations. When he got out, he found a job at a radio station doing voices, and from there he moved to New York and landed a job at a Hell's Kitchen motel, where he entertained the regular clientele, a rowdy bunch of guys, with his impressions of Popeye having sex and Rodney Dangerfield. Later, he found out that these "nicest boys he ever met" were a brutal criminal organization that Hammond says the FBI called "the most savage gang in the history of New York" — they "chopped up" those who crossed them.
How he disappeared into an impression.
Cameras follow Hammond as he gets into makeup backstage at Saturday Night Live. By Hammond's own account, he's sat still for lengthy, appearance-altering face paint and prosthetics applications in order to play celebrities and politicians more than 1,000 times. According to SNL makeup artist Louie Zakarian, Hammond still has his own dedicated shelf of facial molds in the SNL makeup room because he played so many different people. Hammond attributes that not just to his prowess with voice work, but also to his nondescript appearance. "They say there are some people that you can't make look like anybody. Like, you just can't make them look like anybody else," he says in the film. "You can make me look like anybody because my face is so bland."
It's all about the colors.
Hammond performed dozens of voices and characters on SNL, including Bill Clinton, Chris Matthews, George W. Bush, Jesse Jackson, and Donald Trump. (According to Cracked Up, Hammond has a repertoire of 117 mastered voices from his SNL days, plus "300 others that never made it onto the show.") He keeps track of all of them mentally through a color-coding system that instantly lets him lock in on vocal nuances. For example, Ted Koppel is blue, Sean Connery is a purplish-pink, and Richard Dreyfuss is a bluish-green.
How he came up with his book's title.
Cracked Up incorporates footage of Hammond doing stand-up in New York, where he tells the audience how he came up with the title of his memoir-turned-play, God, If You're Not Up There, I'm F*cked. Hammond says he "used to drink absinthe in this enormous bar called Mexico," where one could acquire substances that will "kill you for less than a dollar." It's that kind of south-of-the-border hardcore partying that landed Hammond in a Mexican jail for a night. He found himself praying and said the words that, amusingly, became the name of his book (and, sadly at times, his life philosophy).
The origin of the "Celebrity Jeopardy" sketch.
Hammond and Will Ferrell co-starred in one SNL's most beloved recurring sketches: "Celebrity Jeopardy." It allowed cast members and hosts to do their best impressions of celebrities in service of the thesis that all famous people are incredibly stupid, but the two constants were always Ferrell as tense, exasperated host Alex Trebek, and Hammond as a filthy-minded, Trebek-baiting Sean Connery. Those particular characters originated during one of those famous SNL all-nighters. Hammond was in his office at about 5:00 a.m., working on a Sean Connery impression, when he heard Ferrell across the hall working on an Alex Trebek impression. And then — Hammond doesn't know why — a line popped into his head, and he said it out loud: "Not a fan of the ladies, are you, Trebek?" That in-voice rudeness and casual homophobia helped form the foundation of "Celebrity Jeopardy." Hammond still doesn't quite understand how it all came together. "It wasn't supposed to be funny. Because who would believe that Sean Connery is stupid, [and] why does he hate Alex Trebek?"
Cracked Up premieres as part of the Doc NYC Festival on Wednesday, November 14 at 7 p.m. at the SVA Theater, followed by a 9:15 p.m. show at Cinepolis Chelsea.