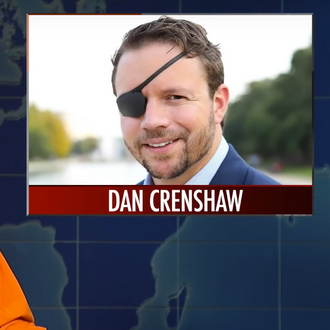 Photo: NBC/Saturday Night Live
While you were all fast-forwarding Pete Davidson's Weekend Update appearance to see what he would be saying about his ex-fiancée Ariana Grande, you might've missed the actual conceit of why he showed up behind the desk to begin with. He gave some "first impressions" about various Republican and Democratic candidates hoping to get elected during this week's midterms, one of which was Dan Crenshaw, who's running for Congress in his home state of Texas. Crenshaw, a former Navy SEAL, lost his eye during a 2012 deployment in Afghanistan after he was hit by an IED blast, earning a Purple Heart for his valor. As a result of the incident, Crenshaw's right eye was destroyed, and he's been wearing an eye patch ever since — a choice that drew some jokes from Davidson. "You may be surprised to hear he's a congressional candidate in Texas and not a hitman in a porno movie," he said with a laugh. "I'm sorry, I know he lost his eye in war, or whatever. Whatever."
Crenshaw has since been alerted to Davidson's comments, and wrote on Twitter this afternoon that he doesn't appreciate being mocked for his appearance: "Good rule in life: I try hard not to offend; I try harder not to be offended. That being said, I hope @nbcsnl recognizes that vets don't deserve to see their wounds used as punchlines for bad jokes."
Davidson signed off his segment by imploring everyone to go vote on Tuesday. Maybe Crenshaw will win!
Update November 5: On Monday morning's Today, Kenan Thompson was asked about Davidson's joke about Crenshaw, and said he thought the joke went over the line. "Yeah, he definitely missed the mark," Thompson explained. "And I think he was more so commenting on the fact that the joke maybe didn't land as hard as he wanted [it] to as opposed to being like, 'I don't care about veterans,' you know what I mean? I think Pete's a very humble dude and he's got a big heart. I don't think he goes out to offend people. But stand-ups, they're the ones that help us laugh through the most awful things in the first place, so they're always fishing in weird places, and that was an unfortunate outcome."
Thompson also said his father is a Vietnam veteran and he wouldn't have made the joke himself.
Update November 6: Kenan Thompson was asked about Davidson's joke again on The View today. When asked by Meghan McCain if SNL has plans to do anything about it, he said, "I'm sure they [do]. I mean, I know it's being handled internally. It's not necessarily my department, but since I'm out promoting The Grinch, I get to answer these questions." Thompson later added, "Pete's a good kid. He has a big heart, he has tragedy in his life with his father passing [away on] 9/11 […] so I definitely don't think he goes out to offend people, but unfortunately, that's what happened in this case. So they are figuring out a way to right that wrong, I'm pretty sure, because it's not our intention to disrespect anyone." Watch the full clip below: