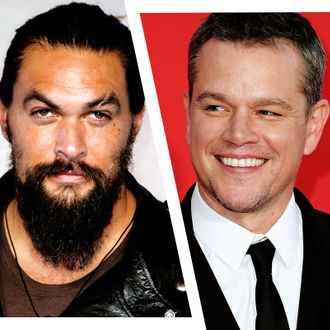 Jason Momoa and Matt Damon.
Photo: Getty Images
Saturday Night Live just revealed some more season 44 hosts for December. On Twitter today, the show announced that Aquaman star Jason Momoa will host on December 8 alongside musical guest Mumford & Sons, while Matt Damon, a.k.a. Brett Kavanaugh, will host on December 15 alongside Mark Ronson and Miley Cyrus as musical guests. Momoa will be making his SNL hosting debut, while Damon will be hosting for the second time, following his first episode back in 2002. He also appeared as Kavanaugh in a cold open earlier this season.
SNL returns with new episodes this weekend when Claire Foy makes her hosting debut alongside musical guest Anderson .Paak.