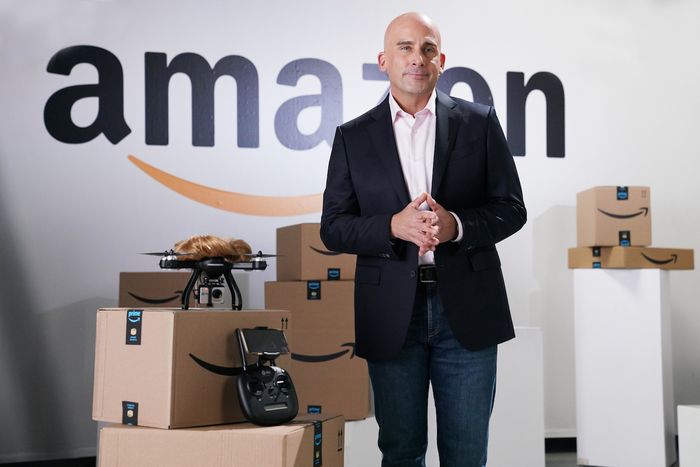 Steve Carell as Amazon CEO Jeff Bezos on
Saturday Night Live
.
Photo: Rosalind O'Connor/NBC
Oh, Steve Carell! Even before he hit the stage at 8H, Carell's silly, self-effacing SNL promo struck just the right note. In it, Aidy Bryant and Chris Redd question his comedy chops, given that he's now a "serious" actor whose credits include Beautiful Boy, Welcome to Marwen, and Foxcatcher. In response, Carell reads a book titled Re-Learning Comedy for Dramatic Actors and otherwise sweats bullets trying to remember how to be funny. At the promo's conclusion, Carell is thrilled to hear he will be playing the role of "Dr. Farts," a character who paradoxically can't stop burping. Though his last SNL hosting gig was in 2008, it's all just like riding a bike for him — y'know, if he were suddenly asked to ride in a Grand Tour. (As usual, we're ranking these sketches in best to worst order.)
1. Friendsgiving
At this Friendsgiving celebration, a couple (Kenan Thompson and Leslie Jones) and their friends (Beck Bennett and Kate McKinnon) welcome two single "stragglers" (Cecily Strong and Carell) to the dinner table. One guest wonders why there aren't any great Thanksgiving songs, and the two newbies seem to remember a pop hit about new love. The song begins: "Caught his eye on Turkey Day / As we both ate pumpkin pie," but things get weirder fast. While everyone else is confused, the two guests carry on singing about impotence and shame. By the end of their rendition of this mysterious song, everyone at the table seems to remember it, and sings along. Then, just like that, it's over and the female straggler disappears —along with everyone's car keys. It's a premise carefully teased out and made convincing by two perfectly weird characters.
2. Message from Jeff Bezos
After announcing its new secondary headquarters in Queens and the Washington D.C. area, Amazon founder Jeff Bezos (Carell) lets people know why he chose those places in particular. Despite the fact that Donald Trump has called Amazon out on Twitter, he says, Trump's hometown and current place of residence were not selected just to rub Trump's face in Bezos's genuine wealth. Bezos also says he doesn't use the Washington Post (which he owns) just to poke Trump politically, and then implies that Trump uses "tennis diapers." Also, there's new "Amazon Caravan," which means Amazon products are delivered by Honduran and Mexican immigrants — except for the exceedingly heavy book Art of the Deal, which is "the only book with four Chapter 11s." It's a clever little Trump takedown with a few great lines.
3. Space Station Broadcast
Some 234 miles above the Earth, astronaut Ed McGovern (Carell) and his crew (Mikey Day and Jones) beam a signal into classrooms across America in order to answer questions about space and science. Unfortunately, there's an airlock breach in the lab in which the astronauts do animal testing, and things get "chilly." Because of this, children who ask questions about the space station are confronted by dead, frozen monkeys floating through the frame. If that weren't traumatizing enough, there's also a cat without a face and one icy cosmonaut (McKinnon) banging against the hull of the station. The sketch isn't particularly dimensional, but the physical bit of McKinnon's corpse whacking against the window is worth it.
4. Weekend Update
At the top of Update, Michael Che and Colin Jost consider Amazon's impending move to NYC — and the New Yorkers worried about subway crowding and rising rents. "It's a little late for New Yorkers to complain about rent," says Colin Jost at the top of Weekend Update. "Even Amazon moved to Queens because it couldn't afford Manhattan." Virginia Republican Denver Riggleman (Day), who was just reelected to Congress, shows up to clear the air about his supposed penchant for Bigfoot erotica. No, no, sorry, he just reads his Bigfoot erotica, which is clearly just a joke, even with detailed passages about the "throbbing itch of desire." Maybe it's the fact that it's hard to do porn talk on national TV, but this feels long for what it is and (forgive me) anticlimactic.
The second half has several good shots, including Jost's evaluation of the new Sour Patch Kids cereal: "It's a great way to start the morning on the right foot — because the left foot was taken by diabetes." Later, Thompson comes on as braggadocious and overbearing basketball dad LaVar Ball. Ball defends his son Lonzo and his decision to send sons LiAngelo and LaMelo to Lithuania to play in his own Big Baller League. "Pierogi for breakfast, pierogi for lunch, and for dinner, the briniest cabbage this side of Bucharest," he boasts. Then, he announces a new shoe that tracks your genealogy. This character never feels entirely worth it, but Thompson's emphatic delivery and delight make up for a lot.
5. GP Yass
No longer will some monotone voice give driving directions from Point A to Point B for you and your loved ones. As a couple (Carell and Gardner) check the options on their GPS, they see "American Male," "American Female," and "Drag Entertainer." Thanks to RuPaul's Drag Race, the queens are downloaded into your car's GPS and ready to give directions such as, "I'm a gagging on this scenic byway I'm giving you," and "Turnt around." When the travelers arrive at their destination, there's a celebratory explosion of song and dance featuring what can only be Candice (Strong) from last year's "New Wife" sketch. Though the idea of a ridiculous voice taking over a GPS isn't a new one, the sketch is short, sweet, and fun.
6. Disney
An excited father (Carell) wakes up his kids (Pete Davidson, Melissa Villaseñor, Aidy Bryant, and Day) to announce they're going to Disney World. "You don't have to cheer us up," they say. "We already know mom's leaving you." The kids all know the deal: Dad might just be really dumb. He didn't realize when the cat got replaced by a dog, he doesn't know that at least two of the four kids aren't his, and he has no clue that mom already moved to Arizona with dad's former boss, Ron. A really stupid character is hard to pull off in almost any context, and even a comic as preternaturally talented as Carell can't make the material shine.
7. Voter Fraud Cold Open
Fox host Laura Ingraham (Kate McKinnon) has a lot to take care of during this edition of The Ingraham Angle. She talks "rampant voter fraud" with Jeanine Pirro (Strong), questions about the next speaker of the house with Ohio Democrat Marcia Fudge (Jones), and the fallout from the New York Times' investigation into Facebook with Mark Zuckerberg (Alex Moffat). All that, and an upcoming segment with "Vape God" (Pete Davidson), who knows a lot of facts and figures and is definitely, definitely not some stoner kid pulling one over on Ingraham. Without a specific political issue to tackle, this sketch tries to take a bunch of small stories on and winds up feeling scattered.
8. RV Life
A retired mom and dad living in an RV (Heidi Gardner and Carell) get a visit from their children (Day and Bryant). Yes, when dad insisted he wanted to stop working and give up all of the family's possessions to go road-tripping, mom went right along with it. "I love it," mom says, sounding as thrilled as someone forced to stick her face into a bowl of tarantulas. Mom also won't look anyone in the eye when she talks about being displaced by the new family dog ("Did you know that a dog can punch you?") and having to sleep facedown on the kitchen table. Everyone other than Jibs (McKinnon), the mulleted creep who haunts the RV park, can see something is wrong. Finally, mom breaks down: "This is hell … I couldn't hate it more." It's an excellent character study, but it feels more like a slice of a writer's life than a great sketch.
9. Steve Carell Monologue
When Carell begins his monologue, he's immediately barraged with audience members' questions. One wants to know when he'll do an Office revival. Kenan Thompson, who just happens to be in the audience, asks the same question. After Kenan, Ellie Kemper, Ed Helms, and Jenna Fischer all take turns trying to convince Carell of that magical revival everyone else seems to want. "I just don't think you understand how much money we're talking about," says Helms. Then Carell's wife and kids encourage him to do it, saying, "We really don't need you to hang around anymore." Finally, Carell capitulates and brings his former castmates to the stage to make a big announcement. It's another example of the monologue as a parade of cameos, but it's fine.
10. '50s Sleepover
In this Grease parody, a '50s slumber party turns downright fantastical once the girls decide go to sleep. Awake and alone, the confused Sammy (Gardner) debates whether she should drop out of school and her Teen Angel (Carell) materializes to sing Beauty School Dropout. Sammy quickly wakes her friend Becky (Bryant) because the angel is Becky's dad. Becky is pissed. Dad's been missing for weeks, he never gave Becky advice, and why does he have a troupe of scantily clad backup dancers? Now poor Teen Angel can't pick up the tune. He offers his daughter money, cigarettes, even a gun to keep things quiet — no such luck. This idea is not the obvious one that might be drawn from an older guy at a girls' slumber party, but the missing dad conceit feels off.
11. RBG Rap
Chris Redd and Pete Davidson pay homage to the great Ruth Bader Ginsburg in this rap, which trots out some biographical details about the Supreme Court Justice's life while insisting that broken ribs won't stop the 85-year-old. "Who else got six movies about them and still living?" Redd and Davidson ask, while RBG (McKinnon) punches a slab of frozen meat and otherwise prances around like a champion boxer. The gag here is just that Ginsburg is hard — something that is baked into the RBG mythos at this point — so it's more of a genuine appreciation than a vehicle for jokes.
12. Space Thanksgiving
Four space explorers (Carell, Bennett, Jones and McKinnon) prepare to eat a Thanksgiving feast with their hosts, an alien race known as the Klergs (Thompson and Villaseñor). The Klergs serve "kern," food that seems to be just purple ears of corn — until the kern (Davidson) starts screaming out in pain. According to the kern, the Klergs are trying to wipe out their species, so the explorers hatch a plan to save it. Sadly, whatever that plan is, we never see it come to pass. Something goes awry with the digital effects, and maybe the script to boot, because the confused actors bail out of the sketch and eat the kern. Live TV, amiright?
It's always nice to see a week of SNL without game shows or talk shows, but without a breakout sketch tonight or fantastic roles for the host, this episode struggles. The cold open doesn't dig into a good, central issue and Update is just okay. The remaining sketches experiment here and there with worthy risks, but not many of them pan out. Thankfully, a preternaturally gifted comic like Carell ensures the show won't fall on its face. Next week, SNL takes a break for Thanksgiving, but the show will be back live on the first Saturday in December with host Claire Foy.