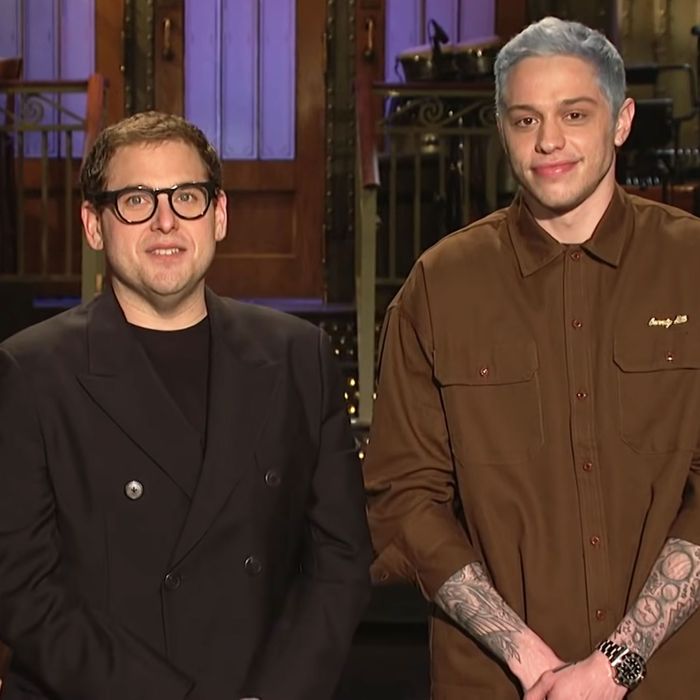 An unusual number of guest hosts joined SNL's gilded Five Timer's Club during the last stretch of season 42. Tonight, Jonah Hill joins the ranks of those recent additions — Scarlett Johansson, Dwayne Johnson, and Melissa McCarthy — and those repeated invites since his initial gig in 2008 make perfect sense. His boyish and bawdy tendencies fit right in at SNL. He has a natural ease with the format and an absolute willingness to take it on the chin. (Sketches have regularly mocked his status in Hollywood and made him the focus of more than one toilet clogging.) On top of all this, he's crafted one of the best guest-host characters this side of Tom Hanks's Mr. Short-Term Memory: precocious 6-year-old and future Catskills comic Adam Grossman.
(A reminder: We're listing sketches not in chronological order but from best to worst.)
1. Benihana
This time around, Hill's Borscht Belt bambino Adam Grossman sits at Benihana with his nanny Miss Lily (Leslie Jones) and fellow diners Jake and Tony (Mikey Day and Kenan Thompson). Though busy telling his new friends about his parents' divorce and achieving "every kid's dream — two Hanukkahs," he tries to put Miss Lily in her place by spouting clichés about Caribbean people and wailing Bob Marley songs. (This, despite the fact she is not Jamaican.) Eventually, Adam learns Jake and Tony are engaged, which only makes him excited to marry his good pal Eli. "I'm a top and Eli's a bottom," he cries. "I meant bunk beds! I'm six, I don't understand double entendre." If Jones' constant crack-ups don't make it clear, the Adam Grossman character hasn't worn out his welcome at all.
2. Teacher Day
Something just happened in driver's ed class at Madison High School: Its teacher, Gail (McKinnon), fell to the ground. And there she lies, inert, as maudlin piano music plays and she negotiates the following moments with members of her class (Hill, Bryant, and Pete Davidson). Apparently, teach didn't know she was wearing Heelies, but she won't stand up — what if she broke both legs and has to get a "full-bottom mermaid cast"? What if the kids keep laughing like they're watching an episode of Friends? The writing is wily, the pacing unusual and McKinnon is brilliant, as usual. The whole sketch is just a slow waltz with McKinnon, whose languid, melodramatic Gail makes the entire case giggle uncontrollably.
3. Jonah Hill Monologue
With Tina Fey leading the way, Hill visits the Five-Timers' Lounge into which other inductees including Tom Hanks and Justin Timberlake have been ushered. While excited to don the Five-Timers' jacket, Hill is a little nonplussed by the fact that only Drew Barrymore and Candice Bergen are hanging out. The guys are no longer allowed in. "Turns out," says Fey, "They're all just a bunch of horny perverts." Steve Martin, for instance, just whips out the banjo and plays it with "no consent." As Bergen gets sloshed on a drink called "the Pete Davidson," Hill gets fitted with a new Five-Timers' jacket — one with a lot more sequins than in days past. It's always fun to have drop-ins from the likes of Fey and Bergen, but it's even better when the material rises to meet them. This intro toys with #MeToo headlines and the mythos of the club in a really satisfying way, including a moment in which Hill has to rethink the statement, "I wanna jacket right now!"
4. Caravan Cold Open
In this edition of The Ingraham Angle, conservative pundit Laura Ingraham (Kate McKinnon) and her guests condemn the caravan of Guatemalan migrants making their way through Mexico toward the U.S. In consulting with Jeanine Pirro (Cecily Strong), she learns that the caravan includes not only Guatemalans and Mexicans but also "ISIS, the Menendez brothers, the 1990 Detroit Pistons, Thanos, and several Babadooks." Also, after reviewing footage of the caravan (which looks suspiciously like a zombie attack from World War Z), Pirro tells her the horde is dating Brad Pitt and have adopted the celebrity portmanteau "Bradivan." A description of pregnant moms is even more deliciously weird. Then, right at the end, Alec Baldwin takes a hit for his recent arrest. It's funny and some of the language isn't far off from actual Fox News, which means Ingraham and company may be scouring the sketch for a few ideas to use on air.
5. Weekend Update
Colin Jost and Michael Che ponder upcoming midterms and the migrant caravan in Update's first half. While Trump sent troops to the border to stop one caravan, Jost imagines that another one just "pulled up to landscape Mar-a-Lago." Though not a regular voter, Che feels young liberals who move to metropolitan areas are as much to blame for the nation's electoral difficulties: "You know how those red states stay so red? By sending their liberal kids to coastal cities to study improv." Then Pete Davidson arrives to give his first impressions of some candidates. For instance, Congressman Peter King looks like what happens if "a cigar came to life." At the end of his monologue, Davidson delivers a heartfelt message regarding his breakup with Ariana Grande, saying that it's "nobody's business" and that he wishes her "all the happiness in the world."
The second half includes some smart and silly material including a joke about a Columbian nun who became a porn star, "destroying the otherwise spotless reputation of the Catholic Church." Two characters also show up: Melissa Villaseñor as "Every Teen Murder Suspect on Law & Order" and Kenan Thompson as former Red Sox player David Ortiz. Villaseñor's character craftily plays on the clichés of the procedural, leaping from needlessly defensive to completely guilty with almost no coercion, in the span of a minute. While Thompson has done Ortiz many times in the past, talking about Dominican food and all kinds of potential lunches, there's something breezy and even more charming about this latest appearance.
6. KCR News
As Albany's local meteorologist Drew Mellencamp (Cecily Strong) prepares to give a weather report, she's interrupted by her short-term boyfriend Matt (Hill), bearing roses. The co-anchors of KCR News (Leslie Jones and Kenan Thompson) know what's up, and Drew tries to slow Matt's roll by saying "no" before he asks and encouraging him to get off of his bended knee. Matt is persistent, though, standing in front of the green screen in his green shirt and delivering a rap of love before having his proposal utterly rejected. Before the end of the sketch, however, there's a twist that leaves Matt's jaw on the ground. The writers deserve credit not only for the playful concept here, but for the sharp jokes they wrote on their way into the sketch.
7. HuckaPM
This sleep aid is one that answers the question, "How do you sleep at night?" It just so happens that the recipient of the question is also the drug's namesake: White House press secretary Sarah Huckabee Sanders. After she spends the day slinging whoppers for Trump (like how the migrant caravan is full of "MS-13 and also Chupacabras"), Huckabee Sanders needs to be knocked clean out. This little pill, full of Quaaludes and something Michael Jackson's former doctor calls "one and dones," sends Sanders to her bed, her floor, and over her third-floor banister. Though Sanders may be less fun to poke than Sean Spicer or Kellyanne Conway, it's fun to see the writers dig into her psyche a bit. And Bryant's physical commitment in this bit is excellent.
8. Dog Infomercial
Domestic partners Sonja and Damien Regulanté (Strong and Hill) present their idea for beautifying those bald, ugly pugs: pug wigs. Along with the help of Sonja's mother (Bryant) and Damien's son Zeke (Mooney), the cast brings out pugs wearing hairpieces with styles reminiscent of Marilyn Monroe, Ed Sheeran, and Rachel from Friends. They swear this is a "legit business" and "not a front for anything," even going so far as to bring out Damien's "Dad" (Thompson) with a like-minded business: pug beards. Yeah, a writer wanted to stick wigs on pugs in the ten-to-1 a.m. spot, what else do you need? Plus, the pug with the Tina Turner wig is a wonderfully clueless little minx.
9. Midterm Ad
Democrats are totally, totally, totally pumped and very, very, very confident about taking back the House, if not the Senate, on Tuesday … right? In this ad, a variety of Dems going about their daily routines — taking care of the kids or working in a flower shop — talk proudly about the forthcoming "blue wave." It's just that their hands are shaking, they're day drinking, and they're screaming at their children to "go inside 'til Tuesday!" This clever parody taps into a genuine, uneasy undercurrent in the Democratic midterm campaign. While it's not a fear Dems want to face, maybe a chuckle can keep hearts lighter until polls close Tuesday night?
10. Political Musical
This Off-Broadway show, Divided We Stand, is not afraid to "dive headfirst into our political climate." As white performers play hopeful immigrants or a Statue of Liberty that insists there's "no way you're getting into me," it's clear the well-meaning show is self-involved and completely off the mark. The New York Times' theater critic is quoted as saying, simply, "Jesus Christ." Eventually, one of the critics wonders, "Whose parents paid for this?" Presumably this bit won't play as well in rural areas, but anyone who has seen a navel-gazing political show that hopes to inoculate the players from criticism will enjoy this.
11. America's Got Talent
In this very special "Wait, They're Good?" compilation of AGT contestants, the judges and the crowd get stunned again and again by underdogs. Stacy (McKinnon) is shy, but she brings it with "Lady Marmalade." Bubba (Hill) hasn't heard the word "music" before, but he belts out Go, Go, Go Joseph from Andrew Lloyd Webber's Joseph and the Amazing Technicolor Dreamcoat. Though one guy (Thompson) is comatose, when the first few bars of Ain't No Mountain High Enough start up, he leaps up from his wheelchair in a sparkly vest and sings his heart out alongside his wife (Jones). Meanwhile, the judges — and Howie Mandel (Kyle Mooney) in particular — absolutely flip out. This is a smart observation about America's Got Talent, but it's a lot of sketch for just one observation.
Jonah Hill's induction into the Five-Timers' Club is a worthy one, and the hit-to-miss ratio might be the highest of his five shows. There's a lot more than just game or talk show parodies here. The scene featuring McKinnon's performance as incapacitated teacher Gail is strangely irresistible, and the scene about an on-air proposal delivers a lot of fun, little surprises. Politically, it's smart rather than searing, but there's room for some endearing drop-ins on Weekend Update. Plus, the return of Adam Grossman never disappoints. Next week: Liev Schreiber hosts.