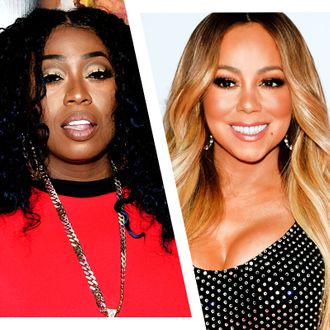 Missy and Mariah, whose pen game is strong.
Photo: Getty
This year's nominees for the next class of the Songwriters Hall of Fame (basically, the Rock Hall for artists whose pen game is strong) have been announced and once again history could be made. Missy Elliott is the first-ever female rapper to be nominated, after Jay-Z just last year became the first rapper ever inducted. Aside from being the brains behind her own songs, Missy famously wrote for Aaliyah, Whitney Houston, Monica, and too many of her R&B protégés to count, and how dare you forget she revamped "Lady Marmalade" for our 2000s ears? Joining her on the ballot this year is none other than Mariah Carey, the majority of whose 18 No. 1 hits she wrote or co-wrote herself. (Before you even have to ask, yes, of course, "All I Want for Christmas" is a Mimi Songbook original.)
Both Missy and Mariah are considered performing nominees, along with Chrissie Hynde, Vince Gill, Mike Love, Jimmy Cliff, Jeff Lynne, Cat Stevens, John Prine, Lloyd Price, Tommy James, and the Eurythmics (Annie Lennox and Dave Stewart). Nonperforming nominees are Jack Tempchin, Dean Dillon, Jerry Fuller, Tom T. Hall, Roger Nichols, and Dallas Austin. And then there's the nominated nonperforming songwriting duos: P.F. Sloan and Steve Barri; Russell Brown and Irwin Levine; Lynn Ahrens and Stephen Flaherty; Dean Pitchford and Michael Gore; Dan Penn and Spooner Oldham; and Bobby Hart and Tommy Boyce. Six songwriters or songwriting groups will be inducted on June 13, 2019.