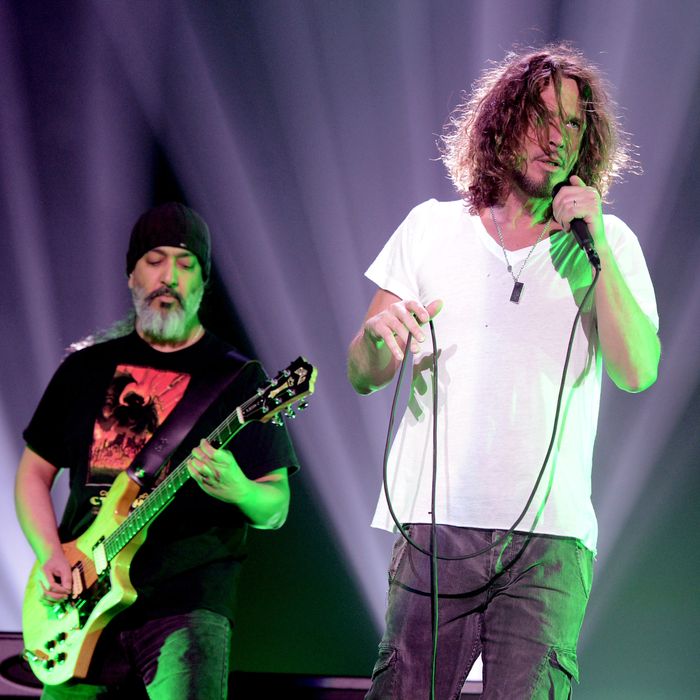 Photo: Kevin Winter/Getty Images
When a band is mourning the loss of a key member, the recuperation process can take several different forms: commemorative books, memorial concerts, reality-TV recruitment drives. For the friends and family of the late Soundgarden singer Chris Cornell, it's spurred a yearlong effort to distill a wildly eclectic three-decade career into a cohesive, comprehensive portrait of one of rock's most versatile voices.
The resulting 64-track, four-disc box set, titled simply Chris Cornell, is the first collection to encompass all facets of the singer's free-ranging discography: Soundgarden's golden grunge greats, Audioslave's alt-rock hits, and highlights from a solo catalog that zigzagged between campfire serenades, James Bond themes, and Steve Aoki remixes. (There's also a trove of live performances, covers, and unreleased tracks.) Overseeing curation of the Soundgarden selections was guitarist Kim Thayil, who, following the band's 2009 reunion, has served as the band's de facto archivist, spearheading a series of reissues and compilations that have helped establish Soundgarden's presence in the digital age and regenerate their fan base.
True to the band's original mission of demystifying and punking up '70s-style hard rock, Thayil has traditionally kept the lowest profile of any Soundgarden member outside the band, and understandably, he's been especially covert since Cornell's death. But he's recently reemerged to play the Fred "Sonic" Smith foil to Brother Wayne Kramer in a recombinant 50th-anniversary version of Detroit proto-punk legends the MC5 (dubbed MC50), whose current European tour happens to coincide with this week's release of Chris Cornell. Prior to kicking out some jams in Paris, Thayil spoke to Vulture over a shaky cell-phone connection to talk about life after Chris.
How's it feel being on this MC50 tour? I imagine it must be a therapeutic experience for you …
I suppose. It could be a lot of things …
How did this opportunity come about?
Wayne Kramer called me a year ago, and asked if I'd be interested in jamming and playing with them, and going on tour for a year. And I said, "of course," because they're my favorite band.
Has playing with the MC5 given you any fresh perspective on how a band can soldier on without its original front man?
No, this is just an opportunity to celebrate 50 years of Kick Out the Jams, that's what it is. I don't think it translates to any perspective on Soundgarden; it's a separate thing.
You recently played Detroit — what was that like?
It was a triumphant homecoming for Wayne, certainly … we did three really fun shows.
But I imagine it was also very bittersweet experience for you.
Nothing I'm going to share with your audience.
So what has this last year and a half looked like for you? Did you feel like you had to stay busy to keep your mind occupied, or was it a more meditative experience?
A bit of both, I suppose. Eat, drink, shit, walk the dog, like everybody else. Drinking …
How does it feel to be revisiting Chris's work now through this retrospective?
This started over a year ago, so most of the revisiting went on the summer before this past one, when we came up with the general track list. Most of what I tended to [on the box set] was Soundgarden's work, so I don't have to listen to any of it; I can just look at the titles and reference it by memory just fine.
Any fan could conceivably put together a playlist of Soundgarden favorites. What perspective on Chris's work were you hoping to show through your selections?
I guess I'm doing some of the work for them, I suppose. I can direct them to the … I don't want to use the term "evolution," because it gets misused, but to the growth and transformation of Chris's talents, either as a songwriter and singer. There's a chronological organization; it's also organized by the various projects he was involved with.
Is there a song on this collection you were especially keen to include that's really meaningful to you?
Yeah, I prefer the Soundgarden songs, thank you — as opposed to two-dimensional versions of it. [Laughs.]
When you read testimonials about Chris in the early days, a lot of people say he was a natural-born rock star from the very beginning. But Chris also said that, as a teen, he was more of a New Wave fan than a Led Zeppelin fan, and that he envisioned Soundgarden as a weird post-punk band. What did you make of Chris when you first met him? What drew you into his orbit?
I think it was the way we connected musically. When we jammed together, we immediately started writing songs — it came pretty easy to us, and I think the interest in the material we were coming up with was enthusiastic and mutually appreciated. We liked the uniqueness and creativity we were sharing. We were coming up with progressive elements, and we liked to focus on emotive things and use chaotic elements — that's what the band was about. We didn't like traditional song-structure arrangements. We weren't interested. Otherwise, I'd go do something else. I'd be a dishwasher.
At what point did you realize this guy in your band wasn't just a talented singer, but actually one of the greatest voices of our generation?
I don't know when that point was. It's really easy to take that talent for granted when you're around it every day, I suppose.
Soundgarden were all about subverting the hard-rock clichés of the day and stripping it down to just the raw power. But people came to see Chris as this golden-god front man — how comfortable do you think he was in that role?
I don't know … I think there were probably times where he was not comfortable with it; there were probably other times when he tried to accept it, but he didn't necessarily reap any rewards from that kind of title, other than critical accolades. It wasn't like he indulged in that kind of recognition.
From my outside perspective as a fan growing up in the '90s, it seemed like Soundgarden were the cool big-brother band in the Seattle scene that had their shit together, whereas Nirvana and Pearl Jam seemed a lot less comfortable in the spotlight. What was the feeling on the inside?
I don't think we were particularly comfortable in the spotlight, either. I think that feeling was generally shared among the Seattle bands.
In a recent interview, Ad-Rock and Mike D talked about how putting together their new Beastie Boys book made it feel like they had their band back, because Adam Yauch was coming alive through the stories being told. Do you get a similar feeling from undertaking archival projects like this?
This particular one, not so much. Other collections we've made — Telephantasm, the Echo of Miles collection, the 20th anniversary of Superunknown, the 25th anniversary of Badmotorfinger, the Sub Pop reissue of Ultramega OK— all of those already gave me a perspective on the body of work Soundgarden has. All those things allowed me to reexplore that material, as well as bonus and unreleased material. So, at this point: no.
What are you most proud of when you look back at the catalogue?
I just like the body of work in its entirety. It's a lot of material. Echo of Miles had 50 recordings that weren't on any album — that's like another four albums right there!
Is there anything left in the vaults?
There is some unreleased Chris solo work, which are nice little gems. And there is material from the Sub Pop period that has never been released.
In interviews, you seem to bounce back and forth between soldiering on or just laying things to rest. What's your feeling today?
As long as I have ideas I want to share and people I want to play them with, I'll do that.
You're the one member of Soundgarden who's never joined another band or side project …
Yeah, because Soundgarden was my band! So why would I be a member of another band?
But do you have any designs on doing a solo project of some kind?
Soundgarden was my project!
Is there a specific memory of Chris you have that captures a side to him fans may not have heard in the music?
He was a playful guy, with a pretty good sense of humor. He was fun to horse around with. He was pretty knowledgeable about gastronomy, too.