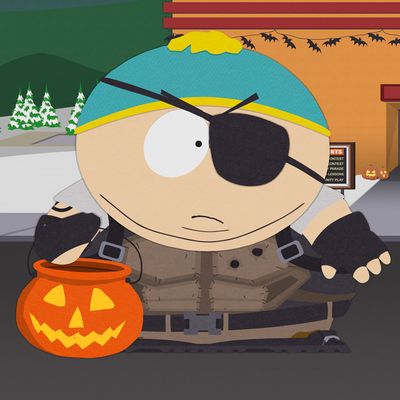 In 1996, riding high off the underground success of their first feature-length effort Cannibal! The Musical, Trey Parker and Matt Stone made like flesh-eating prospector Alferd Packer and headed West. They've lived in Los Angeles for over two decades now, each week's production of South Park taking place almost entirely within one square block of office space in the nearby Culver City. Their show's constant fixation on the particulars of small-town life in a Colorado suburb not too dissimilar from the one that yielded the two of them has a way of obscuring the fact, but it's been a long while since either of them called somewhere resembling South Park home.
Until an episode like "The Scoots" comes along, that is. Like last week's "Tegridy Farms," this half-hour trains its sights on a dumb new tech fad taking youngsters by storm, trading the scourge of vaping for the scourge of app-based electric-scooter rentals. It hasn't been two weeks since a group of eight Angelenos filed a class-action lawsuit against e-scooter start-ups Bird and Lime for "aiding and abetting assault," a rather dramatic way to characterize the creation of a public nuisance that's led to scads of pedestrians colliding with riders. Two short days ago, Lime recalled thousands of its scooters from the streets of L.A. upon the discovery that the batteries may be liable to catch fire as a result of extended use. For anyone living in Los Angeles, the sudden deluge of sidewalk-scaling motor vehicles probably feels like an invasion in line with this zombie-flick parody. To the rest of us, however, the premise and its cultural context take some figuring out.
In the same respect that 30 Rock was occasionally guilty of getting lost in its own perspective of New York privilege — who could forget the relatable plot arc in which Liz Lemon bought a second apartment to expand her living arrangements? — "The Scoots" betrays Parker and Stone's slightly blinkered vantage point from the SoCal hills. This week, the great e-scooter plague has reached South Park just in time for Halloween, enabling kids to maximize their candy yield by cutting down lag time between houses during trick-or-treating. In response to projections that they'll need to buy $6,000 worth of candy to prevent an exhaustion of resources and consequent eggings, the townspeople fly into a panic and place the blame squarely on the scooters. Anyone can grasp the concept of feeling threatened by new inventions, but the social significance of the scooters in specific gets lost in translation for those of us unable to speak West Coast.
Mr. Mackey plays the role of the last sane man while the scooters take control of the children as if snatching their bodies, the one notable exception being Kenny, who can't access the scooters because he cannot afford a smartphone. As Cartman so sensitively puts it: "I always told you that one day, being poor would catch up with you. But you didn't want to listen, and kept on being poor." The whole "night of the undead" vibe really gets up and running when Mackey decides to take action by rounding up all the scooters in a rental pickup and flinging them off a nearby cliff. It doesn't work, of course, but it does cue up a striking silhouetted tableau of the towering scooter pile that recalls the recent French-Canadian zombie picture Ravenous. (It's right there on Netflix; I wonder if Parker and Stone have seen it.) The best way to kill a serpent is to cut off the head, and when Kenny informs him that all the scooters respond to a downloadable app, they fell the area cell tower to end the townwide nightmare.
From the title on down, "The Scoots" succeeds more as a horror-tinged Halloween special than the cutting takedown of scooter culture suggested by Parker and Stone. The relatively narrow frame of reference neuters their screed against Bird and Lime, but the widely known rhythms and tropes of walking-dead movies get them pretty far anyhow. Even if a viewer doesn't see red at the mere mention of the car-denting scooter menace, they can chuckle with recognition when the final scooter picks itself up as if possessed by malevolent energy. Everybody appreciates the time-honored non-twist twist of appending a question mark to a "THE END…" title card, just as everybody gets a chill up their spine when watching mindless hordes sauntering through the street, whether in search of candy or braaaaains. It's an arresting image all on its own — if only it had been filtered through a social trend with a bit more reach. L.A.'s a long way from South Park, after all.
Assorted thoughts and questions
• South Park has a strange relationship to the basic concept of continuity. Each new episode largely erases the assorted traumas of the previous installment — their longest, most dedicated running joke involves repeatedly murdering and reviving Kenny — which makes it difficult to predict which plot developments will stick. It comes as something of a surprise that Randy Marsh continues to plug away on his marijuana plantation Tegridy Farms, doubly so that Parker and Stone find a way to naturally integrate that detail into the plot, and triply so that they subtly foreshadow it through Stan's "100% Hemp" shirt.
• Using voice-over narration to achieve some manner of Stephen King–type affect was clever enough, but the joke really works due to their choice to give Kenny's adult version of himself a velvety, booming baritone in place of the usual squeaking.
• Whether intentional or not, there's something funny about the main kids dressing up in costumes that aren't really anything, but rather suggestions of things. They look like vague archetypes of the '80s action heroes Stone and Parker grew up on, also-rans from a G.I. Joe casting call, at once vague and specific. (Note: This bullet point was written prior to research that revealed the characters to be dressed as players from the video game Fortnite, and has been left intact as a scathing critique of the character designs of Fortnite.) (Additional note: Good Lord, am I old.)