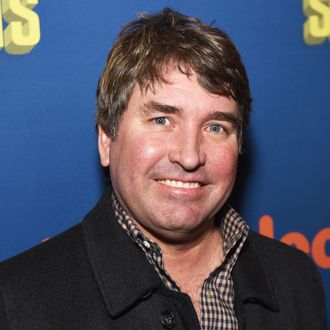 Stephen Hillenburg.
Photo: Jenny Anderson/Getty Images for Nickelodeon
Stephen Hillenburg, who created Nickelodeon's enduring cartoon series SpongeBob SquarePants, died Monday at age 57. According to Variety, the cause of death was ALS, the degenerative disease Hillenburg revealed he was diagnosed with last year. "Steve imbued SpongeBob SquarePants with a unique sense of humor and innocence that has brought joy to generations of kids and families everywhere," Nickelodeon said in a statement. "His utterly original characters and the world of Bikini Bottom will long stand as a reminder of the value of optimism, friendship and the limitless power of imagination."
Hillenburg started his career as a marine biology teacher, where he developed the characters that became central to SpongeBob. He later moved into animation, working as a director and writer on Rocko's Modern Life and Rugrats. In 1999, Nickelodeon first aired SpongeBob SquarePants, and the series has now aired nearly 250 episodes. The show has also spawned two movies, a Broadway musical, and countless memes, which will surely continue to proliferate into the future.