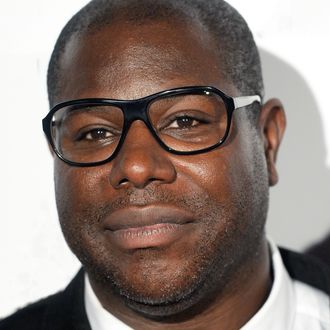 Steve McQueen.
Photo: Dave J Hogan/Dave J Hogan/Getty Images
Just how good is Viola Davis, according to her Widows director Steve McQueen? The very best. During a 20th Century Fox reception for the director on Thursday afternoon at MoMA, McQueen told an audience just how great the leader of his caper movie — about a group of women who get in cahoots to finish their criminal husbands' last big robbery — is. "I just don't think that Viola has been given a lot of the opportunities. She is one of the greatest actors of her generation. She could do an underwater musical," McQueen said, to laughs. "There's nothing she cannot do. We'd joke about it for a little while, that usually it's the case that she's playing someone who's very asexual. But she's everything a woman is."
In Widows, Davis plays the brains behind the heist, gathering the other women together and making the plans. But in every scene, there's an undercurrent of loss and of love: The women wanna rob, but they're also all grieving the fresh loss of their husbands. "To give her a role with this romance, to give her this yearning, to give her this grief was very important for her and for me," McQueen finished. "There's nothing she cannot do. I want to see a catalogue of Viola Davis pictures." But about that underwater musical — can that be McQueen's next move?