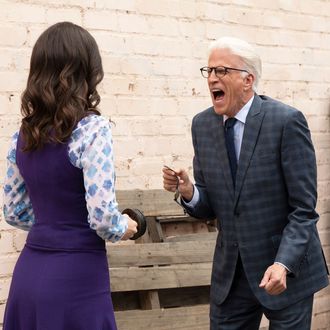 Ted Danson in
The Good Place
.
Photo: Colleen Hayes/NBC
Surveying the hundreds of thousands of people who have appeared on television throughout its very storied, very important history, Vulture would probably put Ted Danson into the top 0.001 percent of actors to ever grace those so-called "small screens." How could we not! This is a man whose colleagues effusively praise him like there's no tomorrow. Danson has been starring as the reformed demon Michael on The Good Place for three seasons now, and as we've been blessed many times in the past, yet another delightful anecdote has emerged from his involvement in the show. And let us just say, he might have inspired us to pick up a phone and partake in random acts of dialing.
As fondly recalled by Good Place showrunner Mike Schur at this year's Vulture Festival in Los Angeles, Danson has developed a penchant for calling him after a long day of work to just … uh … say how much he enjoys being employed. "Ted Danson is the world's nicest human being. Sometimes I'll just get random calls from him," Schur explained. "It'll be late in the afternoon and his name will appear on the screen, and I'll have a panic attack, but he's calling to say he had a really nice time at work today." Please, go on! "The reason why I became a writer was Cheers, so when I see Ted Danson calling me I still think it's a prank or I think he's going to quit," Schur continued. "But really, he's calling to say he had fun at work. That's not what people like Ted Danson do. He doesn't have to do it, but he's the world's nicest person." Call us anytime, Ted. We'll pick up on the first ring.