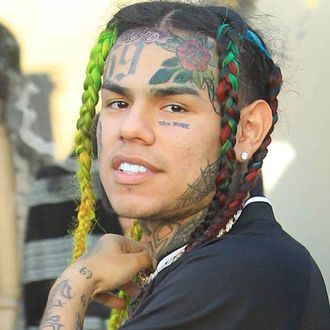 Tekashi 6ix9ine.
Photo: SMXRF/Star Max/GC Images
Tekashi 6ix9ine can now add a federal sting to his many controversies. According to TMZ, the rapper (né Daniel Hernandez) and five of his associates were arrested on Sunday night in New York City on racketeering and firearms charges. The arrests were reportedly part of a joint investigation between the NYPD, Homeland Security, and the Justice Department's Bureau of Alcohol, Tobacco, Firearms and Explosives. Tekashi's recently fired manager, Kifano "Shottie" Jordan, bodyguard Faheem "Crippy" Walter, and associates Jensel "Ish" Butler, Fuguan "Fu Banga" Lovick, and Jamel "Mel Murda" Jones were also arrested, and all six men were arraigned in Manhattan federal court on Monday.
Walter was the bodyguard shot during an altercation at a restaurant following Tekashi's sentencing for sexual misconduct last month. Jordan was recently charged with gang assault and weapons possession in connection with that same incident. In October, Tekashi was sentenced to four years probation for the use of a child in a sexual performance and, last week, pleaded guilty to disorderly conduct for a separate assault charge on a New York police officer. The terms of both guilty pleas state that Tekashi must remain out of criminal trouble or will face jail time.
Hernandez was held without bail Monday and charged with six counts in an eight-count racketeering indictment, but the real courtroom drama unfolded when lawyers revealed that two of his former pals might have been planning a hit on him. The Manhattan U.S. Attorney's Office claims that Hernandez and the others charged were members of the local Bloods offshoot Nine Trey Gangsta Bloods. (This part isn't all that surprising, considering that Hernandez had often said he's part of Nine Trey.)
As members of Nine Trey, they allegedly conspired as part of a "criminal organization" that was known to make use of murder, robbery, and drugs to solidify power. Their conspiracy ran from 2013 to 2018. Nine Trey trafficked drugs such as heroin, fentanyl, MDMA, and pot, according to the indictment.
Prosecutors claimed that Hernandez was at the center of several acts of violence: During a robbery on April 3 that took place on West 40th Street and Eighth Avenue that targeted rivals, Hernandez sat "in the car, parked outside" and "played a role in planning and directing" the crime, prosecutors said in court. On April 21, Lovick "fired a gunshot at rivals of Nine Trey upon encountering them at the Barclays Center," the indictment alleges. Hernandez was among those who had exchanged words with these rivals prior to the shooting, prosecutors said. Hernandez was also involved in organizing a July 16 shooting of someone who "disrespected" his group, which resulted in an innocent bystander getting shot instead.
"The defendant is quite violent," Assistant U.S. Attorney Michael Longyear told Magistrate Henry Pitman.
Hernandez's lawyer, Lance Lazzaro, unsuccessfully pushed for house arrest, arguing that his client didn't flee even after learning he was under authorities' scrutiny. "He gets picked up by the police, the FBI, on Saturday," Lazzaro told Pitman. "They come to him and say, 'we think there's a credible threat to your life, we want you to come with us.'"
Hernandez didn't want to be under 24-hour protection and signed a waiver so he could go home. After doing so, Hernandez didn't go anywhere, which Lazzaro suggested proves he would stick around if granted bail.
Pitman asked prosecutors about the potential hit. Longyear revealed that "the government has been investigating the defendant for some time," and had intercepted chatter on wires that several people wanted to "super violate" Hernandez. "Certain high ranking members of the Bloods had authorized violence," it was also revealed.
Longyear also said that cops offered Hernandez protection in an apartment or a hotel but that he "wanted people to stay at multiple hotels, which was not an option."
Two of the counts against Hernandez carry a maximum sentence of life in prison. Meanwhile, his debut album, Dummy Boy, is set to be released this week.
New photos of Hernandez have emerged showing the rapper on the scene of several alleged crimes, including a still from a robbery he allegedly filmed. The photos are contained within a filing by the Manhattan U.S. Attorney's Office in relation to his arrest Sunday on racketeering and firearms charges. Prosecutors successfully provided a document to the court, called a "detention memo" — which featured photos of him near these incidents. Vulture has obtained a copy of these pics.
The first photo, dated April 3 at about 4:15, appears to show Hernandez in a car with co-defendant Kifano Jordan, also known as "Shottie." Jordan is Hernandez's just-fired manager, who's accused in the indictment of robbing a rival near Times Square shortly thereafter. Hernandez "played a role in planning and directing," prosecutors alleged in court yesterday. They claim that Hernandez filmed the robbery "from the backseat of a car parked outside the building" and sent it to someone, who then put it on the internet. That image is also in the detention memo.
Another photo in this detention memo also shows a backpack allegedly stolen (emblazoned with the word "SCUM" on it and a giant dollar sign) in this robbery, as well as a gun found by cops in Hernandez's apartment on September 27, according to the document.
More images show Hernandez near two April 21 shootings involving his rivals — including one at the Barclays Center, where members of his crew allegedly fired at enemies, prosecutors say.
Hernandez's lawyer, Lance Lazzaro, wasn't swayed by allegations that these photos implicate his client. Of the case, generally, Lazzaro told Vulture, "I just think it's an overcharge at this stage with respect with what they've presented."
Update, November 21: Following the arrest, Nicki Minaj posted to her Instagram saying that Tekashi's album, Dummy Boy, will be delayed due to "reasons beyond music."
Update, November 22: According to TMZ, Hernandez was transferred to a federal facility that is reportedly often used to hold witnesses who are cooperating with law enforcement. Hernandez's attorney, Lance Lazzaro, told TMZ that the rapper was transferred for "security reasons." Lazzaro claims Hernandez had been threatened by gang members at Brooklyn Metropolitan Detention Center where he was previously being held.
Update, November 27: 6ix9ine's debut album, Dummy Boy, has officially been released days after it was delayed and subsequently leaked online.
This post has been updated throughout.