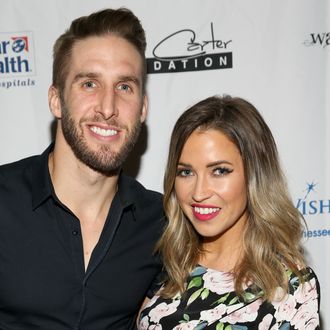 Photo: Terry Wyatt/Getty Images for The Kevin Carter Foundation
As the seminal Sex And The City publication Convenient Theories For You Monthly taught us, everyone gets two great loves in their life. So while we are saddened to learn The Bachelorette's Kaitlyn Bristowe and Shawn Booth have broken off their engagement, boy, it sure would make for a compelling second go-around! The pair, who got engaged at the conclusion of the show's 19th season in 2015, confirmed their decision to split up on Friday.
"After three incredible years, we have decided to go our separate ways," they said in a joint statement to People. "This difficult decision comes after thoughtful, respectful consideration. Even though we are parting as a couple, we're very much committed to remaining friends and we will continue to support each other. Due to the nature of how we met, our relationship has always been very public, and we have enjoyed sharing it with all of you, but we ask that you respect our decision and our privacy at this time." Absolutely, at this time, privacy. At an unspecified time in the future, what do we think about some sort of tandem, tag-team Bachelor/Bachelorette season? Just something to mull over.