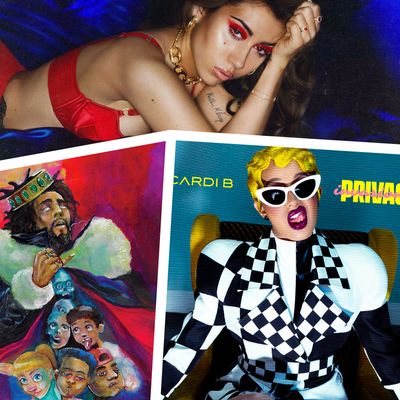 Photo: Courtesy of artists
Here are the best of the many, many albums that have been released so far this year, according to our music critic Craig Jenkins.
This list has been updated to include October releases.
Amanda Shires, To the Sunset
Lubbock, Texas singer-songwriter Amanda Shires came up playing fiddle in the long-running Western swing act the Texas Playboys and later, backing Americana troubadours Todd Snider and Rod Picott while workshopping records of her own. She's a clever lyricist who can set a gripping story up inside of a few lines and a singer whose high warble calls to mind the great Dolly Parton. On this month's To the Sunset — album number seven — Shires and producer Dave Cobb get playful with arrangements. "Charms" and "Leave It Alone" employ synths and programmed drums. "Take on the Dark" toys with the same post-punk/folk rock hybridization popularized by early R.E.M., while "Break Out the Champagne" nicks a bassline and some pep from the Foo Fighters' "Big Me." Country music and hard reckoning are still the album's central focus, and Shires's pen is killer: "Eve's Daughter" swan dives into a doomed romance, saying, "I was thirsty, and he looked like water." To the Sunset's ten gems are as smart and lively as they are shockingly short. It's a testament to the still-vibrant power of the three-minute love song.
Arctic Monkeys, Tranquility Base Hotel and Casino
If you play your cards right in your late 20s, your 30s can be a place where you find time to get weirder and perhaps a little more refined. Arctic Monkeys front man Alex Turner used to write nervy, self-aware punk tunes about the experience of finding out everyone sucks a little after college, but upon receiving a piano as a gift for turning 30, he shifted gears. This year's Tranquility Base Hotel and Casino sees the singer ditching his rowdy NME-rock past and adopting a quirky cabaret singer's snark and weathered croak. The new songs muse abstractly about outer space and media theory, pushing valuable points about real world isolation and gentrification through lyrics that allude to heady Criterion collection sci-fi and music that takes cues from great old David Bowie and John Lennon albums.
Beyoncé and Jay-Z, Everything Is Love
This summer, music's biggest power couple finally delivered the joint album that seemed to be their destiny after 15 years of hit collaborations like "Deja Vu," "Crazy in Love," and "Drunk in Love." Everything Is Love follows the vengeance of Lemonade and the rocky reconciliation of 4:44 with a new objective: "Let's make love in the summertime." It's not high-concept like Bey's last two visual album spectacles, or intimidatingly long like most Jay solo projects pre-4:44 tended to be. Everything Is Love is tight and pointed. The theme? They're rich. They love each other. Their friends make great beats. Their enemies should be worried. The boasts are elite: Jay graduated from beefing with rappers to beefing with the NFL and the American prison industrial complex, and Bey imagines a future where all of her children get spots on Forbes lists. The production gives the year's glossiest trap records a run for their money. If Jay and Kanye never reconcile, we can just call Everything Is Love the gifted spiritual successor to Watch the Throne.
Blood Orange, Negro Swan
Dev Hynes is a restless, multifaceted talent; his records as Blood Orange mix diaristic confessions, historical allusions, and a blend of genres so unique you know who you're listening to within seconds of pressing play. Negro Swan, the fourth official studio album under the moniker (not counting the ones he's apparently keeping to himself), tosses rap, R&B, rock, gospel, jazz, and screw music into a blender, then lets the mix dry and warp in the sun. "Charcoal Baby" and "Vulture Baby" are the same brand of woozy, disembodied warm-weather music as Kool and the Gang's "Too Hot"; minutes later, Swan's chasing Memphis and Texas rap homages with a full-throated gospel invocation from New York–area vocalist Ian Isiah. "Orlando" invokes '70s Stevie, while "Out of Your League" revisits '80s Prince. Hynes's albums cover miles of ground in minutes, but at the root of all the thrashing is a keen listener and avid learner exploring his place in the world. Negro Swan is for anyone who feels the same way.
Cardi B, Invasion of Privacy
It's hard to believe that only two years have passed since Cardi B starred on Love and Hip-Hop: New York, where she jostled for camera time with the two-timing one-hit wonder Peter Gunz and a rogue's gallery of little-known new artists renting out clubs to premiere bad rap singles we never heard again. Cardi's career has gone so swimmingly since then that her banner Billboard chart run feels like a coronation or an anointing. Invasion of Privacy is proof that she wasn't just funnier than the cast of her reality show. She was also a more versatile rapper. Cardi can hold court over trap beats, as on "Money Bag" and "Bickenhead"; bear her heart and sing a little, like she does in "Be Careful"; plot on a cheating man with her homegirls on records like "Thru Your Phone" and "I Do"; or take you through the tough spots in her rags to riches story, as "Get Up 10" does. She crushes everything she tries, and it's quite possible that she wrote and recorded a lot of it while pregnant. The boys running the rap biz could never.
Courtney Barnett, Tell Me How You Really Feel
Tell Me How You Really Feel is a collection of dejected songs that work hard to make tart jam out of the wreck that is 2018. The Melbourne artist's sophomore solo album is stacked with elegant tunes about needing a break from the news and peppy alt-rock numbers about wanting to be left alone. Internet trolls get read the riot act, and predators get warned about the sharpness of the keys Courtney keeps at the ready when she's walking around alone at night. Tell Me How You Really Feel is a valuable self-care exercise that lives up to the world-weary sigh hinted at in its name.
Eric Church, Desperate Man
Eric Church sorts through joy, hurt, fear, and outrage on album number six, this fall's Desperate Man. The new record is the North Carolina country troubadour's response to the tumult of a brush with mortality he suffered during a hospital emergency after a grueling tour and the soul-searching he did in the wake of the shooting at Las Vegas's Route 91 Harvest Festival last autumn. "The Snake" and "Monsters" tussle with the callousness and randomness of human depravity, while "Solid" strives for reliability, and "Some of It" and "Hippie Radio" look back on a life spent learning to be a better man. Church's earnest singing, delicate writing, and expressive songwriting steady what should be a rocky ride. He's seen too much in the last year — we all have — but he's committed to write his way out of the jitters.
The Internet, Hive Mind
After 2015's Ego Death, the members of the West Coast R&B group the Internet took time to workshop music on their own. Singer Syd channeled her inner Aaliyah on Fin. Guitarist Steve Lacy built up his songwriting skills on Steve Lacy's Demo. Singer/producer/pianist Matt Martians finally went solo with Drum Chord Theory. Bassist Patrick Paige II sang and rapped on Letters of Irrelevance. Reconvening on this summer's Hive Mind, the Internet showcases greater depth as writers and as architects of killer grooves. Paige's bass on "Roll (Burbank Funk)" is good enough for a Studio 54 night. Lacy's minute-long "Come Over" outro swings hard. Syd's voice is both more airy and more confident. For an example of all of these moving parts coming together, check the plush "It Gets Better (With Time)," a song of perseverance from Syd that turns on a warm spoken-word interlude from the Dungeon Family's Big Rube and closes out on a reassuring rap from Paige. Ego Death was a solid collection of hearty soul sounds, and Hive Mind offers more of the same, while carving out space for each of the Internet's half-dozen unique talents to shine.
Janelle Monáe, Dirty Computer
Janelle Monáe is a gifted actor, singer, songwriter, producer, rapper, and dancer, and her new Dirty Computer project wants you to know she's the total package. It's an album and an "emotion picture," a hearty body of songs about seeking a carefree life and promoting positive vibes and a short, smart sci-fi flick about a totalitarian government that goes to great pains to press citizens into mindless automatons. Because Janelle knows her music, Dirty Computer is a smart, versatile collection of funk, pop, rock, and soul vibes. Because she stans her legends, there's well-placed guest spots from Stevie Wonder, Brian Wilson, and Pharrell Williams throughout the project. Monáe sings about wishing for a "crazy, classic life" on the album cut of the same name, but from the looks of things, she's already well on her way.
J. Cole, KOD
KOD is the most J. Cole idea possible: It's a concept album about addiction, and the trauma that causes people to use and the trauma caused by people who use. The Cole who once wrote diss tracks about other rappers' personal faults and cultural responsibilities might not seem like the most sensitive vessel for a word about drug, sex, money, and internet addiction, but KOD works hard to be tender and patient with its subjects. Dozens of rappers have written songs about Instagram, but few have come out with anything half as compassionate as "Photograph," a character study of a guy imagining a relationship with a beautiful girl he's too nervous to message on the app. Thousands have written songs about cheating on a significant other, but "Kevin's Heart" is the rare contender that approaches the subject matter from a place of shame and remorse. These are serious songs, but they slap in headphones; they're heavy messages, but Cole serves them with a merciful mind, an impressive flow, and an expressive delivery.
Kacey Musgraves, Golden Hour
Texan singer-songwriter Kacey Musgraves's new album Golden Hour is testament to the resilience and flexibility of country. In just 13 songs, Kacey swings from heady Topanga Canyon country-rock through MOR-infused Americana, disco and hip-hop beats, and rainy-day folk. It works because Musgraves's band is versatile, her voice is a revelation, and her writing packs worlds of feeling into just a few words. She coyly tells an ex who fears commitment that "you can have your space, cowboy," and later advises a jerk to ride his high horse out of her life. Kacey's equal parts folksy, funny, and profoundly relatable, as she's been for years, and with Golden Hour, she proves just how easy it is to make country music that convenes with other genres without coming off as some kind of calculated crossover gesture.
Kali Uchis, Isolation
The uninitiated might recognize 24-year-old singer Kali Uchis from stints as a guest vocalist on records by Tyler, the Creator, Gorillaz, Goldlink, and Snoop Dogg. She's not your traditional soul singer; her wan, airy voice is more reminiscent of '60s European yé-yé or classic tropicalia than the limber runs of modern R&B. It's expressive without being showy, and that makes her debut studio album Isolation a treat. The record shows off her range as she slides through the warped roller disco of "Just a Stranger," effects a breathy longing on "Flight 22," matches wares with the U.K. singer Jorja Smith on "Tyrant," and bounces lines off funk great Bootsy Collins and the jazz new jacks BADBADNOTGOOD on the single "After the Storm." Fans of old soul will find a playground of throwback grooves, and anyone weathering a breakup or catching butterflies from a new crush will relate to at least a few of Isolation's keen perspectives on matters of the heart.
Low, Double Negative
For 25 years, we've come to know the Minnesota indie rock trio Low to be a band of stately pleasures, of poise and patience. Like an artist painting a still life, Low communicated messages about the plaintive beauty and the subtle horror of the American condition through careful strokes and painstaking accuracy. The experience of being American isn't pretty right now, so, once again, with this fall's new album, Double Negative, Low paints what it sees, and it sees disorder. Double Negative is cold, airless, and electronic. Melodies are crafted out of coarse, forbidding textures. Vocals are rendered to sound like mewling robots. The album is laid out like a travelogue documenting a tough time; early on, shattered, knackered lyrics sound like missives from a sweltering miasma, but if you make it through the scorched earth desolation of "Tempest" and "Always Up," there's warmth and hope.
Mach-Hommy, Duck Czn: Chinese Algebra
Newark rapper Mach-Hommy is a real-life mystery in a music industry where such a thing no longer seems possible. He rarely does photos or interviews. Most of his music lives behind hundred- and thousand-dollar price tags on his website, where he is occasionally known to mark digital-only releases "sold out." If you get your hands on one, you catch a flair for gritty, bygone East Coast hip-hop that has understandably made fans of keepers of that flame like Earl Sweatshirt and Alchemist. Last month's Duck Czn: Chinese Algebra offers a fantastic entry point because Hommy's rhymes and producer Tha God Fahim's beats embody the sobering sensation of bustling tri-state area summers buckling to the cooler climates and slower pacing of fall (and also because the price point this time is just $7.77). "Quintuple Black" and "Diamond Exchange" are the sounds of trying to keep from slipping into a rut, successors to the stressed-out mind and resilient spirit of classics like Mobb Deep's "The Realest."
Mitski, Be the Cowboy
Listening to the downcast disco of "Nobody," the standout on singer-songwriter Mitski Miyawaki's fifth and finest album, Be the Cowboy, it seems almost preposterous that, just a few albums ago, the same Mitski was mostly known for stately piano musings like her sophomore album Retired From Sad, New Career in Business's "Because Dreaming Costs Money, My Dear." In the intervening years, Mitski came blasting through folk-punk and biting indie rock on Bury Me at Makeout Creek and the transcendent Puberty 2. Time spent refining the quiet songs and getting the loud ones to jab makes Cowboy's confident mix of both feel like a pinnacle Mitski's been pushing toward all along. It crushes everything it tries, and it tries a lot. Gorgeous, orchestral ballads hold court with thumping Britpop, scabrous grunge, and synthpop; the anchor is Mitski's lilting voice and devastating way with words.
Pusha-T, Daytona
We should study the careers of kingpins the way we track great builders and economists. Both pave their own roads to riches. Both embody opposing ends the American dream. Every Robert Moses gets an Alpo Martinez. Pusha-T knows both worlds. As the president of G.O.O.D. Music and a drug rapper par excellence, Push can talk about the streets and the boardrooms, and his new album Daytona is a master class in traversing seemingly incongruous realms. In just seven songs, the Virginia MC delivers the lean, mean body of knockout coke rap punchlines his solo career has been building toward since 2011's Fear of God. Manning the boards is Kanye West, who (largely) keeps his present controversies off the table, instead serving up his spiciest batch of soul chops since Common's Be.
Robyn, Honey
Swedish singer Robyn is one of our finest working songwriters on the subject of overcoming heartbreak on the dance floor. Her most memorable songs — see: "Who's That Girl," "Do You Really Want Me (Show Respect)," "Dancing on My Own," "With Every Heartbeat," "Call Your Girlfriend" — explore the gap between what Robyn needs, i.e. warmth and unconditional love, and whatever setbacks and misfortunes she weathers on the way to finding fulfillment. This year's Honey is the product of a period of loss and uncertainty; Robyn broke up, however briefly, with her fiancé and experienced the unexpected passing of her collaborator Christian Falk in the stretch where she started writing the songs that would end up making the new record. Recorded with longtime collaborator Klas Åhlund, Metronomy front man Joseph Mount, and singer-songwriter Kindness, Honey is a work of quiet resilience, a collection of downbeat ruminations on waiting out longing and pain that stands up to the best in her catalogue.
Sleep, The Sciences
Dopesmoker, the last album by the doom metal trio Sleep, quite literally destroyed the band. Guitarist Matt Pike, singer-bassist Al Cisneros, and drummer Chris Hakius split when their label refused to push the album, a sludgy hour-long ode to the healing calm of a pot high. The rest of the story is legend: Edited versions of the work made it out to fans, whose adulation led to well-received reunion shows and tours when Pike's band High on Fire and Cisneros's band Om went on break. This year's The Sciences was a perfect 4/20 surprise: it opens with three minutes of feedback and a bong rip, then proceeds to burn through five impossibly heavy guitar workouts, including the Dopesmoker leftovers "Sonic Titan" and "Antarcticans Thawed," the Black Sabbath tribute "Giza Butler," and the requisite pot anthem "Marijuanaut's Theme." The Sciences honors Sleep's past while pointing to new directions on the closer "The Botanist," which coolly peels back the band's trademark coat of dense fuzz to reveal a hidden sweetness. That the band is still capable of surprises nearly 30 years into the partnership is promising; let's hope the next project doesn't take another ten years to develop.
Teyana Taylor, K.T.S.E.
Let's give G.O.O.D. Music singer Teyana Taylor's mini-album its props: It's hard proof that the Harlem native is not a reality star with a nascent singing career but rather a formidable singer-songwriter her label should make more space for. It found fascinating ways to talk about married life, through songs about love, lust, and trust like "Issues/Hold On" and the married threesome anthem "3Way." It's home to the least-stressful Kanye West verse of the year. (See: "Hurry.") The vocals are warm and delightful. The beats are a stir fry of old soul and gospel classics. K.T.S.E.'s so short and sweet that it makes you wish there was more of it, and that it got to live free of the frustrating associations of this spring's doomed Kanye West charm offensive. We can't undo the latter problem, but Teyana has promised that a more fleshed-out version of the record is on the way (in some form). Time will tell.
The Voidz, Virtue
Strokes leader Julian Casablancas's best album in a decade opens with a twinkling, crystalline reduction of a classic Strokes riff. "Leave It in My Dreams" sets out a taut, sunny electric guitar lick at the top of the album but quickly retracts it in favor of chilly synths out of the Fleetwood Mac Mirage playbook, as if to remind longtime listeners who might've come to the project for a glimmer of the old dirty, downtown Is This It? glory that they shouldn't expect very much of that at all. Virtue, the second album from Casablancas's Voidz, scales back some of the harsher sounds of the sextet's debut, Tyranny, settling on an unpredictable but effective mix of hard rock, trip-hop, chillwave, and punk rock. Part raucous pirate radio mix and part political reckoning from a singer who is better known for his bedroom missives, Virtue rejuvenates Julian by taking a hammer to our long-standing sense of what he's capable of, and building something weird and new.
The Weeknd, My Dear Melancholy
The Weeknd's introductory mixtape series of House of Balloons, Thursday, and Echoes of Silence was excellent music to stumble home from late-night parties to. It delighted in no feeling so purely as the sensation of looking wistfully back on a bygone drug and drink-fueled sexual encounter. Weeknd's trip from anonymity to the top of the charts had begun to carry him away from the stoned, noirish glee of the early material, but this spring's mini-album My Dear Melancholy presents a return to the old recklessness. Through a pall of hurt and a bed of elite production, singer Abel Tesfaye reclaims his crown as R&B's lascivious crown prince. "Wasted Time" is a reminder that Drake achieved some of the gauzy sound of his famed Take Care album by ganking a handful of songs intended for Balloons; "I Was Never There" is a pain burger-deluxe, with all the fixins: dour vocal runs, g-funk keys, video-game sound effects, and a suffocating sense of a man whose will is about to break. Tread lightly if you're sad; step lively if you're not.
YOB, Our Raw Heart
YOB, the Oregon doom-metal trio that pairs crushing, methodical riffs with singer-guitarist Mike Scheidt's bruised poetry and soaring vocals, almost dissolved last year when Scheidt's scary case of the intestinal disorder diverticulitis progressed into a hospital stint he wasn't entirely sure he'd make it out of. Laid up in bed between surgery and recovery, Scheidt poured his thoughts into songs he wondered if he'd ever live to record. He made it out, and the band returned with the titanic Our Raw Heart, a 73-minute expanse of pulverizing tunes about the disconcerting fragility of flesh and the inevitability of decay. "The Screen" and "In Reverie" are brutal but lumbering and patient. "Ablaze," "Beauty in Falling Leaves," and the title track bring a soulful lightness to the record that's rare for doom metal, while "Lungs Reach" dives into ambient textures, not unlike last year's excellent Bell Witch album Mirror Reaper. The lesson is clear: Try to stop this band if you want. They'll just come back louder and stronger.