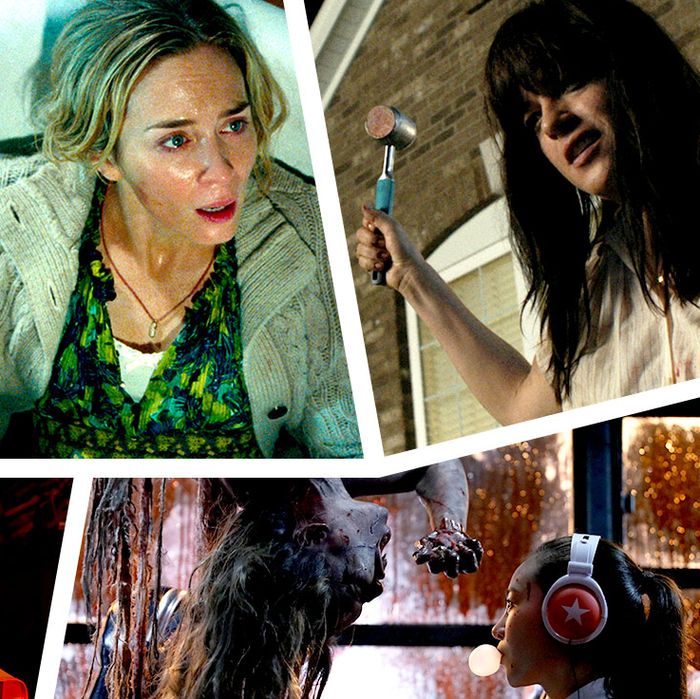 Photo: Splendid Film, Paramount Pictures, Momentum Pictures, IFC Midnight, Vie Vision Pictures
In 2017, Split and Get Out delivered a pair of winter surprises and became two of the year's top earners in the horror category, catalyzing an insanely profitable 12 months for the genre that was highlighted by the certified global smash, It: Chapter One. This year, John Krasinski and his monsters made A Quiet Place a spring surprise at the box office. Toni Collette entered the canon of cinema's most terrifying mothers, and a strong fall slate — including the Halloween sequel — has rounded out another stellar year for horror films. But crowded around those populist blockbusters is a field of sci-fi thrillers, genre-bending mysteries, social commentary, and exuberantly nihilistic violence that will make you weep for the future — but also stand up and cheer for the present in horror cinema. Here are the best movies in the genre so far in 2018.
(A quick note about our methodology: We've restricted this list only to films that have had an official release in the first seven months of 2018, though we will continue to update it throughout the year.)
Annihilation
If you weren't sure Annihilation was going to be a horror movie, the human bear scream should have dismissed all your uncertainty. The most visually arresting film of the year — about a team of scientists who cross into a self-contained, Earth-bound alternate dimension to unpack the mysteries within — is also, as Vulture's Angelica Jade Bastién put it, "a masterwork I felt in my nerve endings, a brutal, gorgeous meditation on the rigors of depression and the human impulse toward self-destruction." The set-piece scares in Annihilation are practically avante-garde in their execution (crawling eel intestines, the exploded Technicolor body, that bear), but the movie's true weight comes from its unflinching look into existential terror.
A Quiet Place
Writer, director, and star John Krasinski dropped this horror bomb at SXSW and it's been lighting up the box office since its early April premiere. Krasinski co-stars alongside his wife, Emily Blunt, as a married couple trying to keep their children safe from sound-sensitive monsters that seem to have wiped out a significant chunk of the human population. It's been the horror surprise of the year, generating high critical praise and making a play to become this year's first $200 million scary movie. Run, don't walk to the theater — but make sure to wear socks if you've got heavy feet.
Cargo
The Emo Zombie wave is here, and Cargo is one of the best entries, with Martin Freeman powering the drama as a father searching the Australian outback for a safe haven that will take in his infant daughter — and he's only got 48 hours to do it before he, too, becomes a flesh eater. Cargo hits a lot of familiar zombies tropes (end of the world, dramatic acts of self-sacrifice, morally bankrupt people turning into savage opportunists when society falls) but directors Yolanda Ramke (who also wrote the screenplay) and Ben Howling add enough fresh details to make their zombiepocalypse stand out. And thanks to an excellent lead turn from Freeman, it's also touching enough to leave you in tears.
Cold Hell (Die Hölle)
It's a big year for heavy-handed female vengeance (Red Sparrow, the upcoming Revenge), and the German Cold Hell is a bloody knuckles story for your simmering feminine rage. Violetta Schurawlow plays Özge Dogruol, a taxi cabdriver who spends her nights weathering racist and misogynist slurs from her fares, and also casually trains as a mixed martial arts fighter. One night, Özge witnesses a grotesque murder, and both she and the killer resolve to eliminate each other, kicking off a feature-length pursuit in which both parties are hunting each other down with extreme prejudice. Along the way, details about Özge's past emerge that clarify why her motives for vigilante justice are so powerful.
The Endless
The third feature from directing duo Aaron Moorhead and Justin Benson stars the pair as brothers who have struggled to assimilate into society after fleeing a strange death cult ten years prior. When the story picks up, Aaron and Justin (yes, played by Aaron and Justin) receive a cryptic message from their old commune, which baits them back in hopes of getting closure on their previous lives. But what they find in the desert defies explanation, and makes the whole cult seem less crazy after all. Fans of Moorhead and Benson's earlier films, Resolution and Spring (all of which were written by Benson), will be rewarded for their viewing loyalty.
Errementari: The Blacksmith and the Devil
This gothic fairy tale is for the ones who love del Toro's monsters and those wonderfully twisted '80s fantasies like Legend or Labyrinth. Errementari is the feature debut of Basque director Paul Urkijo Alijo, and it centers on a blacksmith who makes a deal with a demon during wartime that does not yield its intended outcome. With his life in ruins, the blacksmith now lives in seclusion, harboring a dark secret, until a young girl wanders into his fortified home and learns what it is he's been hiding. The use of practical creature effects brings this period piece fully to life, and it's filled with the same romance and playfulness that fans of Spanish have come to expect.
Ghost Stories
Ghost Stories is a wonderful time, and it delivers on the promise of its title with gusto. Adapted from a stage play of the same name by creators Andy Nyman and Jeremy Dyson, the movie revolves around a professor and paranormal investigator whose life's work is debunking the supernatural. But when he gets handed three unsolved mysteries — each of which plays out in flashback vignettes — his ability to rationalize every single inch of the world is severely compromised. It's darkly funny, and excellent performances from the three haunted men (played by Martin Freeman, Alex Lawther, and Paul Whitehouse) ensure the movie's in-world ghost tales are filled with classic thrills and chills.
Halloween
Well, they did it. After that bummer-wave of slasher reboots from the early 2000s, Blumhouse and Universal brought back one of horror's marquee villains and most iconic heroines for a damn good revival, with plenty of heart to go with its blood and guts. Michael Myers is back in Haddonfield after a prison escape, and in his pursuit of Laurie Strode (Jamie Lee Curtis) will cut down anyone in his path. Strode has turned survivalist in the wake of her teenage trauma, and her daughter (Judy Greer) and granddaughter (Andi Matichak) have spent their lives coping with it, too. John Carpenter even returned to deliver a score that truly slaps, and proves that when the conditions are right, you really can go back to Haddonfield again.
Hereditary
Over the past three years, A24 has made a small tradition of releasing an annual high-class, brooding horror picture, and in 2018 they set a new high bar with Hereditary. The debut feature film from writer and director Ari Aster blends impeccable performances from young stars (Alex Wolff, Milly Shapiro) and veterans alike (Toni Collette, Ann Dowd) with stunning art direction and just the right amount of brutal violence to create a haunting tale of traumatic domestic disintegration. In addition to being one of the best reviewed films of the year so far, Hereditary also had the biggest opening weekend ever for its mini major studio, which has already signed Aster on for his sophomore feature. There's plenty more extreme discomfort where this came from.
Mandy
Mandy is such a versatile film. It's a heavy-metal revenge epic about a man who hunts down a bunch of sadists and "Jesus freaks" after they murder his girlfriend, but for a while, it's also a sweet love story about two simple people living in the forest together. But hell truly hath no fury like a coked-up, ax-wielding Nicolas Cage, and we know this because in Mandy, hell sends its best and they still fall before his chainsaw. And his crossbow. And his bare hands. Writer-director Panos Cosmatos has forged a truly beautiful beast with this rock opera, and as a surprise gift, it also contains a succinct excoriation of the patriarchy.
Mohawk
Mohawk is established as a historical drama set near the end of the War of 1812, but the added mysticism and horrifying implications of watching America's original sin unfold make this a truly chilling scary movie. Ted Geoghegan (We Are Still Here) directed and co-wrote this story of two Mohawk tribe members (Justin Rain and Kaniehtiio Horn) and their companion, a British soldier (Eamon Farren), who are relentlessly pursued by a group of American soldiers through a forest on their tribal lands. The violence is hard to watch, and it's made even more repellent by the abhorrent racism of the American commanding officer, Hezekiah Holt (Ezra Buzzington). In the role of Oak, Horn turns in a moving and raw performance as she turns from prey to predator.
Mom and Dad
What if the whole world snapped and every parent in the world became possessed by the singular urge to kill their offspring? That's the premise of Mom and Dad, which, with its sledgehammer of a premise, is somehow one of the most quietly crazy movies of early 2018. Selma Blair and Nicolas Cage star as Kendall and Brent, a pair of parents at the end of their rope who get swept up in a global pandemic that compels parents to eliminate their children. And that's it. That's the movie. It's brought to you by writer-director Brian Taylor, making his first solo feature after teaming up with Mark Neveldine for wild outings like the Crank movies. It's pure fun crazy, and features a harrowing scene with an infant that blows Mother! out of the water.
Mon Mon Mon Monsters
Horror movies have all the subtlety of a thunderstorm suddenly splitting open the sky on a calm summer day, which makes them great for delivering social messages. And the message of Mon Monsters is: People are completely terrible. Well, that's reductive, but this Taiwanese feature from Giddens Ko, which centers on a group of high-school bullies who chain up a human-eating monster and torture it with great glee, shows that heroes are even fewer and farther between than you thought. Also, that teenagers are completely terrifying.
The Night Eats the World
Who knew that in 2018, zombie movies would feel fresh and interesting enough to make a Best Of list? The third Emo Zombie film in this year's Best Of roundup takes place entirely within a single apartment complex in Paris, and revolves around a man named Sam (Anders Danielsen Lie). Sam passes out at a party one night and wakes up to find the house covered in blood, and the streets outside dotted with the walking dead. And thus begins the nightmare of living in what amounts to solitary confinement after the apocalypse. Lie gives an almost entirely silent performance as he transforms the complex into a compound, and straddles the line between suicidal and survivalist. And in a nice twist on the standard zombie presence, the infected move silently — there's no wheezing and growling, just the sounds of footsteps and the quiet snapping of teeth. You don't realize how much less alone those zombie noises make you feel until they're gone! The Night Eats the World might also be the best title of the year.
Ravenous (Les Affamés)
Femme revenge tales might be getting more intense, but zombie stories are getting softer. Ravenous is a French-Canadian production, and while the undead are still flesh-eating, the core of the story is one of quiet survival, centering on an impromptu band of survivors searching for connection in a dying world. If you're tired of everyone trying to kill each other in The Walking Dead, this will be a nice, if still sad, respite.
Revenge
With her debut feature, French director Coralie Fargeat has established herself as a new cinematic voice to be reckoned with. Revenge follows its protagonist, Jen (Matilda Lutz), as a weekend getaway with her married boyfriend turns into harrowing tale of rape, revenge, and survival. It's a violent, brightly colored, and sometimes beautiful take on a sub-genre of films that are more popularly viewed for how they exploit women rather than empower them. Fargeat didn't get that message, and instead forged a heroine who kicks the patriarchy right in the neck.
Satan's Slaves
If you loved Hereditary, this story of ghostly domestic terror would be a great complement for your next occult-horror double feature. Indonesian director Joko Anwar's feature was released in his country last year, but it finally made its way to American audiences in October, and it focuses on a family that has just lost their mother to illness and must now deal with the chilling legacy she left behind. It's filled with plenty of pervasive dread as well as jump scares, and gives lots of play to the never-not-haunting presence of a veiled ghost woman. Don't sleep on this massive Indonesian hit!
Suspiria
Luca Guadagnino has been captivated by Dario Argento's Suspiria since he was a boy, and his take on the classic horror film, about a dance academy presided over by witches, is a fresh nightmare for our modern times. It's long, brutal, beautiful, and melancholy, existing within an entirely feminine micro-society that feels as much like a horrifying family drama as it does a fantastical tale of witchcraft. And as Vulture's Emily Yoshida said, "Susie's path is not a hero's journey; she's not there to do anything so patriarchal as conquer an enemy or 'find herself.' Guadagnino's vision does not allow for anything so seductive or comforting as that. Suspiria is a gorgeous, hideous, uncompromising film, and while it seeks to do many things, settling our minds about the brutality of the past and human nature is not one of them."
Terrified
The aptly named Terrified comes by way of Argentine writer-director Demián Rugna, and instead of giving you a regular old haunted house, it serves up a haunted neighborhood. What begins with one man's disappearance on a quiet residential street turns into a kind of demon infestation that stretches across three houses. A team of paranormal specialists are brought in to resolve the problem — or at the very least figure out what the hell is going on — but a seam has opened between our mortal world and another one, yielding more danger than anyone came in expecting. Terrified won best horror feature at this year's Fantastic Fest, and is an absolutely excellent tale of the supernatural featuring some amazing deaths and creature effects. Fans of Insidious and The Conjuring should be big fans of this one, too.
What Keeps You Alive
Writer, director, and producer Colin Minihan has created his best work yet with his third feature, which puts an intimate spin on the cabin in the woods subgenre. Married couple Jules (Brittany Allen) and Jackie (Hannah Emily Anderson) are celebrating their wedding anniversary with a long weekend by a lake, but romantic mood erodes quickly when secrets from Jackie's past start tumbling out. To put it mildly, Jules married a very bad person, and it's going to take a few punishing showdowns to determine which of these women is getting out alive. In addition to starring, Allen also composed the score for the film, and Minihan's beautifully brutal look at love turned sour has earned its place in the queer horror canon.