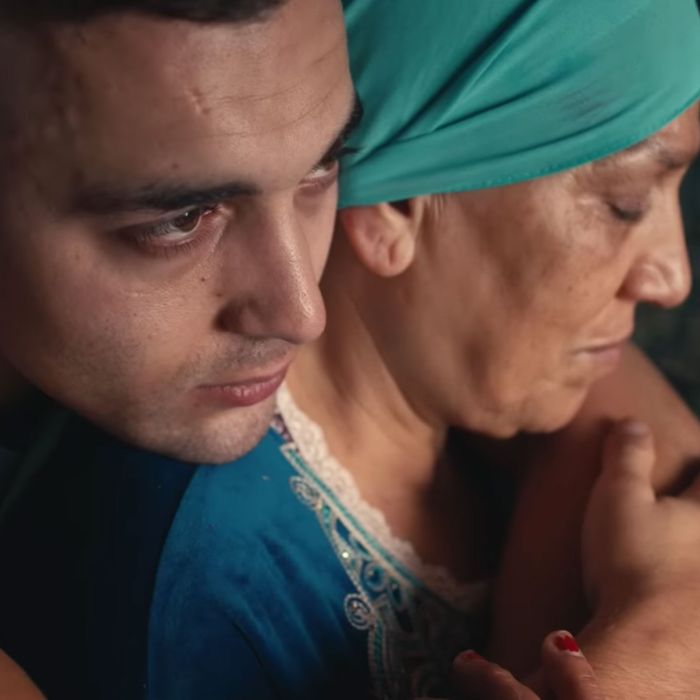 Photo: The Blaze via Youtube
At first, the man appears stoic, unyielding. Then, his face begins to contort, and he brushes back tears. Suddenly, he's enveloped in the sort of hug that knocks you back a few steps. The camera fixates on his face as he embraces one person after another, his mug contorting as he sobs. You get the sense that this is a return, one that bears scars, and that it's been a long time coming. It's maybe even a miracle that he's back at all.
In a matter of seconds, the opening scenes of a music video called "Territory," by the French dance duo the Blaze, evoke all kinds of questions: Under what circumstances is this man returning? Where does he go from here, in a place that seems both familiar to him and not? The video is also evocative of everything that Guillaume and Jonathan Alric, the two cousins who comprise the Blaze, do: Document the intricacies and intimacies of rituals in our world, and the human beings who experience them, through gripping audiovisuals.
This could mean a gripping account of mourning and memory following someone's death, as seen in their latest video, "Queens." Even something as innocuous seeming as two friends dancing and sharing a spliff together — as the thumping "Virile" depicts — is imbued with a fluidity and intimacy that filmmakers spend entire careers attempting to capture. It's no wonder that the two have already nabbed a Grand Prix at the Cannes Lions festival and the Best Directors award at the Berlin Music Video Awards in the two years they've been releasing music together. "From our first collaboration … we didn't feel like shooting some beautiful girls with bad boys singing for the camera," Jonathan says over Skype. "Like, what we're used to seeing on … MTV or that kind of stuff. That's not the idea."
Jonathan, a filmmaker by trade, and Guillaume, a producer, didn't grow up in the same place, though they both live in Paris now. Nor were they immediate creative partners. It was only when Jonathan set out to make a music video for film school that the two began working together. "To be honest, I wanted to do a short movie. But my script wasn't taken," Jonathan laughs. "My professors didn't like it. I wanted so badly to direct something so I said, 'Okay, let's do a music video.'" He asked Guillaume, who'd been recording dub-imbued music, to collaborate with him on the project. Through it, they found that they were capable of crafting spell-binding short films and music together.
Part of why it works is that the process is fluid. "He can begin on a song or I can begin on a video or vice versa. The ideas, it's like ping-pong all the time between music and film," Guillaume says. "There's really no rules," Jonathan adds. "Because when there are rules, it's not really fun, you know? It has to be a playground." The first music video that the pair released together as the Blaze, "Virile," made its debut online in 2016. The depth and nuance it achieves just by tracking two friends dancing together in an apartment is astonishing: It's tense and sweet and affirming all at once. Before then, as Guillaume says, they'd spent substantial time crafting several video case studies that documented their "research about humans and emotion … and trying to film some people we're not used to seeing on video clips and generally."
The Blaze's videos feel so startling because they come from a place of genuine appreciation for capturing the layered qualities of a single action, emotion, or expression, no matter how innocuous or mundane it might seem: the act of passing a joint, dancing with a beer in hand, sleeping in a shared room. Nothing especially earth-shattering happens in Blaze music videos, either. In videos like "Heaven," for instance, the camera follows friends running, climbing trees, and sharing a beautiful day together outside. The thrill of it lies in the fact that this day is possible at all. In a time of mind-numbing scrolling, oversaturation, and extreme stimulation, it's rare to mine this quality in art. "It's not that we wanted to do something different," Jonathan says. "It's that we needed to do something that we feel close to. It was natural to make portraits, to talk about people who are around us, our friends, our family. We wanted to talk about the closest thing that we had at that time."
The two often pull from ideas and friends in their orbit. The reason that "Territory" was set in Algeria was because the Alrics' producer, who is Algerian, suggested it as a locale for shooting. From there, they began to formulate a story that felt at once personal and universal, and landed on the idea of a fraught homecoming. "There is something happy, because when you come back to this place you're, of course, happy to see your family and the people you love again," Guillaume explains. "But we [also called it] 'Territory' because when you come back, you have to find again your mark. You have to learn again how to be in a kind of comfort with your emotions, with your relationships to family, to friends, to culture."
They're careful to imbue parts of their own stories throughout their work, as well. Throughout the "Territory" video, the protagonist (played by Dali Benssalah) thumps his chest, at one point playing with a group of children. "That's something my brother used to do to play with his children," Jonathan notes. "We try to add some sequences like that, some personal sequences, of course, with a little aesthetic." They also don't use traditional casting methods, placing more of an emphasis on how someone moves through a space than on traditional film-acting experience. "We asked two things in the casting … but we didn't tell them anything about the music video. It was just, 'Okay, how do you do the gorilla? And can you cry?'" Jonathan says. "We knew [Benssalah] as an ex-champion of boxing, so he had all the physique to do that thing. For the crying part he was really, really good … what is really interesting with Dali is that he's not an actor from cinema. He came from theater, and he can really speak with his body."
Probing the many ways that the body speaks, often without words, is at the core of the Alrics' live show as well. The two often face each other onstage, electric as they dance before and with the audience. It'd be possible to spend the entire performance tracing how the lights entwine with the films imbued in their show, too. Don't be surprised if seeing the Blaze live — they're playing this Sunday at the Knockdown Center — is a feast for the senses, and not just for your ears.