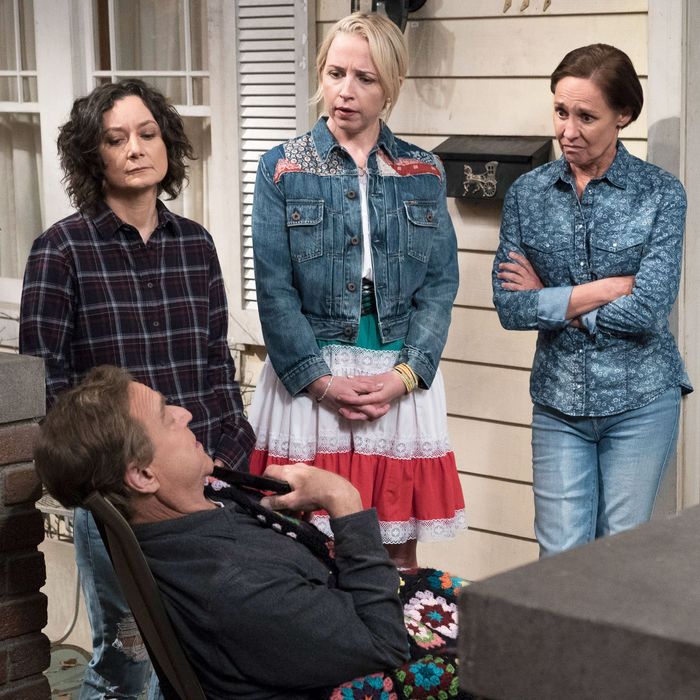 Photo: Eric McCandless/ABC
Tonight's episode is the fourth installment of The Conners to air, but it was the second episode of the show to be produced. And it was a wise move on ABC's part to hold this one.
So far, the Roseanne replacement has been a surprise, and a largely positive one, in that it has successfully carried on in the flavor of Roseanne as it chronicles the Conners' family life following Roseanne's death. But this half-hour visit with the family is the show's first misstep, the first half-hour to resort to generic sitcom tropes. This episode of The Conners could have been any sitcom dealing with death.
Well, any sitcom except for Roseanne at its best.
Darlene, Becky, and Jackie are particularly worried about Dan. He's spending more time alone, and even parks himself on the front porch with the living room door open to watch TV from outside. The women approach him and gently ask about his new viewing spot, and he tells them he just wants some time to himself.
Darlene even plans a night of poker with Dan's pals in the Conner kitchen, but when Dan walks in, he's just angered by the surprise and orders his friends to go home. It's suggested that he might want to try going to a support group, which he does, only to be turned off by the group members who've turned their grief into a 20-year standing appointment (a storyline that was played much more effectively this season with Mike Ehrmantraut on Better Call Saul).
Does Dan really want to be left alone? Drawing attention to himself with his outdoor TV viewing perch suggests not. As does attending a grief support group where he'll be called upon to share his feelings with strangers. Yet, there he was.
The better point, and maybe it was one the writers were trying rather messily to make, is that without Roseanne, Dan simply doesn't know what to do with himself. He's so desperate to figure out a way to be in the world without Roseanne that he even turns to Becky for advice — Becky, who, as Dan has already learned this season, can't make it through a whole day without alcohol. She does offer one useful bit of advice, telling Dan she learned she had to shut out the noise of her life for a while in order to finally face her loss. Dan's analog to that is to decide to take a ride on his motorcycle — something Roseanne had forbidden the 66-year-old to do. We'll see how that works out for Dan, but if anyone in the Conner crew is under the impression that her simple acknowledgment of Mark's death meant that Becky had actually dealt with the loss of her spouse, a casual audit of her daily beverage consumption would likely take care of that notion.
Dan is also full of anger; Roseanne died of a drug overdose after assuring her husband she had her painkiller issue under control. Dan admits in the support group meeting that he's not pleased with God. They had a deal, Dan says: Dan would try to be a good person, do the right things, and life would be okay. Now he faces the rest of his life without the woman he loves, meaning God obviously isn't keeping up his end of the deal.
I felt sorry for a performer with the skills of John Goodman having to carry out that tired "I'm mad at God" scene. Dan didn't even seem emotional as he was talking about his anger, and it makes you wonder if Goodman just couldn't muster the energy to sell that one. It's understandable. The only bigger waste of talent in the scene was with the always brilliant M.C. Gainey, guest-starring as the platitude-spewing support group leader.
In the equally sloppy storyline about DJ and his family, Gina also has an issue with God: her daughter, Mary, hasn't attended church services in two years, essentially the entire time she has been deployed. DJ's in the doghouse, especially when Mary refuses to go back to church unless the rest of her family attends, too. DJ begs atheist Darlene, Becky, Jackie, and nephew Mark to attend, but though Dan at first agrees to go, he backs out at the last minute. We get it … God broke their deal.
Much like how this episode broke the implicit deal we viewers struck with this show's writers: that we would watch their scandal-clouded spin-off series, and they would prove there was a reason for it to exist. "The Separation of Church and Dan" doesn't do that. It's an episode that probably would have been more thematically appropriate for earlier in the season, closer to the reveal of Roseanne's death.
But then again, it's such a shoddy effort, it's understandable that the network loaded better episodes into those first three slots.
Around Lanford:
• The first few episodes also promised a better storyline for Jackie, who didn't have a lot to do in the first season of the Roseanne reboot. In this episode of The Conners, she's back to being goofily over-the-top, as she rants at mall passersby while Mark is trying to do a political polling project for school.
• Jackie is the only family member who doesn't have a problem with attending church services. "I take my mother to services every Sunday," she says. "Just to remind God she's still here, in case he forgot to take her."
• Dan tells the support group he's 66. Darlene later says he's 65. This seems like something they should be able to agree on.
• Dan and his friends do finally get together for a game of poker, which includes a group sing-along to Lee Dorsey's "Working in the Coal Mine." It's the most fun moment of the episode, and it's reminiscent of some of Roseanne's great musical moments. The Bonnie Bramlett-led sing-along of "You Really Got a Hold On Me" remains a classic.