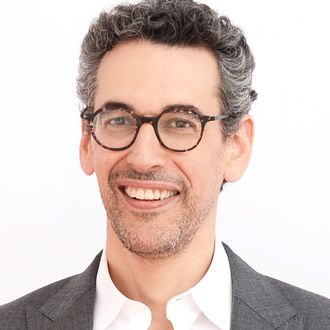 Steve Bodow.
Photo: Andrew Toth/Getty Images for Tribeca Film Festival
Steve Bodow, who has worked behind the scenes on Comedy Central's The Daily Show for over 16 years and currently serves as an executive producer, is leaving the show. According to Deadline, Bodow has informed the Daily Show staff of his departure, which he plans to do sometime in early 2019. Bodow currently works as an executive producer alongside host Trevor Noah, Jennifer Flanz, and Jill Katz, and there are reportedly no plans to add another EP after he leaves.
Bodow first joined The Daily Show With Jon Stewart as a writer in 2002 then eventually moved up the ladder until he became an executive producer in 2013, when he helped oversee the transition between Stewart's final two years as host and Trevor Noah's debut. "It's not an easy thing but I've been here a long, long time. It's time, there are a lot of other things that I would like to do, and I'm ready to go do them," Bodow told Deadline on the decision. "Trevor is in very solid command of the show now, he knows exactly what he wants to be doing, and he's doing it. There is a deep bench of talent here, and I think that they will do very well."
Bodow isn't the only late-night executive producer to leave his post recently. Last month, Mike DiCenzo announced he was parting ways with The Tonight Show Starring Jimmy Fallon after ten years of working with Fallon.