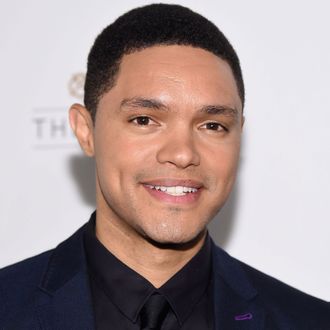 Trevor Noah.
Photo: Michael Loccisano/Getty Images
Trevor Noah is heading home next week for a special episode of The Daily Show. Comedy Central just announced that Noah will host an episode of his late-night show from South Africa titled The Daily Show With Trevor Noah: Self-Deportation Edition. In the special, Noah will give Daily Show viewers a look at his hometown, and "in addition to visiting some of his old haunts, he'll explore Nelson Mandela's everlasting legacy on South Africa, and more." The special will air Monday, December 3 at 11 p.m. the day after Noah hosts the Global Citizen Festival: Mandela 100 in Johannesburg.
In addition to his hosting gig on The Daily Show, Noah most recently debuted his latest stand-up special, Son of Patricia, on Netflix earlier this month.