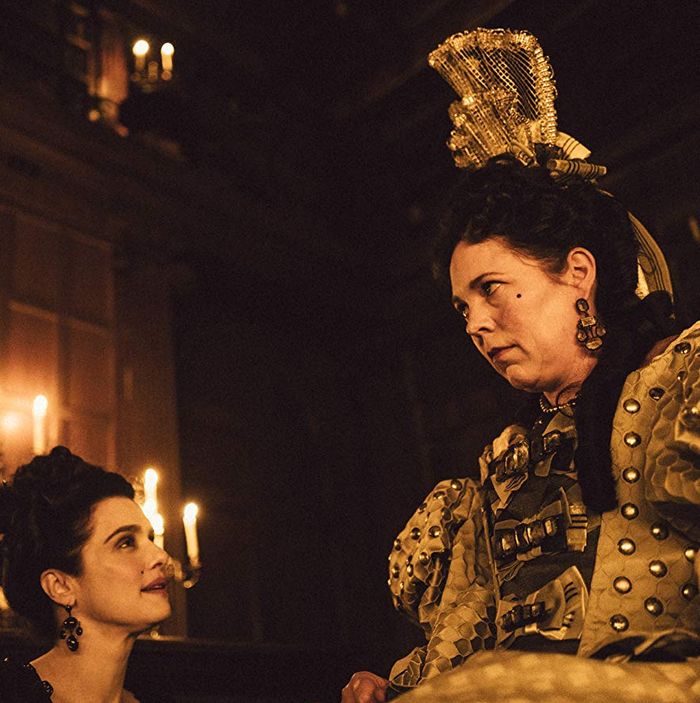 Though mostly twaddle as history, Yorgos Lanthimos's The Favourite is wonderful, nasty fun, a period drama (wigs, breeches, beauty spots) that holds the screen with gnashing teeth and slashing nails. At its center is a magnificent triumvirate of actresses. Olivia Colman plays Anne, the physically helpless, gouty, early-18th century queen of England, in thrall to her alternately tender and abusive childhood friend, Sarah, the Duchess of Marlborough (Rachel Weisz). The triangle's third point is Abigail Hill (Emma Stone), a young cousin of Sarah's who, thanks to her father's disastrous gambling, is in what they used to call "diminished circumstances." Although Weisz's Sarah is generally a vicious piece of work, she takes pity on her seemingly ingenuous cousin and makes Abigail a Lady in Waiting to the Queen — a fatal mistake given Abigail's subsequent wiles and the Whiggish Sarah's tenuous position in a Tory-dominated parliament, which wants to bring a costly war (led by Sarah's husband) with France to a swift end.
Don't worry if you can't follow the tumultuous Tory versus Whig conflict — the film doesn't get it right in any case. (One thing you don't see is that the illiberal Tories wanted to administer biannual religious loyalty tests.) It's the machinations of the characters that sweep you up. The real Sarah, Duchess of Marlborough was among the most nuttily intemperate figures in the annals of English court life (her venomous letters to the Queen would probably have gotten her thrown into the Tower a century earlier), and The Favourite adds a new twist: the film shows her manipulation extending into the bedroom, where she comforts Queen Anne carnally. I can't find historical evidence of that — in fact, it was Sarah who accused the young Abigail, with little evidence, of seducing Queen Anne. No matter. Working from a taut, shapely script by Deborah Davis and Tony McNamara, Lanthimos has contrived a full-bore lesbian battle of wills in which our personal and political sympathies end up making a one-eighty.
Weisz gives yet another peerless performance, here: Without breaking the tempo, she goes from crisp condescension to icy malevolence to heartbreaking bewilderment. Watch her Sarah (under a splendid feathered hat) turn her rifle on Abigail mid-pigeon-shoot — "It is a great jape, do you agree?" Stone matches her, move for move, locking into Weisz's rhythms while keeping her baby blues wide and guileless. The film's Queen Anne is likely more of a toddling simpleton than she was in life — but within that conception, Colman is astonishing. In her hands, Anne's neediness comes out of permanent discombobulation — a struggle to locate her own mind. Over the last decade, Colman has become one of the world's most widely admired actresses. It's time she was also adored.
Lanthimos should always work at tempos this brisk: The glacial pacing of his The Killing of a Sacred Deer exposed the shallowness of his tragic vision. His makes only two mistakes here, the first being in his cynical final shots of Abigail, the second being visual: the overuse of a wide-angle lens that gives the palace the look of a fishbowl. But that may well reflect his philosophy, (made most evident in The Lobster,) which regards humans as little more emotionally evolved than animals.
The Favourite was nominated for ten Oscars in 2019, including Best Picture, Best Director, Best Actress, Best Supporting Actress (two nominations), Best Original Screenplay, Best Cinematography, Best Costume Design, Best Film Editing, and Best Production Design.