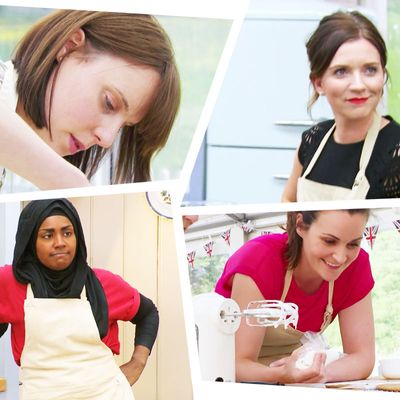 Following a countless stream of signatures, technicals, and showstoppers in that ungodly balmy tent — and only one trash-bin disaster! — The Great British Baking Show has managed to produce nine seasons of culinary perfection, seven of which are available for us Americans to watch. So now, time for some maths: Nine seasons means nine winners, all of whom have pursued various post-finale careers since being presented with that coveted cake-stand trophy. It is unreasonable to speculate that they've all kept dabbling in the art of the bake? Not really, but their trajectories differ — as are the opportunities they were afforded — and one person has actually abandoned the baking profession entirely. When the credits stopped rolling, here's how those winners continued on with their newfound fame.
Edd Kimber (Season 1)
Twitter followers: 39.9k
Instagram followers: 173.1k
The first two Baking Show winners start with a slight disadvantage: Neither of those seasons have actually aired in America, despite the recent push on PBS and Netflix, depriving them of some coveted Yankee exposure. But the inaugural winner, Edd Kimber, is doing just fine. Declaring "the Boy Who Bakes" as his persona, Kimber quit his career as a debt collector in favor of releasing three well-received cookbooks, titled The Boy Who Bakes, Say It With Cake, and Patisserie Made Simple. He's also established himself as a reliable and peppy bakery correspondent on many British morning shows, in addition to writing a weekly column for the BBC's food section.
Joanne Wheatley (Season 2)
Twitter followers: 26.9k
Instagram followers: 23.1k
Joining Kimber in the "never seen by Americans" camp is Joanne Wheatley, a homemaker who ushered her champion status into two published cookbooks: A Passion for Baking and Home Baking. She also created a very homey baking school that runs out of her abode in Essex, where she teaches small groups how to bake sweet and savory treats. (There's a wait list to get in, so that's a good sign.) Besides that, you can find her typing away on her lifestyle blog, but nothing much else.
John Whaite (Season 3)
Twitter followers: 86.7k
Instagram followers: 59.3k
As the first Baking Show winner to actively seek out becoming a "food personality," John Whaite checked all the right boxes in the aftermath of his championship: publishing four best-selling cookbooks, writing a weekly Daily Telegraph column, becoming a British morning-show staple, co-hosting ITV's food competition program Chopping Block, and opening his very own cookery school. But this summer, Whaite did a complete 180 and announced that he'd be eschewing his mini–baking empire in favor of returning to law, his original career. "While I cherish both the work I've put in and the fruits of that food-industry labor, I've been unfulfilled," he explained. "There has been a hole in my heart. I have taken for granted my legal education and privileges, but not anymore."
Frances Quinn (Season 4)
Twitter followers: 50.7k
Instagram followers: 58k
We wouldn't blame you if you associated this season of Baking Show more with the controversial Ruby Tandoh than Frances Quinn, but Quinn has been low-key continuing her tasty career in the years since — consider it the yin to her other-career-in-design yang. Her sole cookbook, Quinntessential Baking (get it?) was a best seller overseas, and she's solidified herself as a "celebrity baker" thanks to her frequent commissions. She'll also make you a custom cake, if you're so inclined.
Nancy Birtwhistle (Season 5)
Twitter followers: 32.7k
Instagram followers: 38k
Winning Baking Show came at an optimal time in Nancy Birtwhistle's life, who at that point had recently retired from a long career as a manager in a general practitioner's office. Her second wind is our gain: She's mostly taken the cushy "paid speaker" and "demonstrator" route at various festivals and conventions across the U.K. to discuss the art of baking, in addition to maintaining a superchic blog and generally acting like our cool, honorary grandma. She's also BFFs with Jonathan Van Ness.
Nadiya Hussain (Season 6)
Twitter followers: 198k
Instagram followers: 205k
If we went solely by social-media numbers, Nadiya Hussain would be the biggest success story in Baking Show history, although her postshow accolades also speak for themselves in an astounding way. Where do we even begin? Hussain signed a contract with the BBC to produce and star in an array of cookery programs for the network, which has already spurred the documentary The Chronicles of Nadiya, the two shows Nadiya's British Food Adventure and Nadiya's Family Favourites, and the competition series The Big Family Cooking Showdown. Aside from baking, she has a monthly column for The Times, wrote an award-winning children's book, and published two cookbooks of her own. She also baked! Queen! Elizabeth! Her! Birthday! Cake! And more practically, designed a line of homeware products. Yeah, Hussain is here to stay.
Candice Brown (Season 7)
Twitter followers: 91.5k
Instagram followers: 205.1k
Arguably the first Baking Show winner to be hounded by the tabloid industry, the lipstick-lovin' Candice Brown carved herself an interesting niche within British culture — mostly because she goes on chat and morning shows to discuss just about anything that isn't strictly baking. She still loves to bake, of course, but her persona shifted to a lifestyle blogger as opposed to a person who wants to devote her life to culinary pursuits — totally fine — which accumulated last year when she became the first-ever Baking Show contestant to appear on another competition series, Skating on Ice. (She got kicked off in the first round.) Simply put, if you Google her name on a weekly basis, there'll be a fresh series of Hello! articles ready to greet you. Her cookbook, Comfort, was also a best seller.
Sophie Faldo (Season 8)
Twitter followers: 21.9k
Instagram followers: 23.4k
As the first champion to be crowned after the show's controversial BBC–Channel 4 migration, Sophie Faldo traded in her Army career to fully pursue a life of baking, which began by apprenticing as a pastry chef at two different Michelin-star restaurants in London. In the midst of all this, she also established her own banquet catering company that specializes in patisserie, cakes, and chocolate work. And yet, she's still training to be a stuntwoman! She also intends to release a cookbook soon.
Rahul Mandal (Season 9)
Twitter followers: N/A
Instagram followers: N/A
Few would disagree that Rahul Mandal is the biggest enigma in Baking Show history, given that (1) he's not on social media, (2) he generally eschews the spotlight, and (3) when in the spotlight, he's endearingly awkward. His season ended only a few weeks ago, so Mandal is doing what you would pretty much expect from a person in his position: He joined a morning show to be an occasional food correspondent, and signed on to write a column for the Times. It's not all baking stardom, though: He doesn't plan on leaving his job as a research engineer at the University of Sheffield.