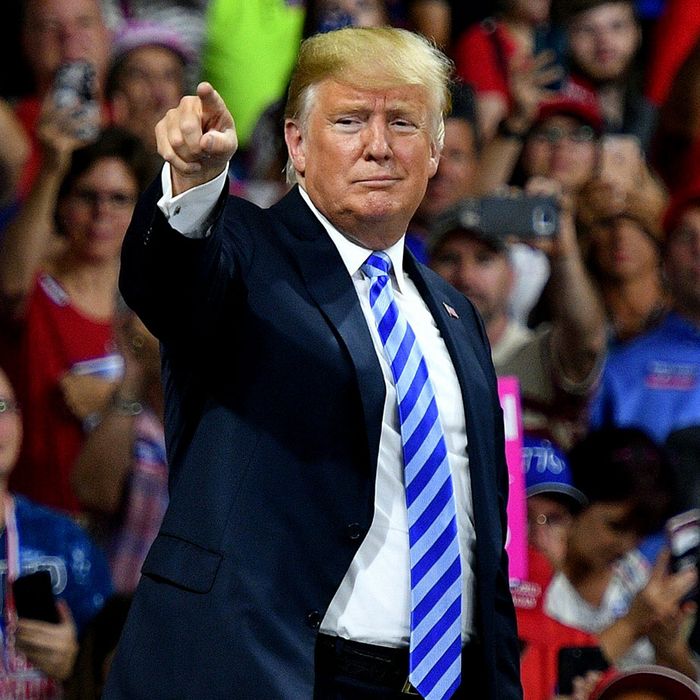 Before and after assuming presidential office, Donald Trump's general relationship with musicians has been, to put it lightly, fraught with a side of Charlie Day conspiracy-board panic. Barely anybody wanted to perform at his inauguration, and the ones who did were more along the lines of whos than theys, making it easy to mock the new president for his lack of respect within the Top 100 community. But lest we forget, Trump's long road to the White House was rife with popular musicians giving him the cold shoulder — throughout his journey of rallies, campaign stops, and even more rallies, ten musicians publicly demanded Trump disassociate himself with their work, which we were reminded of this week when Steven Tyler sent him yet another cease and desist warning for his repeated public love of Aerosmith. Take a stroll down (a chronological) memory lane of all the times that musicians got mad at Trump because he tried to use their songs for something.
Pissed-off victim No. 1: Neil Young
The first rocker to throw some cantankerous shade Trump's way was none other than Neil Young, who found himself embroiled in a spat with Trump regarding the use of "Rockin' in the Free World," which was used as background noise for his official presidential campaign announcement at Trump Tower. "Neil Young, a Canadian citizen, is a supporter of Bernie Sanders for President of the United States of America," Young's label concisely asserted about this "not authorized" faux pas, to which Trump's campaign team responded with … literal receipts. "Mr. Trump's campaign paid for and obtained the legal right to use Neil Young's recording of 'Rockin' in the Free World' at today's event," a spokesperson said. "Mr. Trump is a huge fan of Neil Young and his music and will continue to be regardless of Neil's political views."
Interestingly, the future president almost immediately ceased playing "Rockin' in the Free World," even with the legal logistics in his favor — owing to Trump's underlying sonic affection for Young. "Mr. Trump is a big fan and likes Neil very much," campaign manager Corey Lewandowski said at the time. "We will respect his wish." Unwilling to not have the last word, though, Young proceeded to stress how Trump's "misogyny" and "racism" were totally not rockin' him politically, and that he'd happily give Sanders any of his music, should he ever request it.
Pissed-off victim No. 2: R.E.M.
You could say Michael Stipe was totally not feeling fine about Trump's frequent use of "It's the End of the World" as a pump-up jam at his campaign rallies, so much so that the entire band crafted a cease and desist letter to make the madness stop. "The media and the American voter should focus on the bigger picture, and not allow grandstanding politicians to distract us from the pressing issues of the day and of the current presidential campaign," R.E.M. wrote in a statement that confirmed their legal action, which is nice and all, but Stipe's Twitter musings had a bit more chutzpah, addressing the Republican institution as a whole: "Go fuck yourselves, the lot of you — you sad, attention grabbing, power-hungry little men. Do not use our music or my voice for your moronic charade of a campaign." The band later released an anti-Trump song titled "World Leader Pretend," which honestly could've doubled as an Accelerate B-side.
Pissed-off victim No. 3: Twisted Sister
In an unusual case of doing a 180 with his fabulously voluminous hair, Twisted Sister front man Dee Snider originally allowed Trump to use the band's iconic jam "We're Not Gonna Take It" as his closing song on the campaign trail, owing to the two being friends. (Snider had a stint on Celebrity Apprentice a few years earlier.) At the time, Snider believed Trump was going to "raise holy hell" by "shaking things up" in the American political system, even saying Trump had a great sense of self-deprecating humor because he frequently joked about "being too orange." A few months later, though, the honeymoon period ended.
Realizing the full extent of Trump's political ideology, Snider had no choice but to give him a call and say, well, he's not gonna take it anymore. "It's very upsetting to me, 'cause I strongly don't agree with his extremist positions," Snider explained. "I have to call Donald. I have to speak to him, as a friend. He was respectful enough to call me and say, 'How do you feel about me using this?' And I've gotta be — as a friend — respectful enough to call him and say, 'Listen, man, this has gotten wildly out of control, and I really have a problem with it.' It's really gotten ugly." Fellow band member Jay Jay French also voiced his annoyance at the song being used, explaining how the band, despite their "personal political leanings always [being] all over the map," couldn't in good faith allow Trump to keep using the song.
Pissed-off victim No. 4: Adele
Deviating from his jukebox classic-rock standards, Trump showed a particular fondness for Adele throughout the campaign by employing a medley of the songstress's hits, including "Rolling in the Deep" and "Skyfall," the theme she crooned for the James Bond film. "Adele has not given permission for her music to be used for any political campaigning," her spokesperson said. To solidify her point, Adele later went on to endorse Hillary Clinton for president in front of tens of thousands of American concert attendees: "Don't vote for him. I am English, but what happens in America affects me, too. I am 100 percent for Hillary Clinton. I love her, she's amazing."
Pissed-off victim No. 5: Elton John
It's well-documented the extent of Trump's fascination with Elton John, so much so that the singer getting name-dropped by Trump at one of his rallies is pretty much the norm at this point. It must add insult to injury knowing John is a noted Trump detractor who publicly denounced his songs being used in the Trumpian orbit, which came to light when the then-presidential hopeful would frequently use "Rocket Man" and "Tiny Dancer" as warm-up music for his campaign rallies — although John noted he had nothing but pleasant interactions with the man in the past. "I'm British. I've met Donald Trump, he was very nice to me, it's nothing personal, his political views are his own, mine are very different, I'm not a Republican in a million years," John said, before laying down a truly exquisite burn. "Why not ask Ted fucking Nugent? Or one of those fucking country stars? They'll do it for you." John would later go on to quickly deny Trump's request to perform at his inauguration. America's Got Talent contestant Jackie Evancho performed instead.
Pissed-off victim No. 6: The Rolling Stones
Satisfaction for the Rolling Stones was quite unattainable after Trump began to frequently lean on the band's tunes to pump up the baby-boomer crowd at his campaign rallies — "You Can't Always Get What You Want" was, oddly, a favorite — which culminated with blasting "Start Me Up" during Trump's celebration speech upon clinching the Republican presidential candidate nominee. The Stones had to release statements not once, but twice, demanding Trump immediately "cease all use" of their songs, eventually clarifying that they "do not endorse" the nominee after he kept using their tunage "without the band's permission." Mick Jagger eventually conceded that there was no effective way to get Trump to stop using their music, equating the usage to something a theater or restaurant does as background noise: "They can play what they want … you can't stop them."
Pissed-off victim No. 7: Queen
Two summers before Trump complained that the actual queen of England kept him waiting for their scheduled afternoon tea — surprise, that was a lie — the more rock-friendly Queen condemned the repeated usage of their beloved jam "We Are the Champions" during Trump's stage appearance at the Republican National Convention and beyond. "I can confirm that permission to use the track was neither sought nor given," Brian May, one of the band's three surviving members, explained. "Regardless of our views on Mr. Trump's platform, it has always been against our policy to allow Queen music to be used as a political campaigning tool." The whole band later reiterated that the "unauthorized use" of the song might spur legal action on their part, should they be so inclined, as Trump continued to use "We Are the Champions" in the months leading up to the election. "We are frustrated by the repeated unauthorized use of the song after a previous request to desist," they collectively said, "which has obviously been ignored by Mr. Trump and his campaign."
Pissed-off victim No. 8: George Harrison's estate
The Republican National Convention seemed to be the ground zero of musicians being pissed off at Trump, as the estate of George Harrison immediately denounced the "unauthorized" use of the Beatles' "Here Comes the Sun" — which was written by Harrison for Abbey Road — as walk-on music for both Trump and his daughter Ivanka. "It's offensive and against the wishes of the George Harrison estate," Harrison's official Twitter wrote. "If it had been 'Beware of Darkness,' then we may have approved it!" Burn!
Pissed-off victim No. 9: Luciano Pavarotti's estate
In a scenario mirroring what happened with Harrison, the estate of prolific opera singer Luciano Pavarotti was quick to defend the late tenor's honor when Trump heavily featured his gorgeous arias "Nessun Dorma" as a soundtrack to many of his rallies. (A stark difference from his other choices? You bet.) The singer's widow, Nicoletta Mantovan Pavarotti, alongside his immediate family, proclaimed that the "values of brotherhood and solidarity" Pavarotti expressed "throughout the course of his artistic career are entirely incompatible with the world view" embodied by Trump. Interestingly, about a year and a half after becoming president, Trump asserted during a press conference with Italian prime minister Paolo Gentiloni that Pavarotti was a "great friend" of his, before he died of pancreatic cancer a decade prior. It seems the duo, perhaps at best, shared a complicated boss-underling relationship.
Pissed-off victim No. 10: Steven Tyler
The longest sonic battle waged against Trump has come from 25 percent of the Aerosmith boys, one of whom has made it his personal mission to give the president shit each and every time his co-written songs are used for political purposes. Twice in 2015, Steven Tyler's reps presented Trump with a cease and desist letter for his frequent use of "Dream On" at rallies and campaign stops, a song that often resulted in Trump trying to air-drum the instrumental parts. (We really encourage you to watch this video.) Following a few months of back-and-forth, Trump eventually relented and stopped using the power ballad, confirming his decision in one of his signature Twitter musings: "Even though I have the legal right to use Steven Tyler's song, he asked me not to. Have better one to take its place!" We should note that fellow Aerosmith members Steve Perry and Joey Kramer are vocal Republicans, with Kramer, in particular, being a major Trump supporter.
But that's not all, folks. This week yet another cease and desist letter had to be dusted off by Tyler and mailed to Trump, as the president has been enjoying the 1993 banger "Livin' on the Edge" at his recent presidential rallies around the country. "What makes this violation even more egregious is that Mr. Trump's use of our client's music was previously shut down, not once, but two times, during his campaign for presidency in 2015," the heated letter from his attorney read, in part. "Mr. Tyler's voice is easily recognizable and central to his identity, and any use thereof wrongfully misappropriates his rights of publicity." Tyler's attorney also asserts that the original cease and desist letters were ignored by Trump, ever so rudely.
Pissed-off Victim No. 11: Prince's estate
Following suits with the estates of George Harrison and Luciano Pavarotti, Prince's estate issued a statement on October 13 warning both Trump and the White House never to use "Purple Rain" after the president played it at one of his pre-midterm election rallies. "The Prince Estate has never given permission to President Trump or The White House to use Prince's songs and have requested that they cease all use immediately," Prince's half-brother and of one his heirs, Omarr Baker, wrote.
Pissed-off Victim No. 12: Pharrell Williams
There is only one way to make Pharrell unhappy and that's by grossly misusing his hit "Happy." On October 27, Trump played that song at his Future Farmers of America rally in Indiana just hours after 11 people were murdered at a Pittsburgh synagogue in an anti-Semitic mass shooting. On October 29, Pharrell responded by having his lawyer, Howard King, send Trump an impassioned cease-and-desist letter ordering the president to stop playing "Happy" at his political rallies and shaming him for playing it after a tremendous hate crime was committed. "On the day of the mass murder of 11 human beings at the hands of a deranged 'nationalist,' you played his song 'Happy' to a crowd at a political event in Indiana," King wrote. "There was nothing 'happy' about the tragedy inflicted upon our country on Saturday and no permission was granted for your use of this song for this purpose. Pharrell has not, and will not, grant you permission to publicly perform or otherwise broadcast or disseminate any of his music." The order states that any future use of the song will commit copyright and trademark infringement.
Pissed-off Victim No. 13: Rihanna
Just hours after she endorsed Florida Democrat Andrew Gillum for governor in the midterm elections, Rihanna learned via Twitter that her music was being used for the Republic agenda. White House Bureau Chief Philip Rucker tweeted that Trump had played "Please Don't Stop the Music" at a Chattanooga rally for U.S. Senate candidate Marsha Blackburn (whom Taylor Swift publicly opposed) and Rih swiftly responded, threateningly, to please definitely stop that. "Not for much longer … me nor my people would ever be at or around one of those tragic rallies, so thanks for the heads up philip!" she replied. Yes, good lookin' out, Philip!
Pissed-off Victim No. 14: Guns N' Roses
On the same day as Rihanna, Axl Rose also lashed out at Trump for playing Guns N' Roses at his rallies. Rose tweeted that he and the band formally denied Trump permission to use their music after finding out that Trump played "Sweet Child 'o Mine" at a rally in West Virginia on November 2. However, he says, Trump is cheating the system. "Unfortunately the Trump campaign is using loopholes in the various venues' blanket performance licenses which were not intended for such craven political purposes, without the songwriters' consent," he explained. "Can you say 'shitbags?!' [poop emoji]" Rose continued that while he gets some satisfaction from Trump supporters' being pandered to with anti-Trump music and artists, he also knows the irony is likely lost on them.
Pissed-off Victim No. 15: Neil Young, Again
Earlier this year, Neil Young expressed displeasure with Trump using "Rockin' in the Free World" for his presidential campaign. Trump then made the rare decision to actually comply with an artist's wishes and stop playing the song, despite having paid to use it. Turns out, there's more to this fight. In a strongly worded new statement, Young says Trump continued playing the song at his midterms rallies, and that while he has no legal grounds to block Trump from doing so, misusing the song violates his personal and political values.
DT does not have my permission to use the song 'Rockin' in the Free World' at his appearances. Legally, he has the right to, however, it goes against my wishes. I made this perfectly clear after he played it in a media moment to announce his candidacy. I asked him then, in a widely shared public letter, to cease and desist.




However, he chose not to listen to my request, just as he chooses not to listen to the many American voices who ask him to stop his constant lies, to stop his petty, nasty name calling and bullying, to stop pushing his dangerous, vilifying and hateful rhetoric.




This man does not represent the character and people in the USA that I have come to know and love. I'm Canadian so I can't vote in the states, but if you can take this opportunity to make your voice heard, and vote! Keep on Rocking in the Free World.